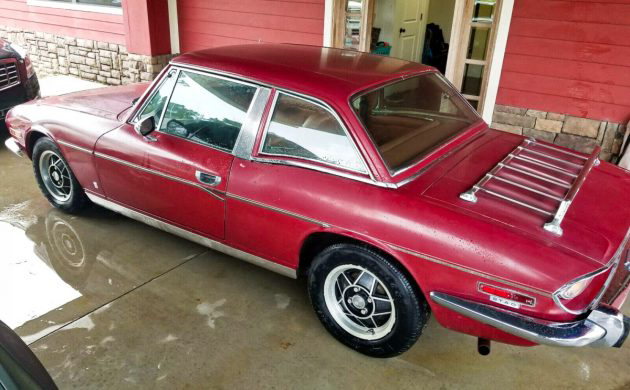 Owning a Triumph Stag usually means sitting on a knife's edge, waiting for something expensive to go wrong with its unique V8 engine. That shouldn't be an issue with this 1973 model, as it now sports a bulletproof American V8 under the hood. The vehicle has been sitting for many years, so it will need to be revived. However, that could potentially be a straightforward process. The Stag is located in Archer, Florida, and has been listed for sale here on eBay. The BIN for the Triumph is $16,000, although there is an option to make an offer.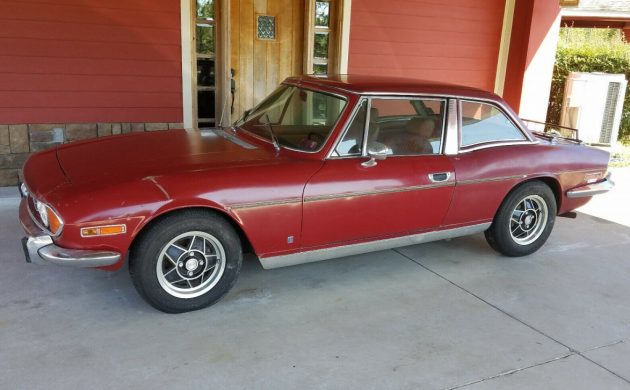 The Carmine Red Triumph is a striking looking car, and the first piece of good news is that it appears to be completely rust-free. The lower body extremities and the floors look particularly clean and dry. That isn't to say its perfect, because there are a few minor dings and dents in the panels. The paint is looking tired, and I think that a repaint will be on the cards in the near future. The Stag is also fitted with a factory luggage rack. It will be a matter of personal taste as to whether that stays or goes. One item that might require attention is the original alloy wheels. The black sections are beginning to look patchy and would benefit from some restoration work. Otherwise, the trim, chrome, and glass are all in good condition and should present well after a thorough clean.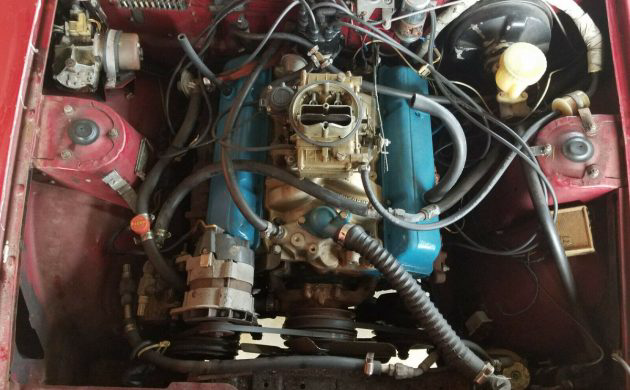 What was hidden under the hood of the Stag typified everything that was right with Triumph, as well as everything that was wrong. The 2,997cc V8 was specifically developed for the Stag, and it showed so much promise. Unfortunately, it was never able to deliver on that promise. If you ever study automotive engineering, I doubt that you will ever encounter another engine so heavily riddled with design flaws as this one was. A general lack of quality control meant that engines were surfacing with casting sand in the cooling jackets…30-years after they had been built! Those water jackets were already marginal, so this simply exacerbated the pre-existing cooling problems. A poorly placed water pump added to the woes, meaning that overheating issues were the order of the day. Angled cylinder head bolts left the engine susceptible to head gasket failure and cylinder head warping. Timing chains were also a problem, and the fact that they were prone to stretching and subsequent failure meant that they needed to be replaced regularly. Otherwise, your little V8 could potentially produce some loud and expensive noises, followed by an eerie silence. All of these failings would have been forgivable if the Triumph V8 had been a jet. However, with only 146hp available, it wasn't even close. Those problems are a thing of the past with this Stag, although the original engine is included in the sale if the next owner would like to experience a unique brand of misery. In its place, we now find a bulletproof Ford 302ci crate engine. This should not only be significantly more reliable but should produce noticeably more power. This conversion was undertaken in around 2009, but the Global Financial Crisis meant that it never made it onto the road. The owner assures us that all of the conversion work was performed professionally, which is reassuring in a case like this. The engine doesn't currently run, but everything is hooked up ready to go. It should only be a case of going through the normal resuscitation process to fire the 302 back into life. Of course, the suspension, steering, and brakes will require a thorough check. However, this is all part-and-parcel of reviving a classic that has been sitting for the better part of three decades. It is probably worth noting that the 302 is heavier than the original V8. That means that once the Triumph is returned to the road, it might require some re-engineering when it comes to the question of front springs and shocks.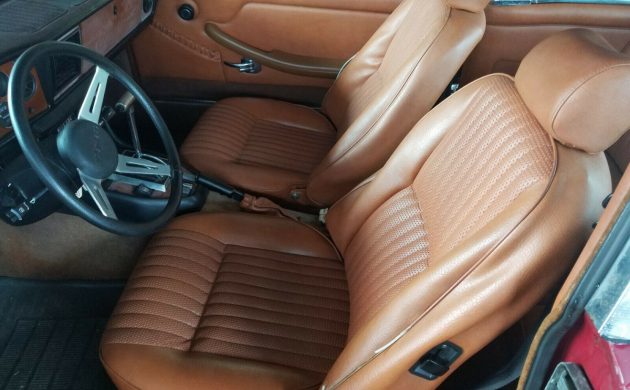 A neglected Stag can show its age with deteriorating interior trim and switches. Generally speaking, the interior of this vehicle looks to be quite promising. The glass on the gauges is slightly cloudy, and I'm not sure whether these would respond to cleaning. The switches for the power windows are also showing some deterioration, but I have seen these successfully restored by patient owners. There is some fading of the timber trim on the dash, and I would be making a concerted effort to restore this before I considered replacement. A set of replacement timber sells for over $1,000, which is enough to take your breath away. The driver's seat has some outer edge wear, and the carpet is also faded. However, the reality is that if you wanted to use the car as a survivor, then the interior would be fine as it is. The Stag was designed to be a luxurious sports car. As a result, it comes with air conditioning, power windows, and an adjustable wheel. One interesting thing to note is the fact that the original radio is still present. More often than not, these have made way for an aftermarket stereo of some description.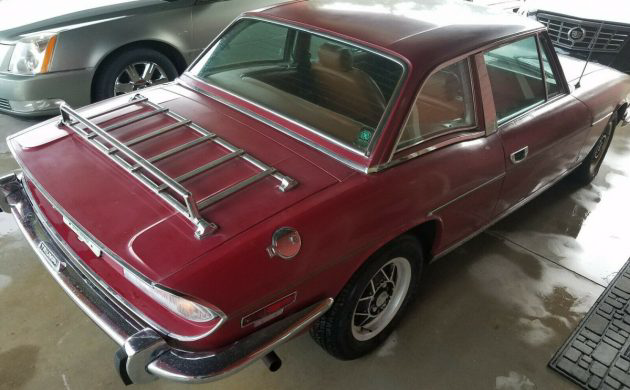 The Stag represented Triumph's attempt to challenge sports car offerings from Porsche and Mercedes-Benz, and on paper, it showed a lot of promise. Unfortunately, the design flaws in the engine were not only insurmountable, but they made their presence known from day one. This did damage to the Stag's reputation from which it never recovered. Far from being the sales success that Triumph envisaged, a mere 25,877 cars were produced between 1970 and 1977. Only 2,871 made their way to the United States before sales ceased. That does make them a relatively rare car today, and with the engine upgrade that has been performed on this car, it has the potential to at least be reliable. Clean and original examples can easily sell for more than $25,000, while pristine cars can command $40,000 or more. This Stag is neither pristine nor is it original. To me, that makes the BIN price seem optimistic. If you are interested in this British classic, then I would be inclined to try my luck with a reasonable offer first. Who knows, but you might get lucky.