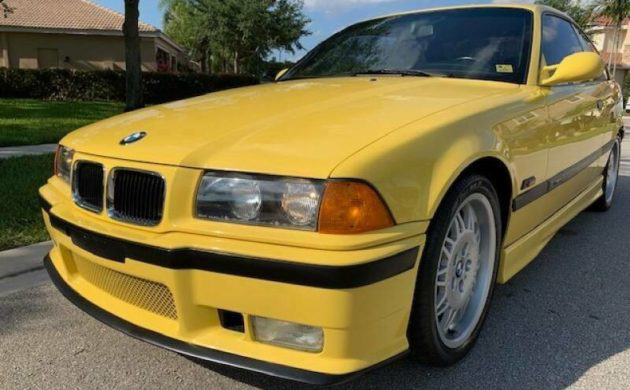 I've made little secret of my love for the BMW E36 M3, having now owned two of them with my latest acquisition last summer. This example is the car I'd like to own, as it's the same year as my first one and wears desirable Dakar Yellow paint. 1995 model years are less powerful (by a small margin) than the later cars but are OBD1 which are generally easier to modify without fear of triggering the check engine line and thus failing state inspection. This example also has a mere 37,300 miles on the clock and comes with a super rare (and desirable, if you're a BMW nerd like me) folding mountain bike that was offered as an accessory. Find it here on eBay with bids to over $30K and the reserve unmet.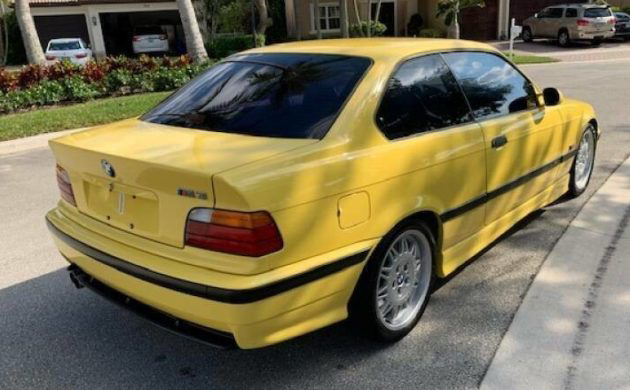 The paint and body on this car appear to be in excellent condition, and the seller notes the car is a one-family owned example with no accidents and a clean CarFax. VIN stickers are present on the body panels as well, and the original spare full-size spare wheel appears to have never been on the ground. While Dakar Yellow was not one of the elusive factory-custom "Individual" colors (basically BMW's paint to sample program), it is still seen far less frequently than the standard whites, reds, and blacks that many E36s came in. The 1995s were also unique for having a "square" wheel setup, as opposed to a staggered arrangement as found on the later cars.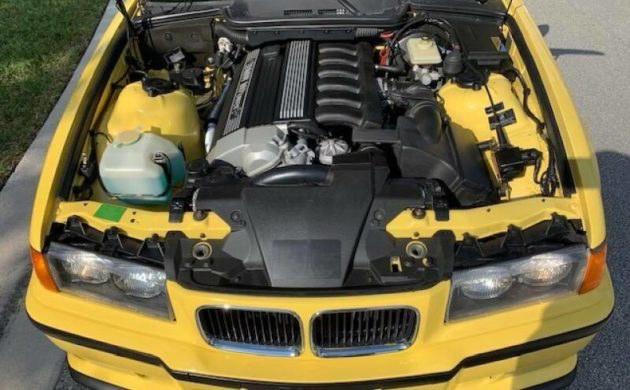 The engine bay is extremely clean, with no signs of modifications. The nose also retains standard U.S.-spec headlights, which are also typically swapped out for aftermarket lenses when the M3 falls into the possession of second or third owners. The nose on the 1995s was also different from later cars, featuring chrome kidney grills recessed into the panel as opposed to sitting on top of it, another good sign that the BMW wasn't in a front-end collision (or at least repaired correctly if it was.) The E36 M3, in general, has been taking off as of late, for a combination of factors: it's a really good driver's car, and its predecessor, the E30 M3, has been hot for several years running.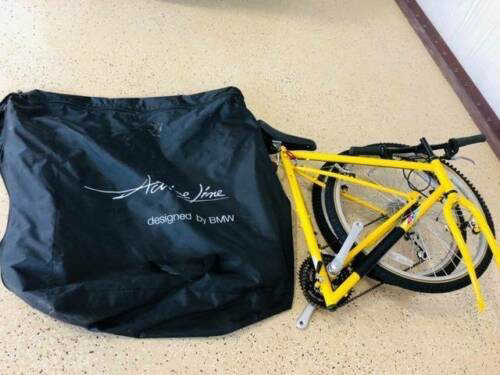 To me, this is one of the coolest features of this M3. As someone who collected every accessories catalog offered for the E30 and E36 cars (and subsequently) and tried to find many of these original options, I can tell you the folding mountain bike is near impossible to track down. To find one still with its original owner and painted in the matching colors of the car itself – well, it will make the BMW faithful go nuts at the first car show this M3 rolls up to. If this one is as clean as presented, it's an ideal vehicle to drive often enough to log some real miles, while not losing a dime in terms of future value.