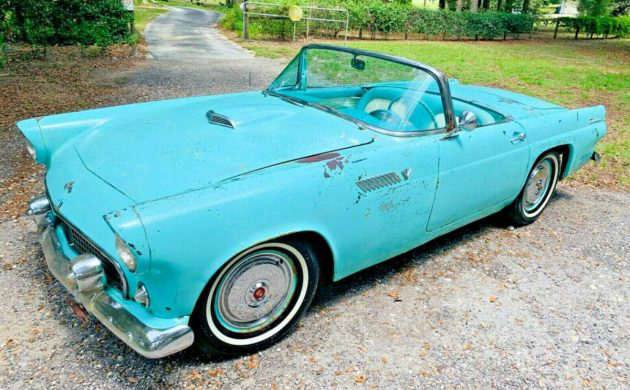 Many think the Ford Thunderbird was conceived to directly compete as a sportscar against the Chevrolet Corvette. However, it really was one of the first personal luxury cars on the market, albeit a two-seater. The T-Bird was named after the mythical bird known for good luck by the American Indians. With its outstretched wings, the thunderbird was thought to have the power to bring thunder, lightning, and rain by flapping its wings. This Thunderbird is certainly no myth and was acquired from a private collection by the seller. We don't know if the seller was planning to restore it and changed his mind or if it was purchased to flip. Regardless, it's a beautiful car even in its current deteriorated state, and can be found in Dade City, Florida where a no reserve auction here on eBay has the bidding up to $4,845 after 21 tries.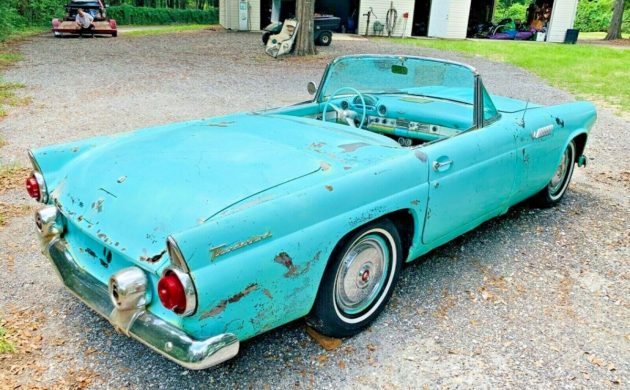 According to Automotive Mileposts, the 1955 Ford Thunderbird was "the car that created a new class in the automotive world." They were impressive to look at and could sometimes be a little quirky to drive (by today's standards). The comparison of the T-Bird to the Corvette, right or wrong, has gone on for 65 years, perhaps because Ford had greater sales success. Ford sold 16,155 T-Birds for 1955, which was many times over the mere 700 Corvettes that Chevy managed. The two-seat 'Bird would see three years of production, with the '57 being the most popular. Ford believed there was a greater market for cars like this which would seat four people, so the Thunderbird added a back seat and it stayed that way through 1997. The two-seater made a brief comeback in 2002-05, but sales didn't live up to expectations.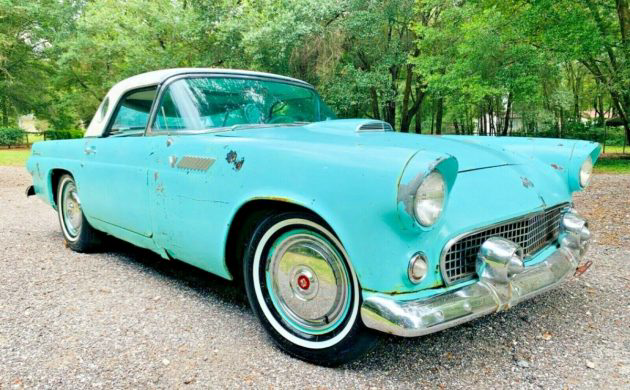 The seller tells us he found this 1955 Ford Thunderbird as part of a collection where it had been for many years. We're told this is an early production car (early bird, get it?) because the interior trim package was limited to early-on 'Birds. There are a ton of pictures provided, so the seller's is doing his best to be square with potential buyers. The more pics you look at, the more rust you'll find. It has helped ruin what once was a Thunderbird Blue paint job (better thought of as turquoise). In addition, there is pitting and scratches to be found most anywhere. The 'Bird has the removable hardtop (remember Suzanne Somers in American Graffiti?) but its headliner is all but falling apart. These tops were also noted for leaking.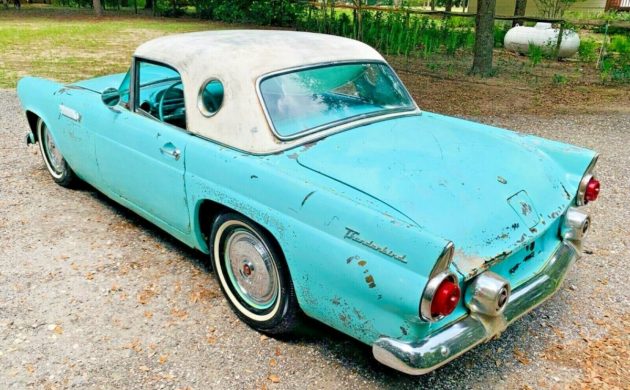 When new, this had to be a real beauty with a matching turquoise and white interior to set off similar external colors. The interior will need a complete rework, from the seats and door panels to the dashboard. This was an especially nice 'Bird when new as it was equipped with optional power windows and seat with no indication how any of that works now. 76,000 or so miles appear on the odometer.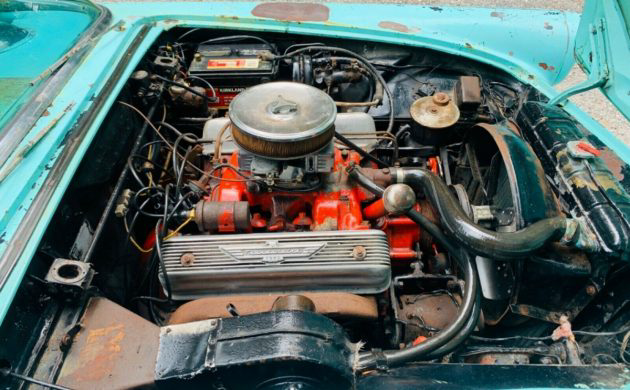 We assume the engine under the hood is the original 292 cubic inch V-8, which was good for just under 200 hp. The transmission is a manual shift, so we also assume a 3-speed. We're told the car has not run in many years and the seller has had no luck in turning over the motor. But for purposes of getting it moved to your domicile, the car rolls and steers easily when pushed.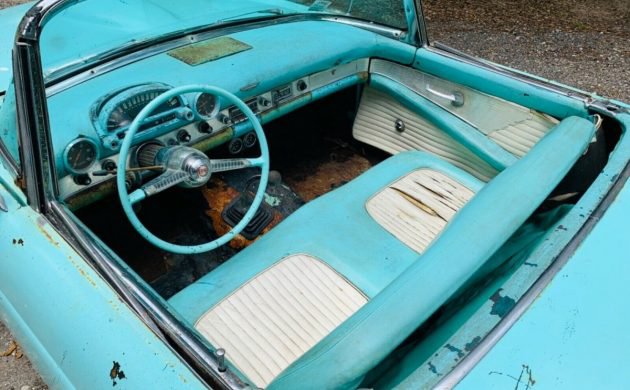 If you follow Hagerty for collector car pricing, this would be a $75,000 T-Bird if in showroom condition. But it will take a lot of money and sweat-equity to just get it to fair condition, which is $20,000. So that may explain why bidding on the car has been in $50 and $100 increments hoping for a bargain when the auction ends.