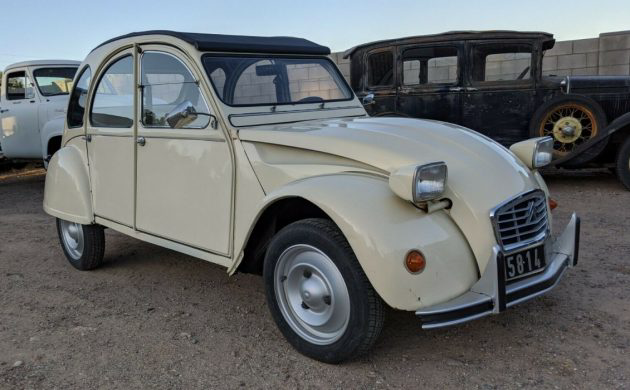 The owner of this 1976 Citroén 2CV must relocate for work, and as a result, he needs to part with this project car. It is a clean and tidy classic that runs and drives. All it needs is for a new owner to attend to a couple of small details, and the result should be a neat little car that is capable of providing years of motoring enjoyment. The 2CV is located in Phoenix, Arizona, and has been listed for sale here on eBay. The bidding has reached $6,655, and the reserve has been met.
The Citroén 2CV is what I would term as "an acquired taste." These are a classic where some people love them, but others couldn't care less about them. There doesn't seem to be a middle-ground. This one appears to be in excellent condition for its age. The owner's cause in the restoration was aided significantly by the fact that he commenced the project with a very sound vehicle. As you will see from this YouTube video, the Citroén looked tidy and clean the day that he collected it. He was very fortunate because it does appear to be a rust-free car. The Nevada Beige paint was also in good condition for its age, and he has done little more than to block and buff the paint to achieve the high shine that you see today. It isn't perfect, because it does have a few marks and cracks. However, as a survivor-grade classic, I don't see anything wrong with leaving it as-is. The original top had a few issues and some damage, so a new top has recently been fitted. Beyond that, the trim and chrome appear to be good, while the glass is also in good condition.
In 1975, a factory remanufactured 602cc engine was installed, which produces 36hp. This power gets to the front wheels via a 4-speed manual transmission. When the owner purchased the Citroén, it wasn't running. It was afflicted with an electrical gremlin, which is now fixed. The engine compression was checked, and it has returned good readings. There were also a few problems with how well the engine ran, so it has been treated to new fuel lines, along with a new carburetor, sending unit, and fuel pickup. Completing the mechanical refurbishment, the vehicle sports electronic ignition, new plugs, plug wires, and a fresh coil. The Citroén runs and drives well, but the idle is inconsistent. It is believed that there is an air leak on the intake, and the next owner will need to address this if that little engine is to run perfectly.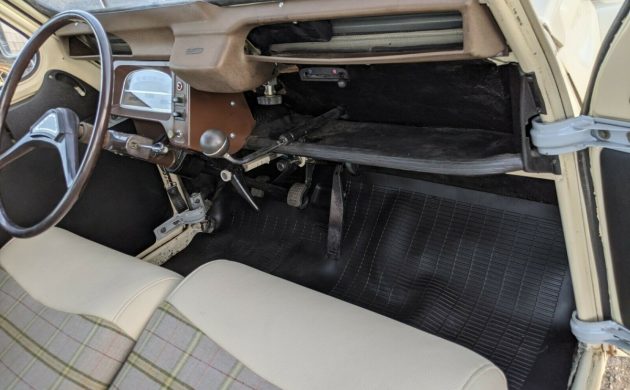 Life inside a 2CV represents motoring at its most basic. There are no luxury items or appointments, and it is a case of what you see is what you get. Having said that, the interior of this Citroén has been nicely refurbished. The seats feature custom covers in plaid cloth and beige vinyl. The door trims have been replaced, and there are new rubber mats on the floors. It presents well and is one area where the buyer won't have to consider spending one red cent. One of the interesting characteristics of the 2CV is the fact that the seats feature minimal padding. However, that doesn't make it an uncomfortable vehicle to travel in. Thanks to soft and compliant suspension, many of the bumps and lumps in the road are absorbed before they can find their way inside the cabin. It all feels slightly odd initially, but it doesn't take long to become used to the sensation.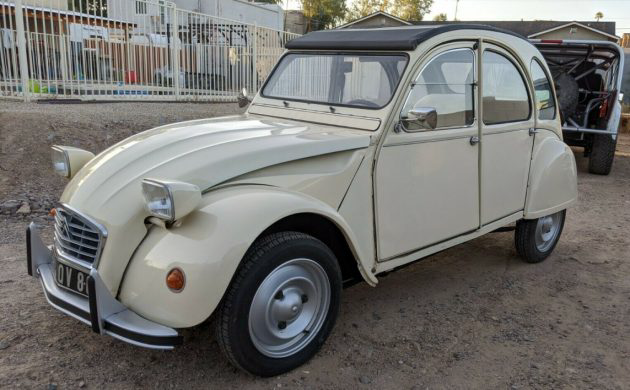 One of the aspects that makes the classic car scene so interesting is the sheer variety of machinery that it throws up for enthusiasts. There will be readers who will dismiss the Citroén 2CV out of hand, while there will also be a lot of readers who will find this car to be an attractive proposition. I quite like these little French classics because they are so quirky. They are also not a car that should be dismissed lightly because you will struggle to find good examples for sale today below $15,000. In fact, sale prices over $20,000 are quite commonplace. This Citroén holds a wealth of promise, and the reserve has been met at its current bid price. That means that there is the possibility that someone is about to buy a 2CV at a very competitive price.