Corvettes are a staple here at Barn Finds and there is a large variety of them discovered weekly. That said, the earliest of the C1s ('53-'55) don't make a regular appearance but as luck would have it, here's a beautiful '54 example to review. It is located in Merritt Island, Florida and available here on eBay for a current bid of  $42,612, reserve not yet met. Thanks to Scott for this tip!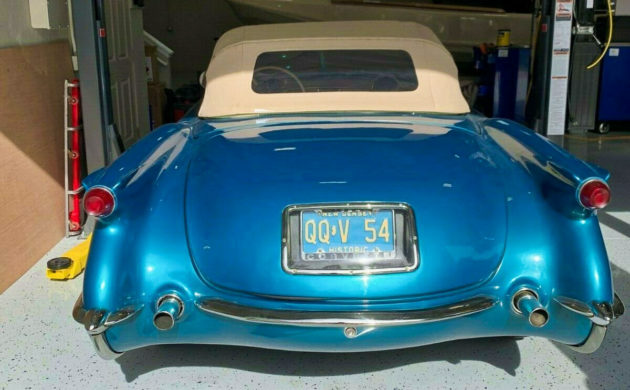 Years back, I wasn't aware that there was a Corvette that preceded 1956 until I happened upon a C1 purple barn-find example, sitting outdoors, in the '70s. I had read that the earliest 'Vettes had tail-fins, so when I saw this neglected, metaflake-sprayed sports car at a distance, I assumed it had to be the earliest model that I knew nothing about. You can imagine my surprise when I further learned that C1s were powered by a six-cylinder engine with a Powerglide automatic transmission.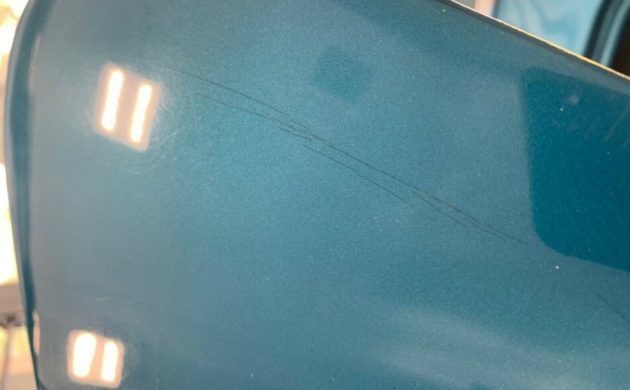 Fast forward to this example and it's a far cry from the neglected example that I spied so many years ago. This '54 Vette, according to the seller, had a frame-off restoration in the '80s but spent twenty years in storage. The seller advises that it was his father's car and he inherited it four years ago. Mentioned, is the fact that this Corvette was an award winner and it looks the part. What immediately grabs your attention is the depth of the finish, it is very strong. For 1954, Corvettes were available in Polo White, Sportsman Red, Black and Pennant Blue which is the shade that adorns this example and is verified by the accompanying features poster. The body integrity, per the images, appears straight and well-aligned. Fiberglass flexes and cracks, especially with usage and age, and there is one image that reveals some minor distress occurring but it doesn't appear to be serious.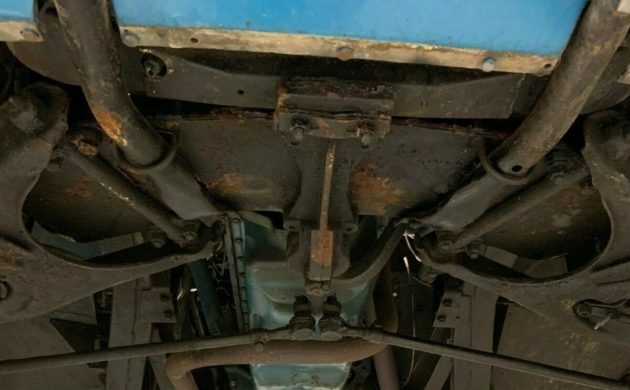 For a frame-off restoration, even as far back as the '80s, the underside looks crusty. Nothing appears to be inherently wrong, I would just expect a cleaner environment. Perhaps the frame-off restoration focused only on the body and not the frame/suspension.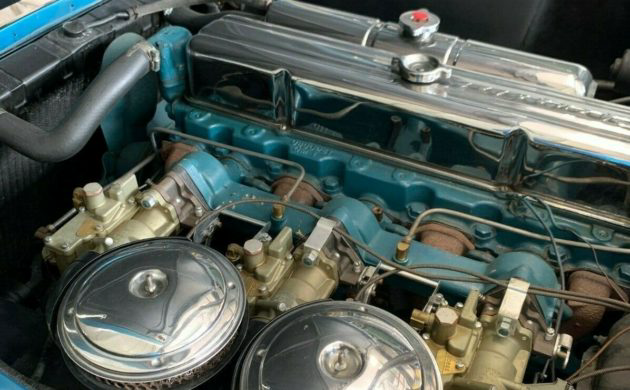 Under the bonnet is a 235 CI, six-cylinder, in-line, triple carbureted engine, known as the "Blue-Flame 150" that developed an impressive 150 gross HP, certainly impressive for the time. The seller states that the engine turns over but that's about it. He further adds that it has old fuel and the motor will require a mechanical refresh. It may be advantageous that this Corvette doesn't move forward on its own because apparently it doesn't stop on its own either, the brake pedal meets the floor. This is initially a troubling matter but is probably easily correctable; brake systems on this vintage car are pretty simple affairs. As I mentioned earlier, all of these early Corvettes, at least the '53 and '54, came equipped with a Powerglide, two-speed automatic transmission.
The interior of this 'Vette is fantastic! Nothing looks out of place and it has maintained its fresh appearance all these 30+ years. The upholstery material/carpets look little to not used at all and match the convertible top fabric perfectly. While I don't think generally of saddle tan working really well with this exterior shade of blue, I'll have to stand corrected as they both greatly complement each other. The same goes for the trunk interior, it is finished to match the passenger compartment and other than a scape or two, it coincides with the general overall flavor of this Chevy.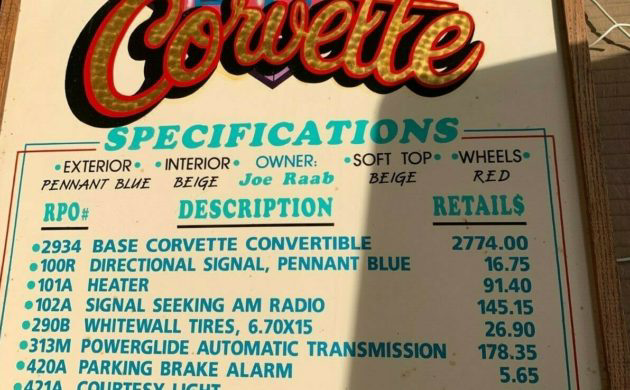 I haven't given these early C1s much consideration, I think it is the niggling thought in the back of my mind that, "Yeah it's a Corvette but it has a six-cylinder engine and a slip and slide Powerglide transmission." Seeing an example as nice as this can help one to render a different opinion regarding these essentially rare and meaningful cars. It is especially interesting to compare this '54 with the just-about-out '20, they have truly come a long, long way! If I'm not mistaken, I believe "Corvette" is the second oldest nameplate in GM's line-up after "Suburban". And to think, with only 3,600 Corvettes sold in '54, Chevrolet was getting cold feet about continuing with the model – glad it worked out the way it did. So to all of you Corvette fans, and those that aren't, if you were in the market for a classic Corvette, would you consider one of these early of earliest C1s?
Have something to sell? List it here on Barn Finds!