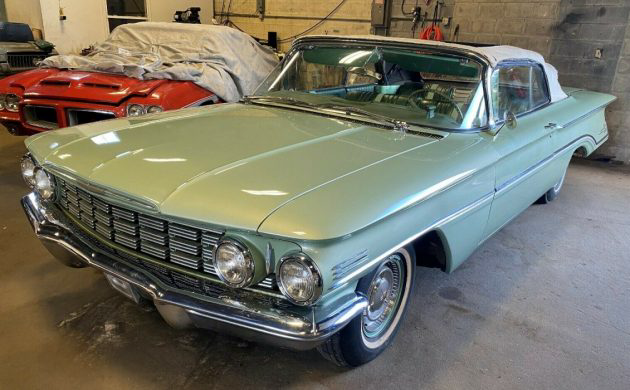 It's large, and at one time, in charge with its 126″ wheelbase and 4,600 lbs. of curb weight. And to add to its stature, it's a convertible no less! Listed as a barn find, this 1960 Oldsmobile 98 leviathan is located in Latham, New York, and is available, here on eBay for a current bid of  $6,300.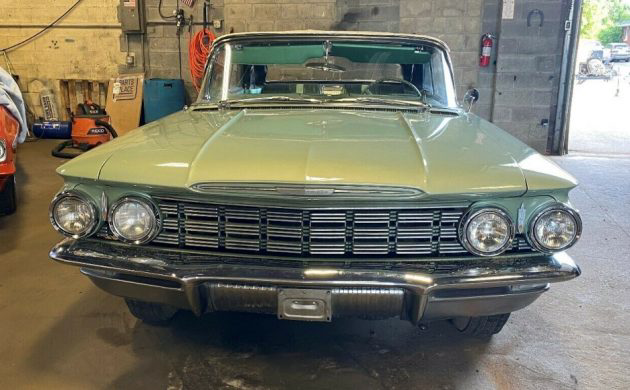 The seller states that this is a great, 45K mile barn find but it really looks more like a garage find though the last registration sticker is from 1977 so it's a "find" from someplace. The seller refers to this Olds as "rare" but research indicates that total 1960 Ninety-Eight convertible production was about 7,300 copies; not rare but hardly an everyday occurrence either.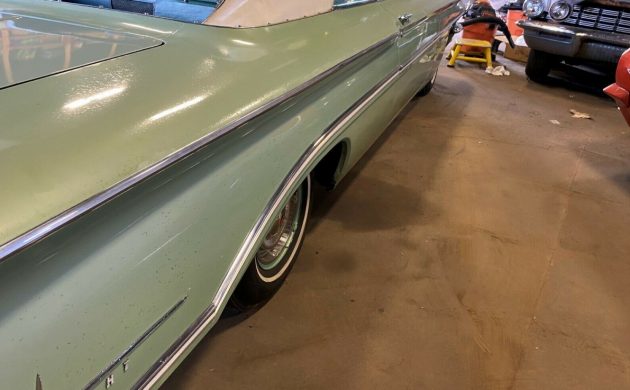 The finish appears, at first, to be surprisingly good. It looks like Oldsmobile code "K" Fern Mist but it's hard to know for sure without a glimpse of the trim tag. Whatever the case, it looks like 1960. There is some crazing in place, most notably, on top of the right side quarter but the finish still presents well and has a consistent shine to it. The seller mentions that there is a "little" rust in the lower quarters but it's not really evident in any of the images. The body panels are straight and the considerable amount of stainless trim is still in place and not dented, tarnished or bent. The trunk pan is showing typical surface rust, but it doesn't look invasive. Convertibles seem more inclined to have this disorder as water gets in around the top-to-rear valance seal, doesn't get channeled away, especially if the channel/drains are clogged, and then ends up under the rubber trunk mat. The next thing you know, rust appears. And being aware of that, the floors, especially the rear floor and the under the back seat portion, should be closely checked. The seller states that the floor and frame are solid but eyeballing those areas would be worth the effort.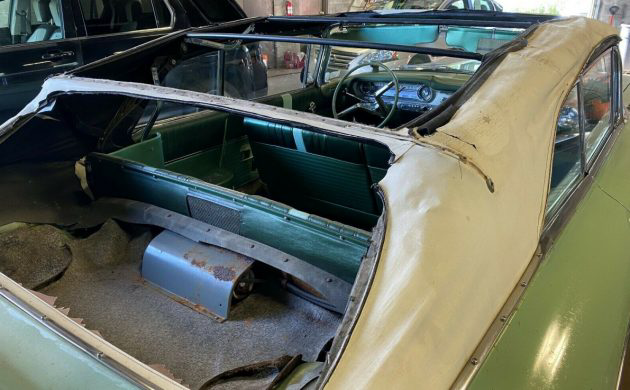 Of course, the elephant in the room is the top or lack thereof. It's a sort of moon roof/convertible top all in one. I would hope that this Ninety-Eight has had some type of a cover over this gaping maw of an opening, during its years of solitude, but the seller doesn't make reference other than to say, "needs convertible top".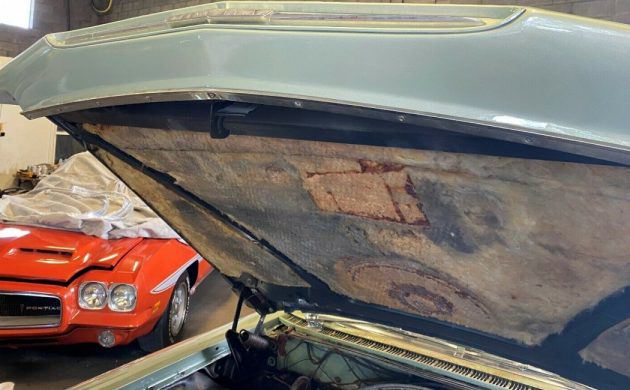 There are no images of the engine room, just this stilted picture of the opened hood. There is also no written reference to the engine or how this Olds runs and drives because other than claiming that the engine turns over, the seller has not tried to start it. Historical information indicates that there should be a 394 CI V8, good for 315 gross HP under the hood and driving through a Hydramatic, dual coupling or "Jetaway" automatic transmission.  (That pesky Pontiac keeps getting in the pictures!)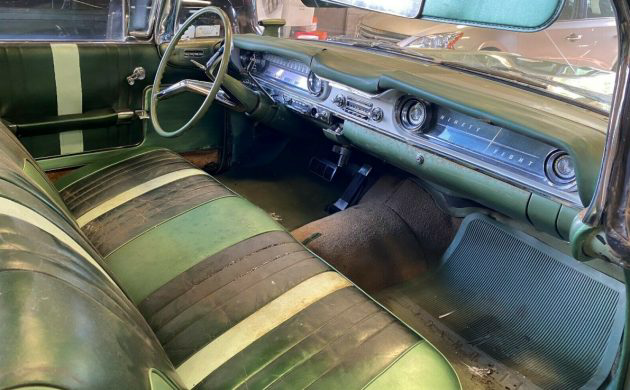 The interior is a reflection of the times, the same way that the exterior hue is. The interior is described in period brochures as being a, "senicoupe interior with jeweltone leather bolsters, nylon inserts and Moroccan accents. (available in) five delightful combinations to offer you a spectrum of color-keyed luxury". I don't know that it rates high in the "delight" category but it is a welcome respite from the monotone interiors of today. It is a bit worn and discolored in places and the carpet appears to be faded but overall it looks to be in relatively good shape. And convertible interiors to have a tendency to take it on the chin as a result of extended outings in top-down mode. Oldsmobiles of this generation had very impressive dashboard/instrument panels and this Ninety-Eight is no exception. The dash pad is cracked and decomposed and there is some surface rust on the glove box lid but the rest of the dash, other than the dropped out ignition switch (it's hanging below by its harness), appears to be in good order.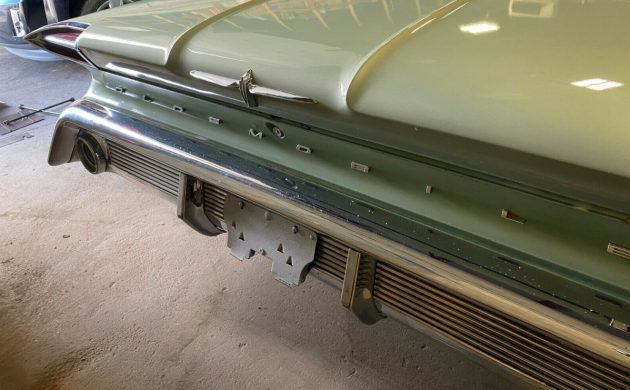 The biggest unknown, in this case, is under the hood and that's frequently the case with these, "I didn't try to start it" sale candidates. This Olds would definitely make for a fun cruiser, assuming that you have a place to store something of this size. As stated earlier, it's not exactly rare, but you're unlikely to encounter another while you are motoring around in this one. There's a little less than two days to go with the auction and it is still in reasonable territory, what do you think, worth taking a chance on it?