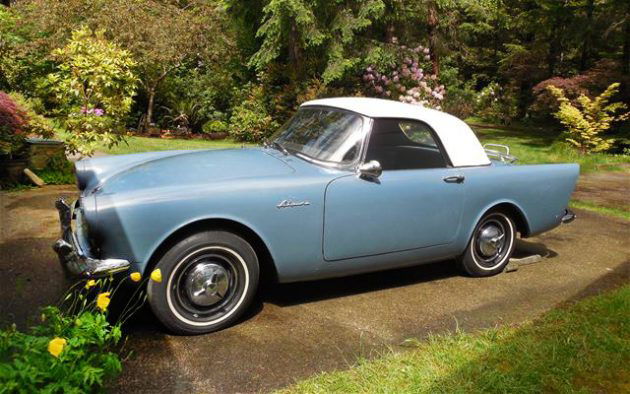 What a ray of sunshine this car is, which is fairly coincidental with it being a 1962 Sunbeam Alpine. This Series II car is listed on Collector Car Ads in Olympia, Washington with an asking price of $7,995. Thanks to Dean for submitting this Sunbeam!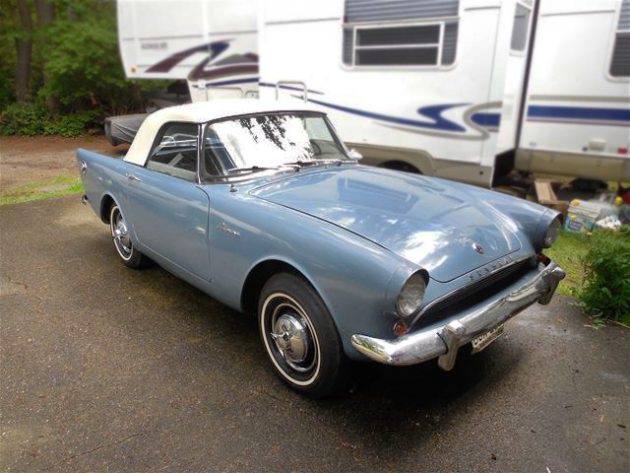 That opening photo says it all, at least name-wise. A fun little car sitting in the sun in what looks like an alpine setting. Or maybe I'm just fantasizing about being in Switzerland again. Rootes Group made the Sunbeam Series II cars for 1960, 1961, and 1962 before they were moved on to the Series III cars, which, oddly, had a less-powerful engine. More on the engine in this particular car in a minute.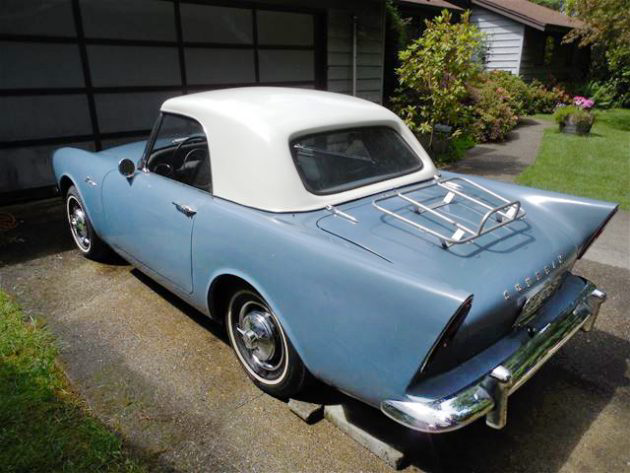 This is, for me, the best angle for these cars. Those rear fins are fintastic! This car is not quite 13-feet long but it looks like a good portion of that length is tail fin. This particular Lake Blue car, or as I call it, "Bond Blue", because it's similar to the one that James Bond drove in Dr. No, looks like it's in very nice shape. It was garaged since 1969 when the current owner bought it and it has been parked since 1975 and hasn't been started since! It comes with both tops and the hardtop sure looks perfect from the photos.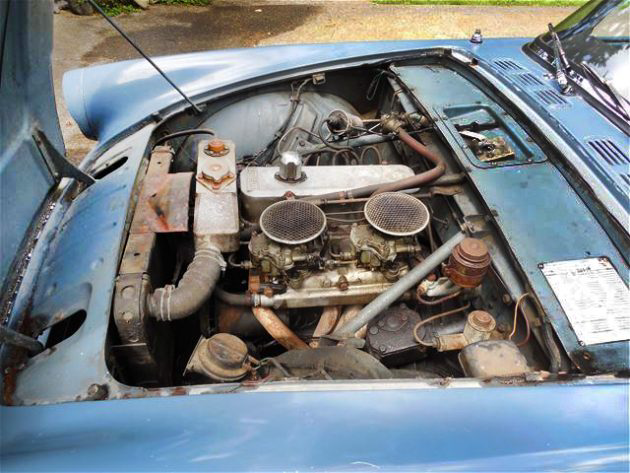 No, this isn't a Sunbeam Tiger, the little V8-powered car that has rocketed in value over the last couple of decades. The Alpine, with its 1,592 CC inline-four and 80 hp, isn't as collectible, not even close. It's a shame because life isn't always about how fast a person can go, it's about the entire driving experience. But, powerful cars rule and they always have, other than in my world. And, in fact, the seller bought this Alpine with the intention of turning it into one of a jungle full of Tiger clones but lost interest and parked it in 1975. That, my friends, is the very definition of "lost interest"! Needless to say, with not having been started since the end of the Vietnam War, a full mechanical restoration is in order. There are no interior photos so a personal inspection would be in order to make sure that it's been rodent-free, water-free, and every other destructive-force-free for the last four decades. Would you restore this car back to Alpine status or would you join the ranks of the Tiger clone crowd?