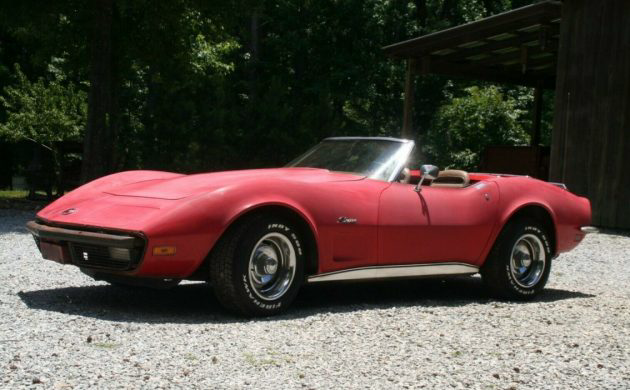 Some classic projects can tend to be more straightforward than others. There will always be enthusiasts who are seeking the sort of restoration project that they can tackle independently in their workshop. For some of those people, this 1973 Corvette Convertible could be a car that is worth serious consideration. It isn't all bright and shiny right now, but it would appear as though it could be once again. It is located in Buckhead, Georgia, and has been listed for sale here on eBay. The owner has set a BIN of $13,500 for the Corvette.
The red paint that the Corvette currently wears isn't original. It rolled off the line wearing Code 980 Orange but has received a repaint at some point during its life. The first big question that we face with this vehicle is one of rust. Well, it appears that this isn't an issue. The owner states that the Corvette is structurally sound, with no rust problems in either the frame or birdcage. With that out of the way, we have to consider the condition of all of that fiberglass. The owner provides a fantastic array of clear photos, and they do paint a positive picture. There are no signs of any stress cracks or problems, and the panel gaps are tight and consistent. The Convertible top looks presentable, but the rear window is cloudy and is beginning to come free. This could be repaired, but if the buyer intends on achieving a high-quality restoration, spending $450 on a new top might not be a bad investment. The most apparent external issue is the missing cap off the front bumper. It isn't clear why this is gone, but a replacement will need to be sourced. Once again, this is not difficult. High-quality reproduction caps are easy to find and generally sell for around $380. Beyond that, I foresee plenty of rubbing and sanding in the future for this Corvette.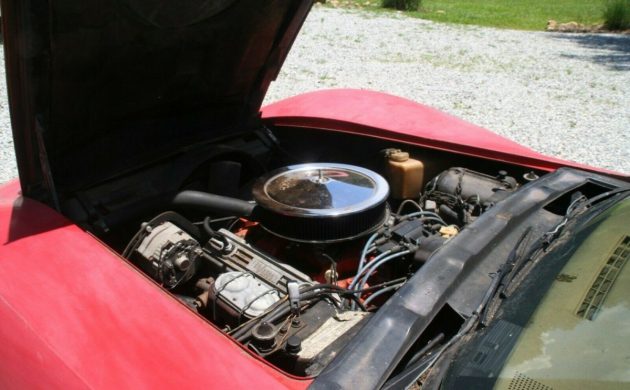 The Corvette is said to be a numbers-matching car. It features the L48 version of the 350ci V8, along with a 3-speed automatic transmission, and power steering. This engine would have produced 190hp when new and would have allowed the Corvette to cover the ¼ mile in 16.1 seconds. The bad news here is that the Convertible doesn't currently run, although the owner seems to think that the issue might be relatively minor. He suggests that it could be a problem with the starter, but isn't 100% sure of this. Beyond that, it sounds like there might not be a lot of work involved in firing this classic back into life once again.
The Corvette's interior is generally in pretty reasonable condition, and it wouldn't take a lot of time, effort, or money, to have it presenting very nicely. The seats are upholstered in Medium Saddle leather, and appear to be in good condition. Generally, the same would seem to be true of the door trims, the dash, and the majority of the plastic trim. The carpet is looking pretty tired, and while the owner does float the idea of cleaning it, I suspect that replacing it would be a better move. Carpet sets cost around $290, and installing one of these would lift the appearance inside the vehicle. The armrest cushion on the console is also looking particularly tatty, but a mere $80 will secure a replacement cushion in the correct color and material. The Corvette was built with air conditioning, but the compressor has been removed at some point. This is included in the sale, but its condition is unknown. This classic also comes equipped with an AM/FM radio/cassette player, along with a tilt/telescopic wheel.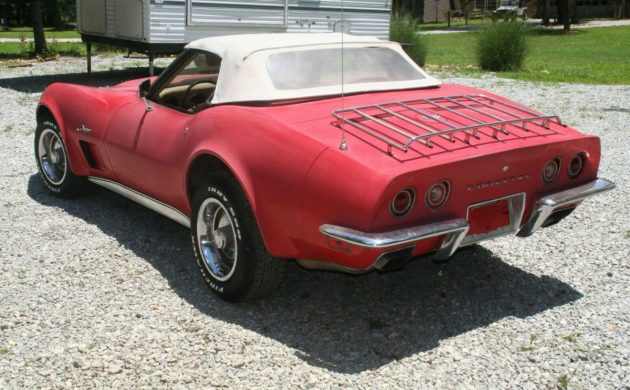 This 1973 Corvette Convertible holds a lot of promise as a project vehicle. It might not be the most potent offering in the Corvette range for that year, but it could still be a lovely Summer cruiser. It is possible to find some reasonably tidy examples of the '73 Convertible for under $25,000, although pristine examples can sell quite easily for more than $35,000. Even if you consider that lower figure as your guide price, then that leaves plenty of room to move on this car at its BIN. That should mean that if someone does choose to tackle the restoration themselves, then there is also the possibility of coming out ahead financially. It is certainly an intriguing thought.