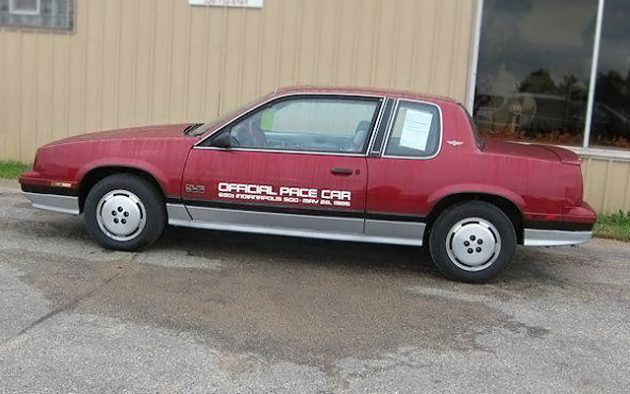 How many of you remember the 1980s? I mean, as in you were born and cognizant of your surroundings, not as in you were in a rock band and don't remember much of that decade. Those of you who do remember the 1980s, you may remember that some of the vehicles weren't exactly as hot as they were a decade or more prior to that era. This 1985 Oldsmobile Calais Indy 500 Pace Car edition is one of those not-super-hot cars from the 1980s, at least performance-wise. This one can be found on Craigslist in Long Prairie, Minnesota with an asking price of $4,995.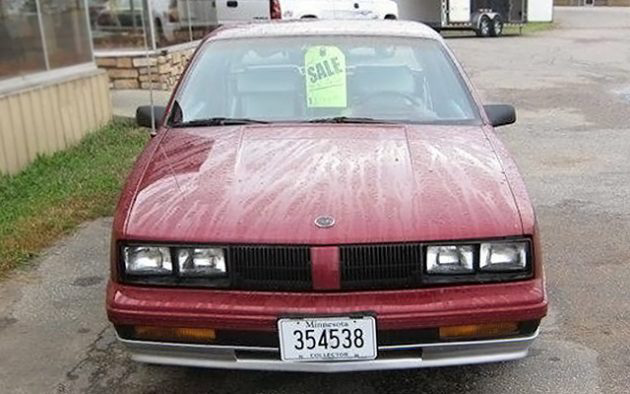 Even car dealers don't provide enough photos on Craigslist. There are zero photos of the passenger side at all, not even a hint. I'm assuming that it hasn't been raked down the side by a delivery van but I'd want to see it for sure. The 1980s may not have been the hottest decade for these types of badge-and-stripe performance cars but Jim Garner knew a thing or two about cars and it was good enough for him, as seen in this YouTube video! He also knew a thing or two about making a great living, so maybe that's why he agreed to drive a somewhat similar car in an Olds commercial.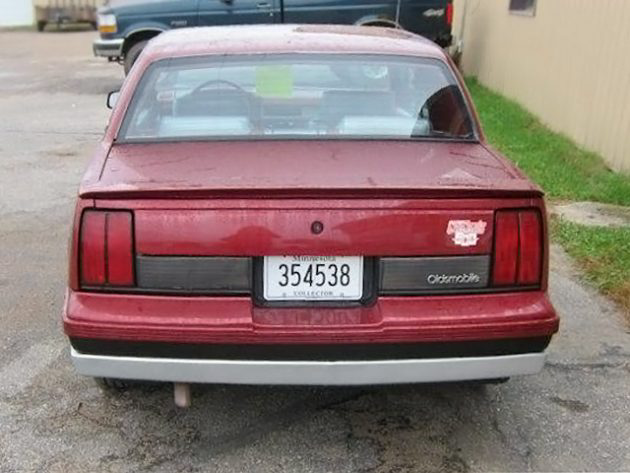 The seller says that this car has new paint and it's hard to tell the quality when the limited photos were taken in the rain. It also has new tires and it's hard to picture Jim Rockford (James Garner) doing one of his famous J-turns in a front-wheel drive Olds Calais! It's too bad that they didn't sell these cars in a convertible body style like James Garner was driving in that video; like the actual pace car. The actual pace car, while known as one of the worst Indy 500 pace cars of all time, was even hotter than this factory tribute car was.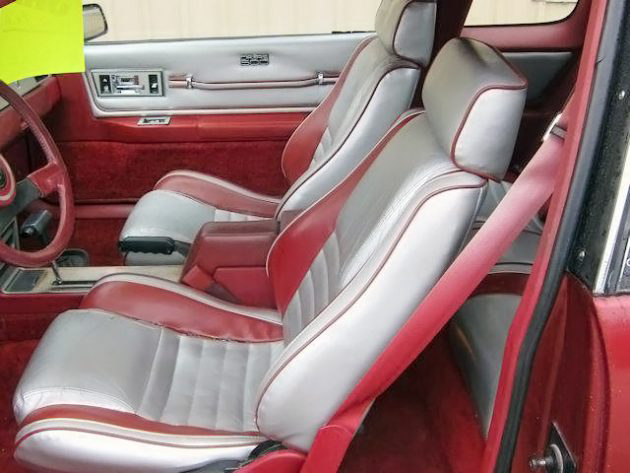 But, all kidding aside, the interior in these cars is worth the price of admission, even if you just took it out and installed it in your living room. I absolutely love this funky color scheme! Silver and red leather?! Come on, what's not to like? Well, a few seam separations are not to like, but hopefully those could be repaired seamlessly.. ah-hem.. The Rat Pack would be all over this thing. Actually, they probably wouldn't have been caught alive or dead in this car, but it really is a fun, way-over-the-top interior. In the sea of mind-numbingly-boring black, tan, and gray interiors in today's vehicles, give me this color combo any day of the week. And, full gauges! Even with most likely an Iron Duke 2.5L inline-four with a shade under 100 hp under the hood, it's nice to have full gauges. It makes almost everyone's worst-Indy-pace-cars-of-all-time list, what are your thoughts on this car?