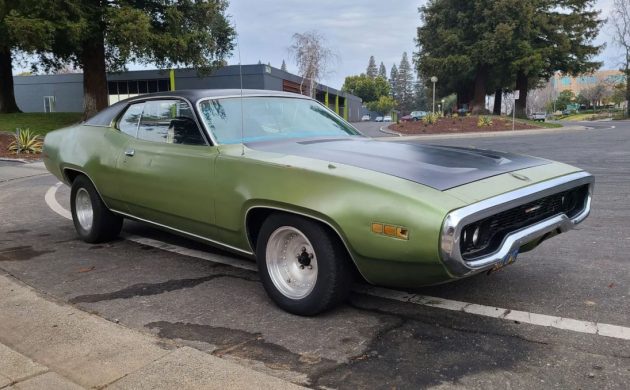 When a buyer goes searching for a classic on which to spend their hard-earned cash, there are many factors to consider. I find a long ownership history to be a strong selling point, and that is one of many plus points that we find with this 1971 Plymouth Satellite. The current owner purchased the car more than 30-years-ago, which certainly fulfills the first criteria. When you look beyond the tired paint, you find a vehicle that has an enormous amount to offer prospective buyers. As we look across the car, you might find yourself itching to join the bidding war. If so, you will find the Plymouth located in Sacramento, California, and listed for sale here on eBay. Bidding currently sits at $6,766, and the fact that this is a No Reserve auction is just one of this car's many attractions.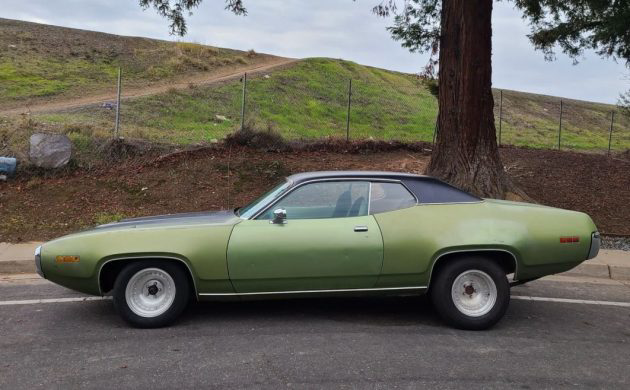 There's no denying that the Plymouth's Amber Sherwood paint is looking pretty tired, but we need to look beyond that. Do you see any rust issues? The answer seems to be a resounding "no" because the panels look remarkably clean. The Satellite has spent its entire life in California, which is conducive to a classic car remaining rust-free. The owner makes no mention of any issues below decks, and the few glimpses that we get of the floors show little more than surface corrosion. The panels have a few dings and dimples, but there's nothing present that will require significant work or cost to fix. There are a couple of slightly damaged trim pieces, but most of this and the chrome remains in a respectable state. The Centerline-style wheels won't be to everyone's taste, but they give this classic a tough stance when combined with the jacked rear end. So, that's the first box ticked when it comes to positive factors to consider.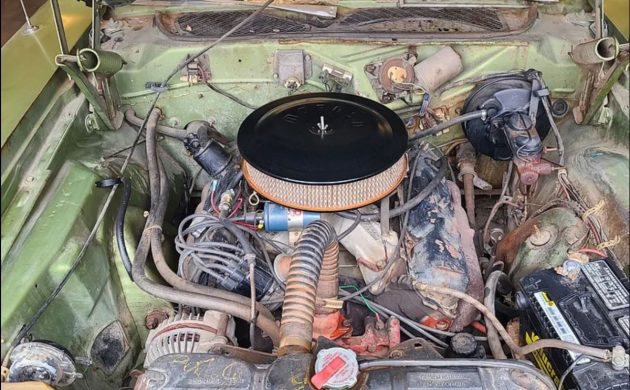 The second box is revealed when we lift the hood and take a look around the engine bay. This Satellite offers the potential for an enjoyable motoring experience because it has received a notable engine upgrade. The Plymouth started life with a 318ci V8 under the hood, which would have produced 230hp (gross). Performance would not have been particularly spectacular, with a ¼-mile ET of 17.8 seconds about as good as it got. Forget that, because the 318 has gone the way of the dodo. In its place, we find a 400ci V8, which would be punching out 260 net horsepower in stock form, which is a considerable improvement over the previous figure. However, this engine isn't completely standard. It has been treated to an Edelbrock aluminum 383 Torker intake. Bolted to the top of this is a Carter AFB 4-barrel carburetor. Throw in a new dual exhaust with Flowmaster mufflers, and this Satellite should get up and go to the point where a sub-15-second ¼-mile run would be a possibility. Hooked to the back of the V8 is a 3-speed A727 TorqueFlite transmission, which feeds the power to a 1964 Polara rear end with modern axles. Power steering and power brakes top off this package. The engine bay doesn't present at its best, but this classic is about so much more than looks. The car runs and drives, with no smoke and good oil pressure.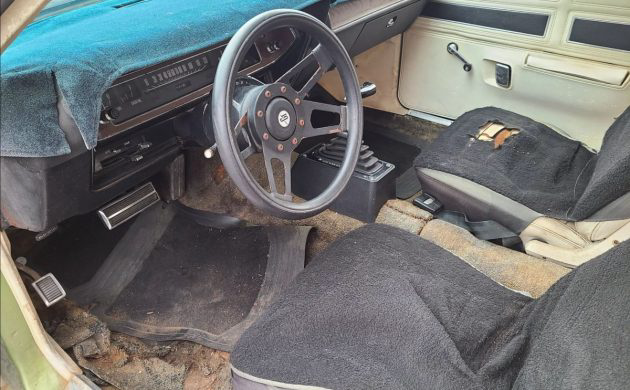 The interior is where the buyer will need to spend some money because it's all looking pretty sad and sorry. The original front seats have been replaced with a pair of '72 Road Runner buckets. The door trims and kick panels are quite discolored, and I believe they will probably need to be replaced. The carpet is toast, and we can't see the dash pad's state due to the cover that has been fitted over it. It's safe to say that a complete retrim is going to be required, but given the upgrades that have been performed to other areas of the car, it begs the question of whether to choose standard materials and patterns or whether it would be worth going down the path of something more individual. That will be a choice that the buyer will need to make.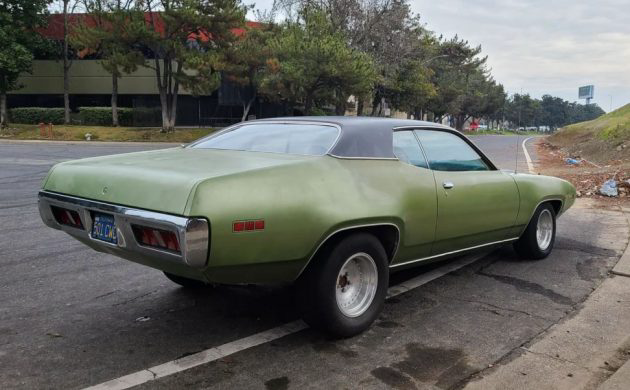 For the enthusiast who is seeking a clean and classic original survivor, this 1971 Plymouth Satellite is a car that they will probably pass over pretty quickly. Returning it to its original specifications and appearance would be possible, but you would have to question why someone would choose to do that. However, for the person who likes their tabasco, this is a car with an enormous amount to offer. The bidding has been quite spirited up to this point, and I can see why. As a straightforward project car, it is an attractive proposition. Is it attractive enough for any of our readers to consider submitting a bid?