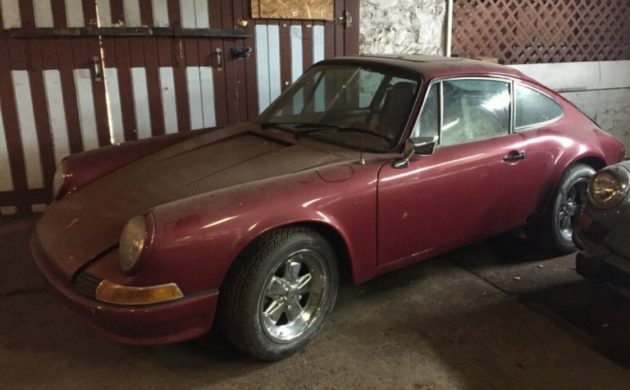 It was quite a surprise to find this Chevrolet-powered 1974 Porsche 911 two weeks ago and I gather from the comments that it wasn't an overly appreciated conversion.  That's easy to understand, a 911 has a certain panache about it perhaps it was a bit more "panacheless" with Ed Cole's famous V8 creation wedged under the boot. With this Porsche 911 episode, we go in another direction entirely with this 1972 Porsche 911T roller. That's right a no-go 911, don't find those too often. This gravity-go Porsche is located in Sheridan, Wyoming and is available, here on eBay for a current bid of  $17,100 with eighteen bids tendered as of this writing.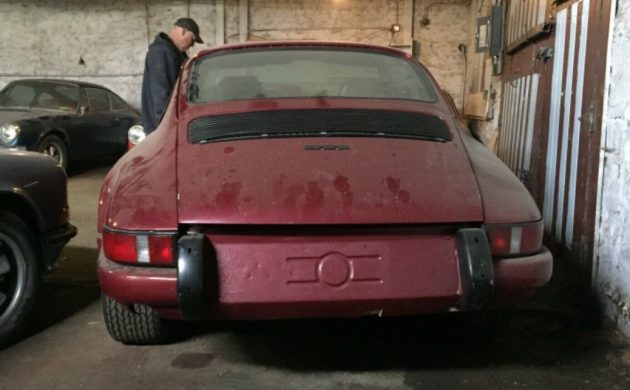 Examing the images and the listing, we learn that the seller has quite a few '72-'73 911's and he's "clearing out a collection". This 911 was originally painted light yellow but has seen a ruby red respray somewhere in its past. Being dusty and indoors, it's tough to get a thorough look at this Porsche's extremities. The finish appears to be in pretty good shape though it shows to have been thickly applied. The seller mentions that this 911 has steel RS-style flairs incorporated around the rear wheel openings. They appear to have been well integrated into the quarters but the rear bumper/valance looks lumpy and misaligned so some attention may be needed there. The wheels are a different take on what looks like a chromed version of the typically found Fuchs variety, at least the ones on the driver's side anyway.
Power should arrive via a 140 net HP, 2.4 liter, flat-six cylinder engine working through either a four or five-speed manual transaxle. All we have now are the sounds of silence. It is stated in the listing that 1972 was the only year for a remote oil filter and it looks like that's all that remains. The seller suggests, "Add your own drivetrain and make a period hot rod…" Chevrolet small-block redux?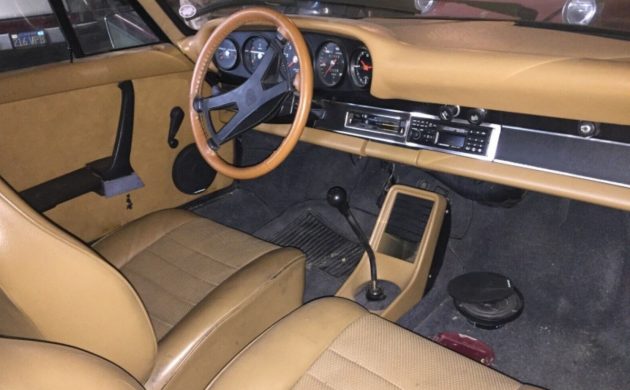 The interior is actually a bright spot as it appears to be in good nick. The upholstery, dash, door panels, instrument panel, and carpet are showing a bit of wear but a good cleaning would probably return all to good order.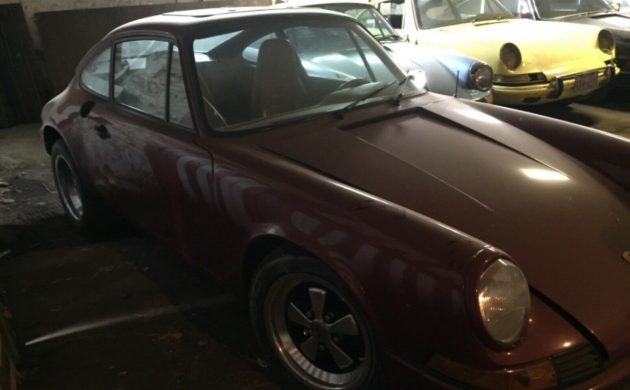 So, what to do here? Considering how this Porsche appears, based on what can be seen from the few indoor images, this 911 looks ripe for a correct Porsche engine – I'd ditch the hotrod idea. It's not necessary to stay with an original condition/spec motor, but having a basically correct powerplant that has grown some hair, IMHO, would be a welcome enhancement and far easier to accomplish than inserting a drivetrain that doesn't belong. That's my two cents.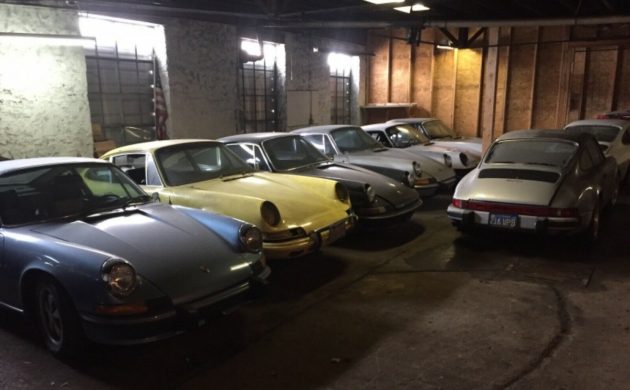 And if you are considering a '72 or '73 911, but prefer one that self motivates, you may want to keep an eye out for the seller's other cars as he adds, "Keep watching for future auctions". There may be a deal in there somewhere, right?