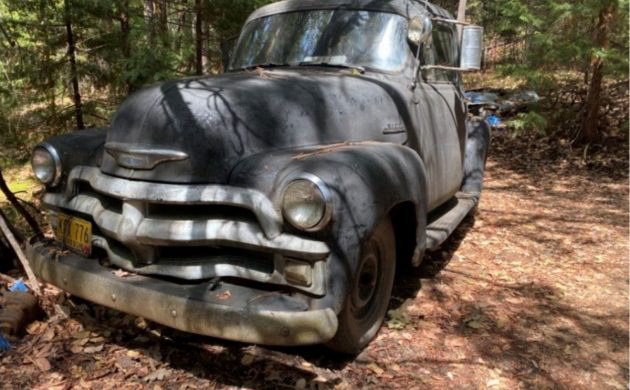 This 1954 Chevrolet 3100 Pickup might cut a forlorn figure sitting in its current location, but it appears to be quite a deceptive classic. It is structurally sound, and the 6-cylinder motor that occupies the engine bay starts and runs. Classic pickups like this are continuing to grow in popularity, which means that they continue to increase in value. This one needs some work, but there is the option also to acquire an enormous pile of parts. Those should give the buyer a decent start or could represent enough spares to last a lifetime. The Pickup is located in Wolf Creek, Oregon, and has been listed for sale here on Barn Finds Classifieds. The owner was originally asking $5,000 for this Chevy. You can now take this beauty home for a mere $4,500 or for $9,500 with what is literally a ton of parts. That makes this a very affordable project vehicle.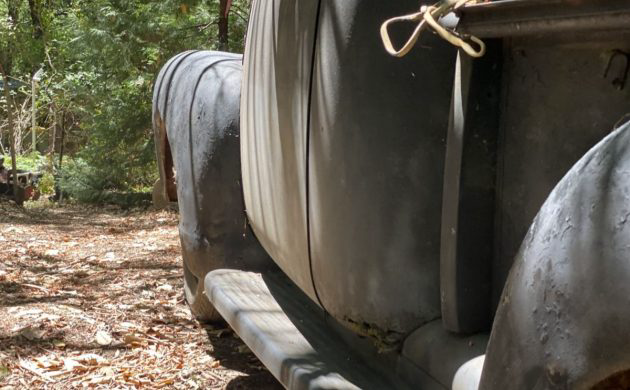 It appears that the 3100 started its life wearing Medium Cream paint, but as is so often the case, it has undergone a color change at some point. Whether the Pickup is returned to its original shade will be a decision that the buyer will need to make. This will probably be influenced by the path that they choose to follow with this project. There's no doubt that it would look pretty magnificent returned to its former glory, although it would also work well as the base for a custom or rat rod build. The frame appears to be solid, with little more than a coating of surface corrosion to contend with. The panels wear the usual selection of dings and dents that you might expect to find on a workhorse of this age, but none of these appear to be bad enough to justify panel replacement. It does have some rust for the buyer to tackle, and this is in the usual spots like the floors and lower cab corners. This is such a common occurrence that sourcing replacement steel is easy and relatively cheap. Outer cab corners can be found for under $40 each, while inner corners sell for around $35. The floor could be tackled a couple of ways. Repair panels run to about $70 each, but a complete floor can be found for $500. With that latter option, it would mean that the floors would be 100% rust-free and shouldn't be the source of any future problems. All of the trim appears to be present, and it is all in a restorable state. The glass looks good, with no visible cracks or problems.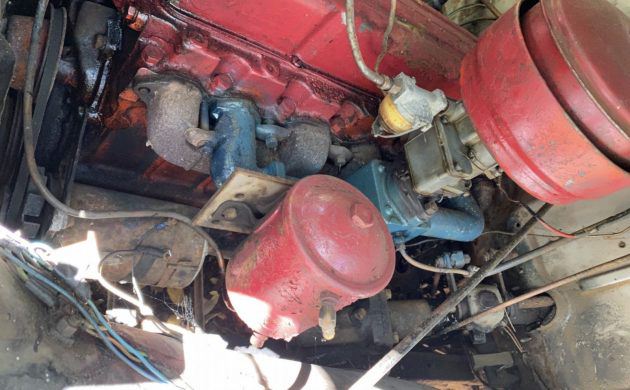 Under the Pickup's hood, you will find a 235ci 6-cylinder engine that is hooked to a manual transmission. This six would have pumped out 112hp and a very healthy 200 ft/lbs of torque. With maximum torque available at a mere 2,000rpm, the 3100 was a flexible vehicle that could carry a decent load with impressive ease. This Pickup isn't currently roadworthy, but the engine does start and run. The brakes need attention, including replacing the wheel cylinders on all corners. It seems that returning it to a roadworthy state might not be difficult if the buyer chose to follow that path. It would undoubtedly attract plenty of interest with its current appearance. One of the great things about this as a project truck is the volume of parts that are available to interested buyers. These include two carburetors, a 235 cylinder head and lifters, two complete rear ends, a pair of rear leaf springs, a spare 4-speed transmission, a 3-speed transmission, along with sundry other items. There is also all of the equipment required to convert the electrical system from its current 6-volt operation to 12-volts. The owner says that the collection weighs in at around a ton and would seem to be well worth the extra cash.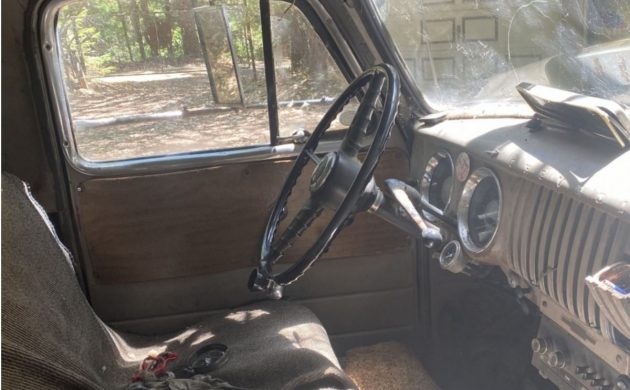 One area of a classic pickup restoration that many owners enjoy is whipping the interior back into shape. That tends to be because it doesn't require a lot of specialist skills, and the work can be completed in a home workshop. Dismantling these interiors is an easy task, and with so many painted surfaces, anyone with good preparation and painting skills can achieve stunning results without spending a fortune. This interior is complete, and apart from refreshing the paint, the buyer need only source a replacement seat cover, door trims, and a rubber mat to have the interior sparkling once again. If the buyer is contemplating a custom build, they could choose to change the seats and upholstery to suit their tastes. The world would be their oyster on this one.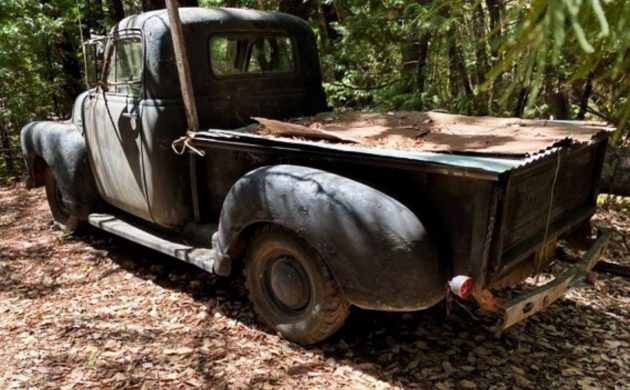 When it was shiny and new, this 1954 Chevrolet 3100 Pickup would have cost its original owner about $1,420. Today, you will struggle to find a nice example for under $20,000. If a pristine one is on your wish list, you could easily double that figure. This one is complete, and it seems to represent a relatively straightforward restoration project. When you look at its overall condition, it appears to be something of a bargain buy. The option to purchase that cache of parts simply adds to the temptation. I believe that it will sell pretty quickly, but will you be the next lucky owner?