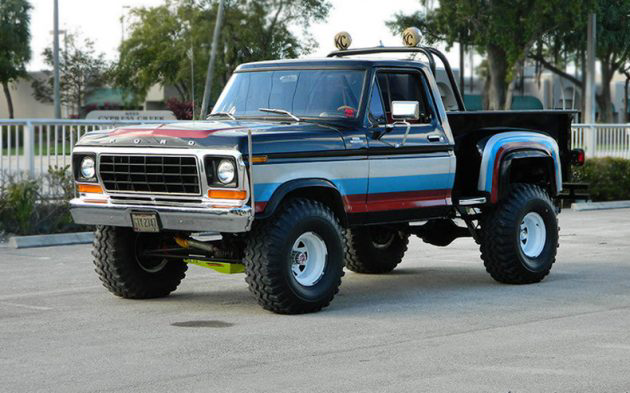 Andrew showed us a nice, no, an almost-perfect, 1978 Ford Bronco a few days ago and if a person were a serious post-powerball-winning Ford truck collector, surely this 1978 Ford F-150 would be on the list, too. This isn't any ol' 1978 Ford F-150 as you'll see in a minute. It's listed on eBay in Fort Lauderdale, Florida with an unmet opening bid of $5,000, and even at that the reserve won't be met. You can see that this truck is worth much more than $5,000 by this opening photo.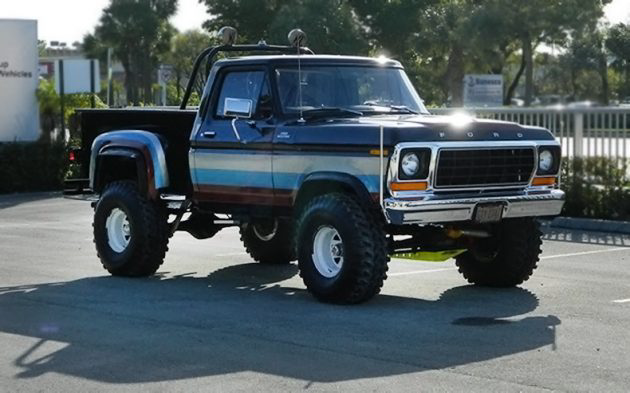 I'm personally not a huge fan of jacked-up pickups, in general, but I really like the look of this short box, or short bed, stepside at its current.. altitude. This is a sixth-generation Ford F-Series truck and it's about as nice of an example as you'll ever find. Not to mention that it's one custom pickup.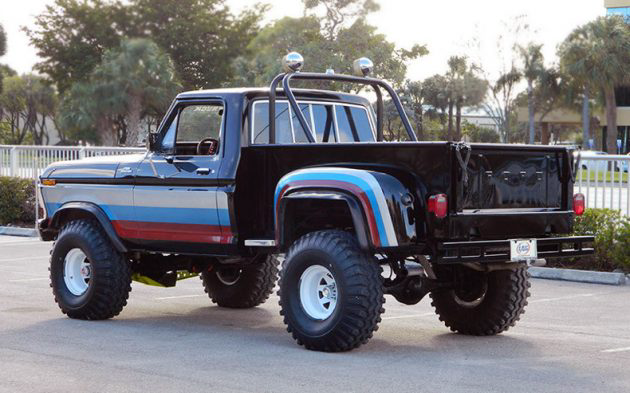 I know that we've gone through this before, but I really like a stepside pickup. I got schooled with a king-sized ruler on the knuckles a while ago for even suggesting that stepside trucks were inherently more valuable and desirable than fleet side pickups were. Ouch, lesson learned, so I'm not going to say anything about them being better or worse, I just like them better. Nobody can call anyone wrong for liking what a person likes, I hope? Or, at least they shouldn't, that would be ridiculous.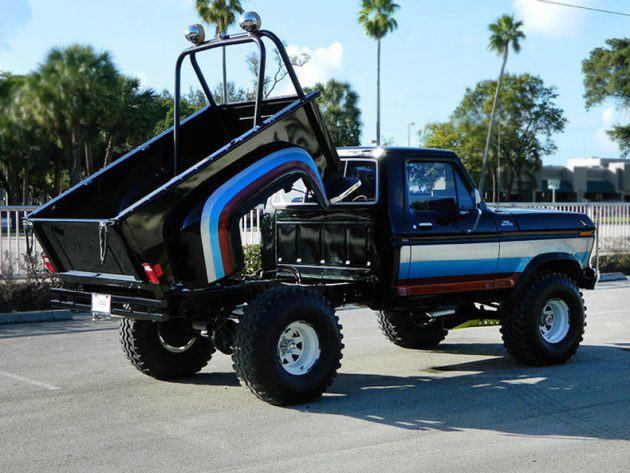 And, this isn't any ol' short bed stepside as you can see, it's a custom dump bed! Or, as we grew up saying, box, not bed. But, either way, it dumps. I can't imagine anyone hauling anything that would need to be dump'able in this perfect pickup, but I guess for car shows it would be cool.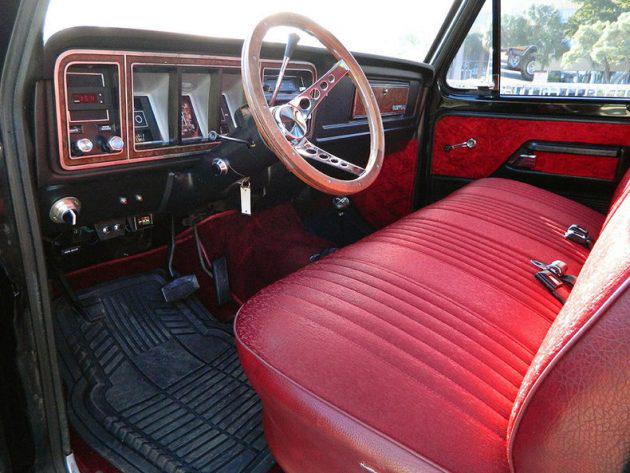 This Rat-Pack-like interior is pretty nice compared to what a regular 1978 Ford F-150 would have been, at least on the floors and door panels. The carpet looks a little loosey-goosey but maybe it's more of a floor mat type of situation than being installed carpet? Supposedly, the ultra-low mileage of 6,400 miles is correct. These fabric seats would have been great in our 1969 F-250, those black vinyl seats were killer when it was hot out, even with the AC on and dripping on the passenger's feet.
The seller says that this is a 351 V8 which would make it the last pushrod V8 block that Ford designed: the 351M. It was basically a shortened 400 cubic-inch V8 and it was available in light-duty Ford trucks until 1982. Unfortunately, this engine only had 156 hp from the factory and supposedly this one is bone-stock and is perfect with original "crayon" marks and the seller says that "any restoration shop should jump at the chance to document what an F-150 from 1978 looked like when it left the factory." They're only original once, folks! But, wait, then there's that dump box. Does that hurt or help the value of this truck? What is this one worth?