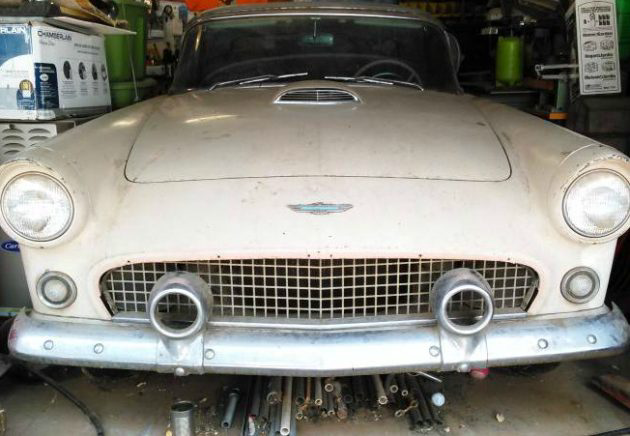 In a previous story, I wrote about a former teacher who owned a 1955 Thunderbird.  A ride in her yellow Thunderbird is probably the root cause for my desire to own one of these two seat beauties, and, thanks to loyal reader Steve Tankersley, another one has appeared on the radar.  This particular 1956 Ford Thunderbird, found on Craigslist for $13,000 or best offer, looks like the perfect project car.  Located in Grass Valley, California, this iconic automobile will require a lot of work, but it seems to be pretty solid and complete.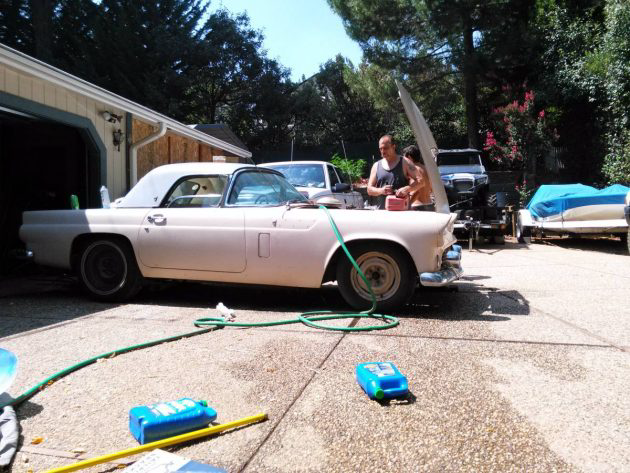 Every car has a story, and this Thunderbird has a story that is becoming all too familiar.  It seems that this Thunderbird was owned by the seller's grandfather, and it is part of an inheritance.  Unfortunately, the seller does not wish to keep it and placed it on the market after trying to clean it up a bit if the picture above is any indication.  It is sad to see situations like this, as a two seat Thunderbird should be an appealing heirloom.  I sometimes run into people who can tell you in great detail about a neat car a deceased relative owned that they ended up selling at the first opportunity.  They cheerfully tell you about the car, but they recoil at the thought of taking over as caretaker.  I guess caring for an antique is pretty daunting for some people, but I have always considered the task to be a labor of love.  This hobby has provided me some great experiences, and has allowed me to meet some wonderful folks along the way.  I just wish we could help more people feel comfortable with the prospect of putting an old car in their garage.  We definitely need to do something to keep the hobby afloat.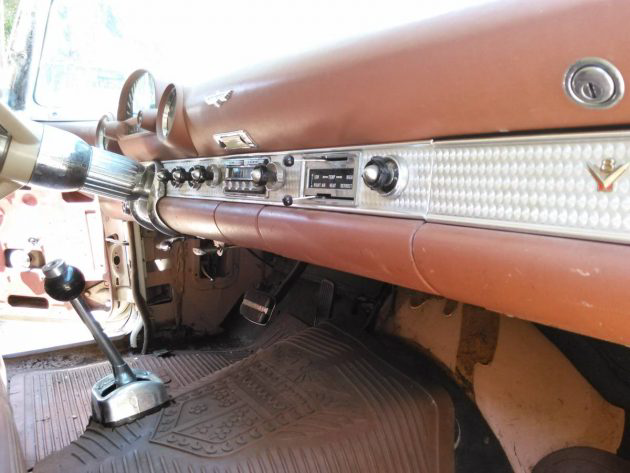 Anyway, back to the Thunderbird.  While it appears in the picture above to be a light pink in color, the other pictures make the car look white or maybe a light tan.  Looking at color chips from 1956, my guess is that it was originally painted Colonial White with a red and white interior.  The interior red that year seems to have a fair amount of brown in it though.  Otherwise, the car seems to be rather plain in style and set up to be a comfortable cruiser.  Looking at the color options for 1956, there are a few possible color, trim, and top options that would simply be amazing together.  If I had the chance to order one, I would have selected Nocturne Blue Poly (a royal blue) for my exterior color, peacock (dark blue) and white for an interior, and a black canvas top.  With a manual transmission, of course.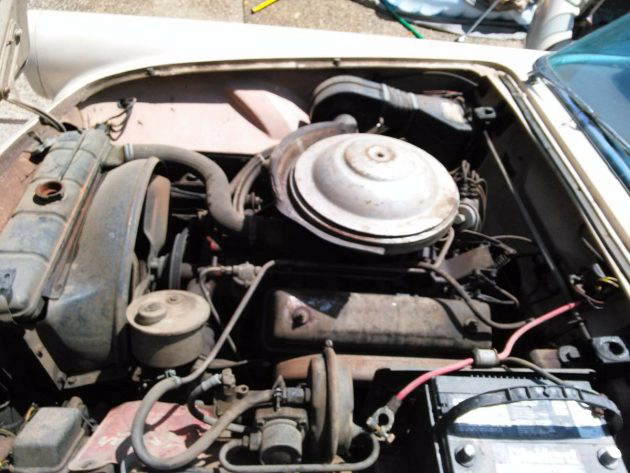 In the engine compartment, everything seems to be there.  Dirty and rusty, but there.  The owner states that it was parked due to some oil issues he doesn't understand, which could be anything from a locked up engine to a leaky oil line.  It looks to be the original Y-block engine, but we have no idea whether or not it was the base 292 cubic inch V-8 or the 312 with the single four barrel carburetor.  If it is a 292, then it packs 202 horsepower, and if it is a 312, then it would be rated at 215 horsepower.  There was a third option, a twin four barrel carburetor setup that delivered 220 horsepower, and was installed by the dealer.  These kits are fairly rare on 1956 Thunderbirds, as they were an option only offered late in the model year.  A chrome dress up kit for the engine was also offered as an option, and this one may have that option under all that grime.  The photo quality doesn't help much, but it does allow us to see that the car is equipped with a heater.  Believe it or not, heaters were an option on Thunderbirds, and it is not totally unheard of for one to pop up every now and again.
As I've lamented before, I just cannot understand why two seat Thunderbirds are not valued higher.  This one, at $13,000 or best offer, is one of the lowest priced ones I've seen in this condition.  For what looks to be a fairly rust free and garaged example, this one is hard to pass up.  My guess is that the car could be purchased for less, as the owner doesn't seem to be all too attached to it.  My wallet is grateful that this car resides on the left coast.  If it were any closer, I'd probably be taking a look at it.  At this price, I'd treat it like a blank canvas.  It would need a full restoration anyway, so why not paint it like I mentioned above, hot rod the existing Y-block, and install an aftermarket six speed and a built rear end.  You can't order a new 1956 Thunderbird today, but you can build one up yourself!
What would you do with this one?