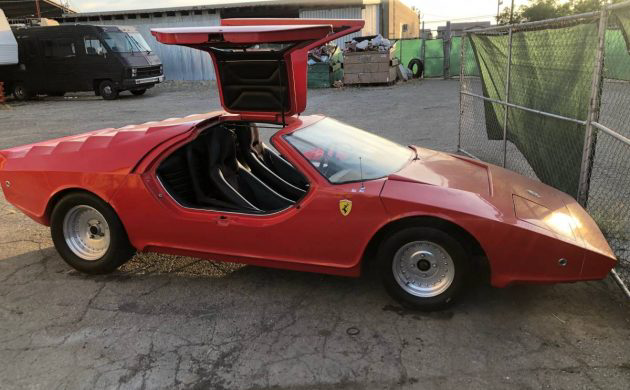 Kit cars are a funny thing, as they are often conceived to serve as a replica of some slice of six-figure exotica that otherwise belongs in a museum. Take this Fiberfan Aztec 7: it was intended to resemble the priceless Alfa Romeo Carabo concept car, which isn't exactly a car that the member of the general public can acquire. So Fiberfab, storied manufacturer of high quality kits that they are, decided to try their hand at a replica, and came up with this specimen that is offered here on craigslist with a Ford-built six-cylinder engine, and in need of some mechanical repairs before it hits the road again, looking for unsuspecting motorists to fool.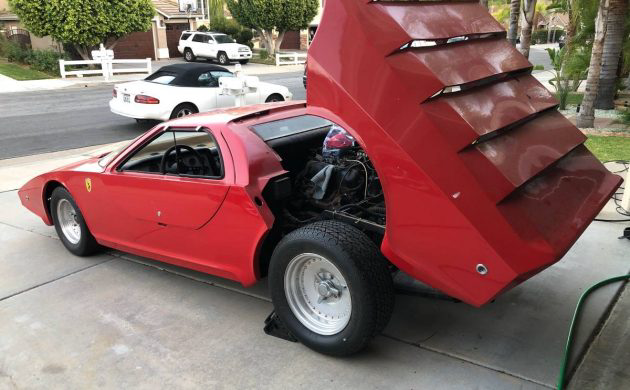 Thanks to Barn Finds reader Pat L. for the find. The thing is, if you do come across someone who knows what a Alfa Romeo Carabo looks like, I'm not sure they'd be fooled for a second into believing that's what this car is. However, Fiberfab didn't necessarily set out to create an army of fake concept cars; rather, they saw a striking design that wouldn't land in showrooms in anything resembling its conceptual form, and decided to make mass production a reality. I can't fault them for that, and Fiberfab generally did a good job in the construction of its kits. The body on this one still looks quite nice, with its various hinged appendages all opening as they should.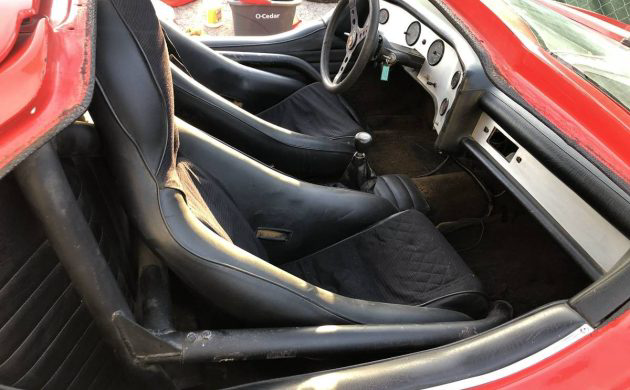 Like so many kit cars of the era, the bucket seats look absolutely miserable for anyone weighing over 80 pounds to get into and out of, but at least the cockpit appears to be in good condition. I'm not sure how much of the features seen here were lifted from other vehicles versus how much was Fiberfab's own construction, but it doesn't look like parts bin fodder. The instrument panel is quite simple, certainly a design that Fiberfab could have come up with on its own. The seller mentions that transmission will need a new or rebuilt clutch, but given the drivetrain components were usually sourced from the Big 3 automakers, I'm sure a new clutch kit won't be too hard to source.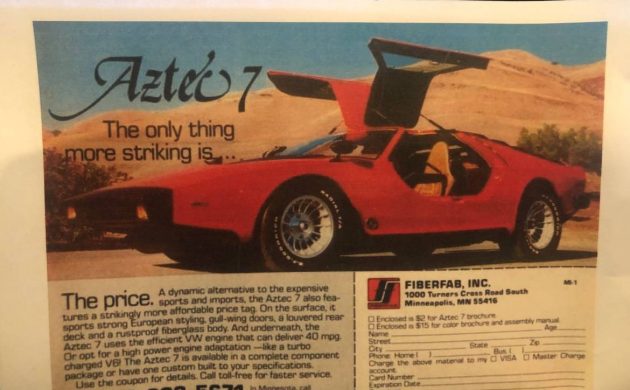 Of course, that's me knowing nothing about these cars on a parts-level basis. The bad clutch could be the reason why the seller hasn't pursued making it a runner, if it turns out such parts are obsolete in new condition. Listings that include the original advertisements always warm my heart, especially since they usually made kit cars like these look so much more formidable than they ever did in real life. Still, if you have to own a kit car, buying a Fiberfab creation is a good place to start for the build quality and design, which was usually light-years ahead of other competing brands. The seller is asking $5,900 for this Aztec 7, of which he believes only 150 examples still exist today. Is that a fair price for a kit car rarity like this?