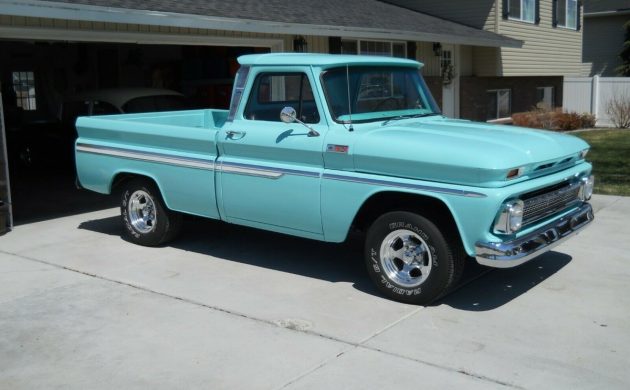 There are only two days remaining in the auction for this Short Wheel Base 1965 Chevrolet C-10 pickup and the bids have already passed the reserve. The truck is located in Iona, Idaho and can be seen here on eBay. We appreciate Larry D for bringing this little truck to our attention. The 1960-1966 Chevrolet and GMC truck market is hot and prices are rising. The C-10 is the designation for the half ton Chevrolet pick up and this one is bid to $19,100.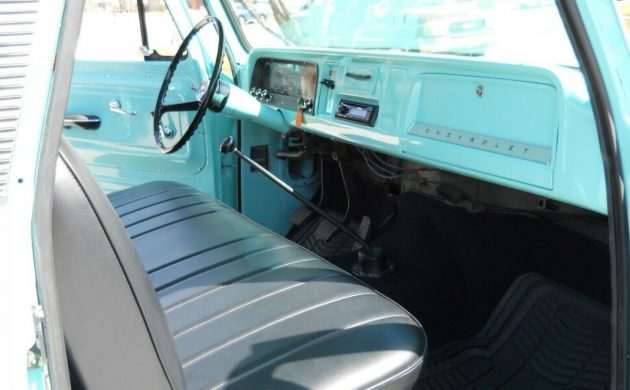 The interior of the truck has been repainted to match the exterior. Typically, the standard interior color was light fawn which is kind of a tan/gold. A number of new replacement parts were used to build this truck and it looks really nice. The factory radio has been replaced with a modern unit. The seat has been recovered and the glass, dash, gauges and steering wheel have also been replaced. The seller chose to install carpet on the floor that looks very nice.
The Chevrolet C-10 base engine in 1965 was the 250 cubic inch inline 6 cylinder engine. A buyer could opt for a larger 292 cubic inch inline 6 cylinder engine or the 283 cubic inch V8 engine. The seller does not say what cubic inch this engine is but it is backed by a 4 speed manual transmission. The ad states that the truck also has a positive rear differential and runs and drives great. The engine compartment looks very nice but the seller mentions that it needs paint. It looks fine to me.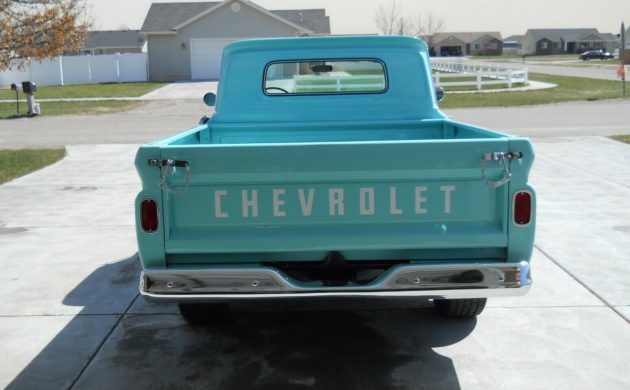 The truck has been the recipient of new chrome bumpers, light bezels and a new grill. Overall, it looks like the truck has received a lot of attention and a lot of money was spent on the build. The only negative the seller mentions is that the passenger inner rocker needs to be repaired. While there are not any up close pictures of this area, it must be rust that has decayed this area. The wheels and tires are new and it looks like the bed has been replaced with a very nice aftermarket kit.