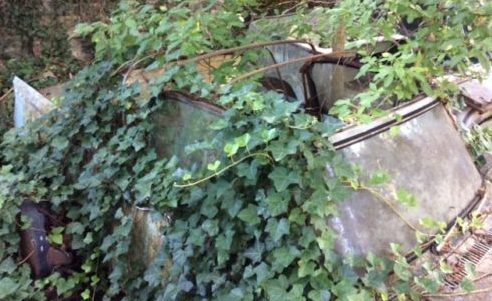 Perhaps best known for its stint as a sailboat in an old Top Gear episode, the Triumph Herald is rarely seen today in project form. A quick check of craigslist reveals some recently deleted ads and one decent driver, but this example may best serve as a component-rich parts car for more worthwhile projects. Seemingly ensnared in years worth of undergrowth, it has since been freed and can be found here on eBay with an opening bid of $100.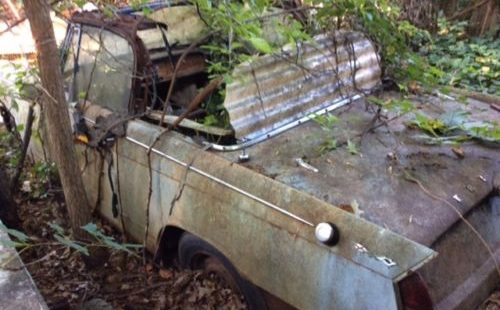 The car is located in Pennsylvania and appears to have been left exposed for many years. Despite this, it looks surprisingly intact even if the underside is likely rotted out. The body doesn't appear to be suffering from any sort of accident damage, so upper level sheetmetal may be salvageable. The top is down, or completely disintegrated, but glass also appears good. Chrome trim and other items like the gas cap and Triumph badges all look like useful bitsas.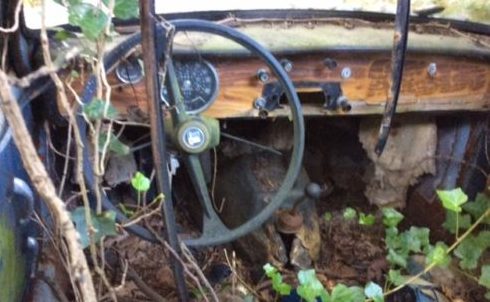 The interior looks better than we'd expect, even though it appears the seats have simply melted into the ground. A potentially restorable wood dash, original steering wheel, factory gauges and shift knob are all components that could be worth pillaging for a project. It's hard to tell from photos, but the dash top doesn't even appear cracked. Door panels may be re-usable as well. What's important to remember here is that there is easily more than $100 of useful parts potentially on this Triumph – but the low cost of entry is appealing.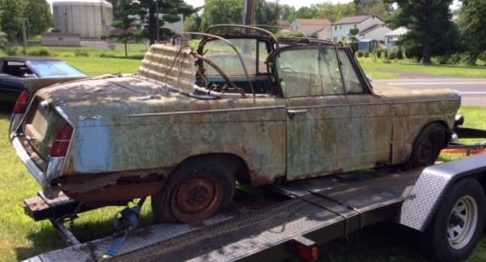 Here's where the ugliness sets in: the lower body panels are all pretty much gone. That's not to say you can't still use the top half of the Herald's sheetmetal, but don't go planning a restoration – that is, unless, you are a skilled metalworker and get this car for under $500. While we hate to see cars parted out, that may be the best fate for this Triumph, and we're sure fellow Barn Finds writer Jamie may know someone who needs this potential parts bonanza in their garage.