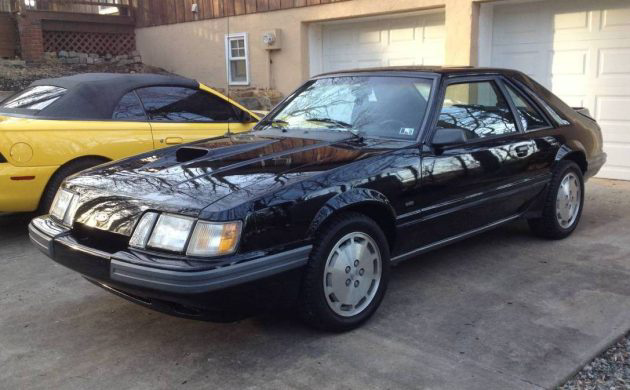 I can't remember the last time I saw a Mustang SVO, in the wild or otherwise. I remember thinking a four-cylinder, really? A 2.3? Isn't that a Pinto motor? Well the SVO is quite a bit more than just a Pinto powered Mustang and this 1986 SVO is a spectacular example to review. It is located in Chesapeake City, Maryland, and is available here on craigslist for $9,250. Thanks to Mitchell G. for this tip!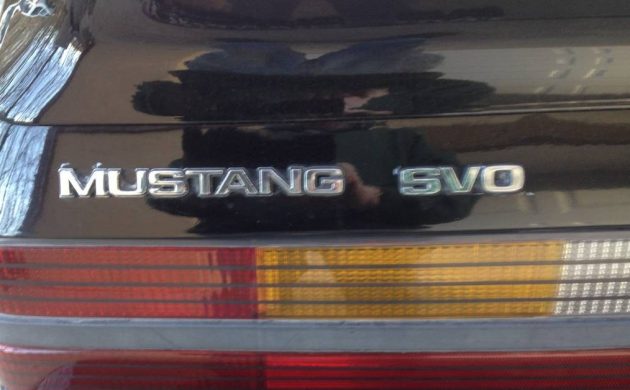 My thought back in the early to mid-'80s was a four-cylinder Fox-body Mustang was in serious fuggedaboutit territory. I was even more perplexed when Ford dropped the V6 option in '87 and continued on with either a 2.3 liter four or a 5.0 liter V8 – seemed like extremes with one end that need not be considered. The SVO (Special Vehicle Operations) model, built between 1984 and 1986, was a unique animal however with mods including an altered and adjustable suspension with Koni supplied components, steeper (3.73:1) rear gears, four-wheel disc brakes, 16″ five-lug wheels, functional air induction hood scoop, five-speed manual transmission and of course the turbocharged engine.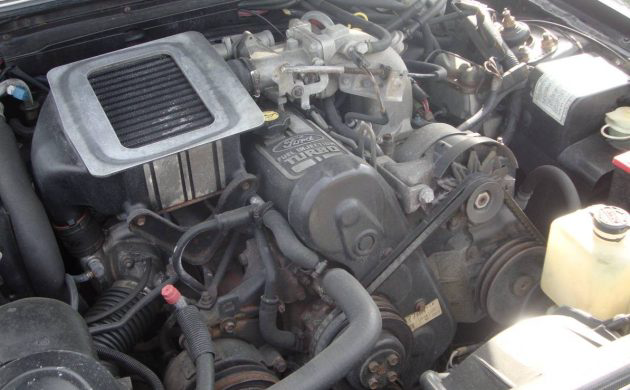 So how turbo-charged? How about 200 net HP from the intercooler equipped, 2.3-liter, in-line four-cylinder unit. This is an engine, that in normally-aspirated form, managed to eke out 88 net HP. The seller is a no show on describing this SVO's operating prowess but with only 64K miles on its odometer, it's probably still pretty stout. The standard, and sole transmission, is a Borg Warner five-speed manual.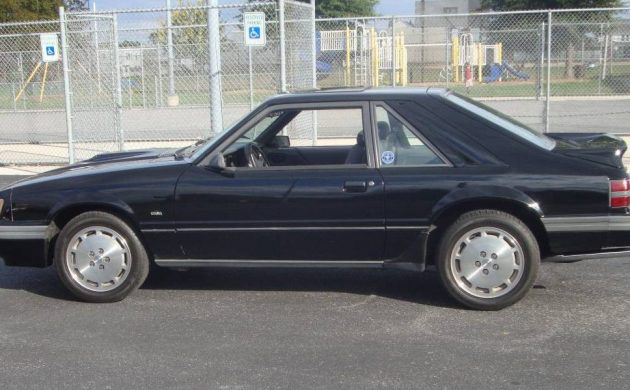 The exterior of this Mustang is sharp and serious-looking in its all-black exterior, one of six colors offered for the single SVO, hatchback body style. Nary a ripple, ding, dent, or other mishap is externally apparent. The seller states that he is the second owner and has kept this Mustang garaged during his time of custodianship. Standard equipment on the SVO included a sunroof with a removable glass panel and the glass panel cover/sack is still present with the car. Of note is the rear bi-wing spoiler delete, a good move in this humble author's view as that thing looks like some kind of goofy UHF antenna.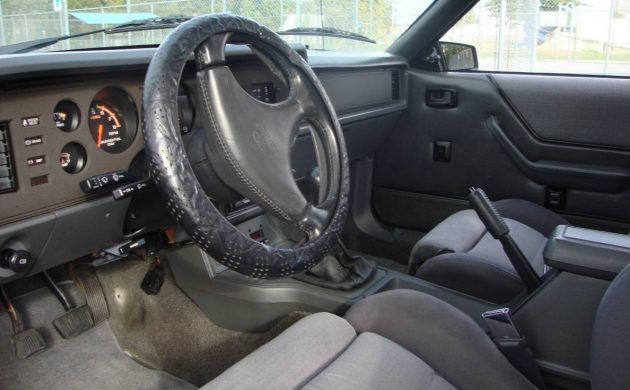 All '86 SVO's came equipped with charcoal gray interiors in either cloth or leather trim and the cloth upholstery in this Mustang is in very nice condition. The carpet is showing some signs of fading and it's worn through by the accelerator pedal but these are the typical things that occur with a car of this age and mileage. There are no other indicators of wear, tears, stains, rips, etc. present. The simplicity and functionality of the instrument panel are welcome. One thing that is not visible but should be present is the inclusion of a "fuel-grade" switch on the instrument panel which allows the driver to switch back and forth between regular and premium settings, depending on the grade of fuel used.  The thought is that it electronically limits ignition advance when lesser octane fuel is employed. Finally, the seller states that he's had the A/C compressor clutch replaced and the system recharged. That's so much more reassuring than so many listings that claim a vehicle to be A/C equipped but in need of a recharge. If it needs it, do it. If it hasn't been done it's because, many more times than not, something more serious is wrong with the system.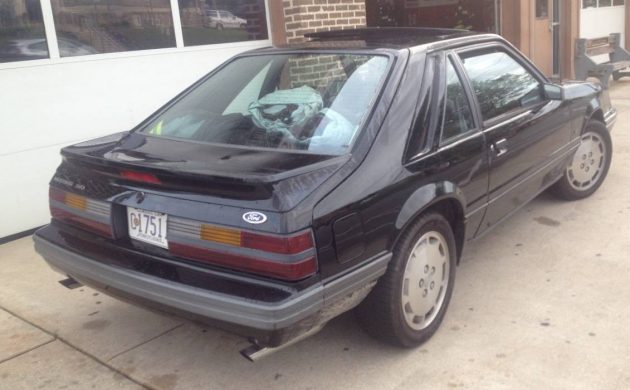 The seller indicates that he has a Marti report available attesting to the genuineness and original equipment status of this one of only 9,800 SVO Mustangs produced over its three-year model run. This example is a fantastic departure from the everyday run of the mill Fox-body Mustang that turns up. And the originality is a treat, especially considering that so many Mustangs from the '79 to '93 model run have experienced some serious monkey business, and a lot of it, not good. This is one to seriously consider, don't you think?