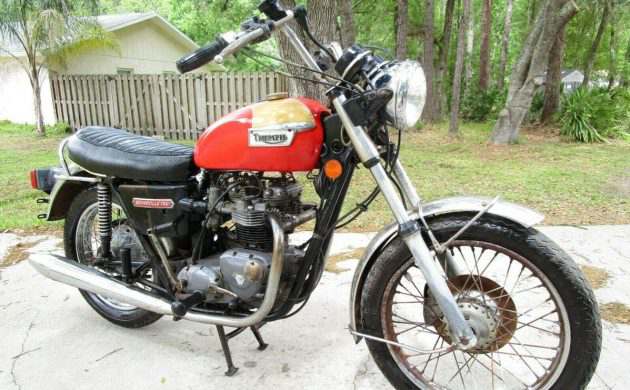 In the 1960s, as Honda motorcycles started to become ascendant, the bike that still stood out and still gleaned attention was the Triumph Bonneville. Even with Harley Davidson in that mix and the Bonneville was still a motorcycle that commanded respect; not exalted exactly, but the Bonneville was recognized as something special on two wheels. Today, our find is a 1973 T140 model, located in Lutz, Florida and available, here on eBay for a current bid of  $2,800 with fifteen bids tendered so far.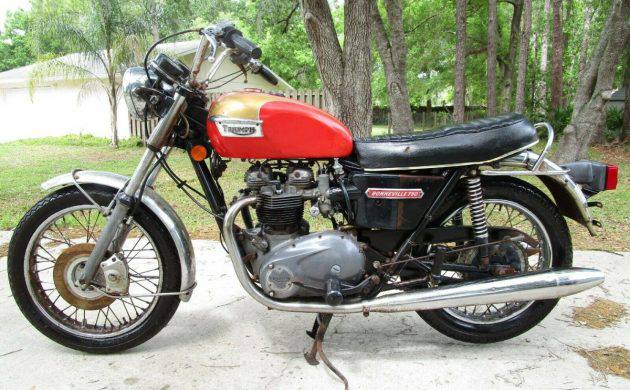 Produced originally between 1959 and 1983, the Triumph Bonneville was built by Triumph Engineering in Meridien, West Midlands UK. Triumph Engineering went bankrupt and the company was purchased by an investor and he eventually changed the name to Triumph Motorcycles Ltd as it is currently known. The Bonneville continued to be offered until 1988 and then production ceased. A newer version of the Bonneville was introduced in 2001 and continues to this day.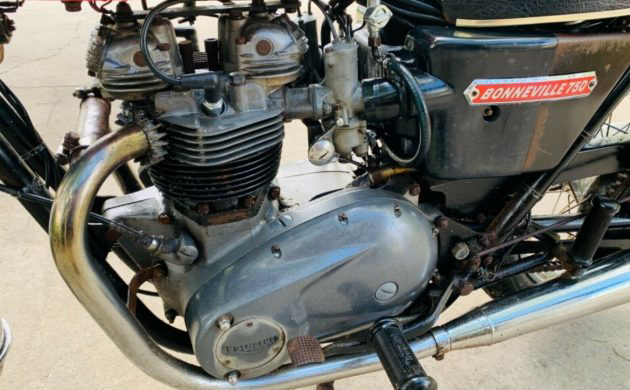 This example is listed as having experienced 8700 miles on its 53 HP, 750 CC twin-cylinder engine. The seller doesn't state specifically, but the gearbox should be a five-speed manual. The seller states, "I was able to get it to run for a quick video that is in this auction, see the video below this description and 46 detailed photos, but I will still be listing it as a non-running project as I have not gone through it myself ". Clearly, it starts and runs, seemingly pretty well. The old school simplicity with its kick starter is a pleasant memory of the past. Actually, seeing the seller going for a spin reminds me that the Bonneville had a rather diminutive frame for a bike packing a 750 CC engine.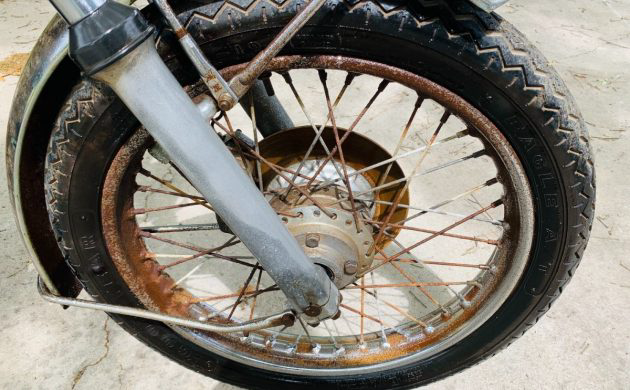 This Triumph has a pretty weathered look about it, particularly the chrome and the aluminum bits. There is a coating of surface rust on the wheels, handlebars, and headlight while the oxidization is noted on the wheel hubs. The painted surfaces, which consist of the tank, side cases, and frame still present pretty well and show no signs of a laydown or a simple falling off of the stand. The black vinyl seat is an exception in that while it is not weathered-looking, it does have a hole poked through on the left-hand side.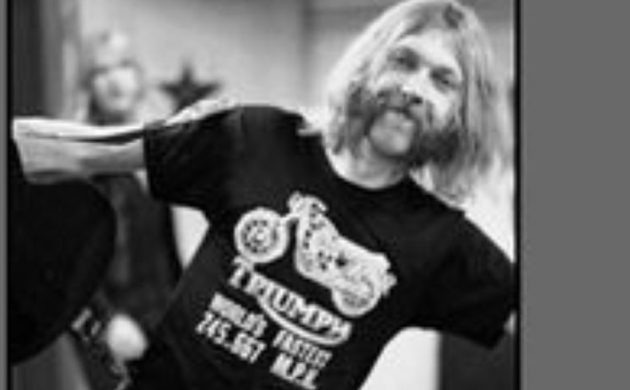 I recently started to ponder about the Bonneville and its reputation for speed records. For a research project on music that I have been working on, I came across this image of Duane Allman, gifted guitarist of the Allman Brothers Band, wearing a Triumph tee-shirt that proclaims "Triumph World's Fastest 245.557 MPH" (Allman, a known motorcycle enthusiast, sadly lost his life in a 1971 crash but he was riding a Harley Sportster and only going about 45 MPH). But I did find the speed record that Allman's shirt is referencing, it was set by Joe Dudek in 1962 using a 650 CC Bonneville engine, running on nitromethane, and powering an X-15 inspired streamliner at, where else, the Bonneville Salt Flats. So yeah, that Bonneville speed record is a bit of a stretch but the Bonneville motorcycle, in stock form, was still recognized for its top-end capability.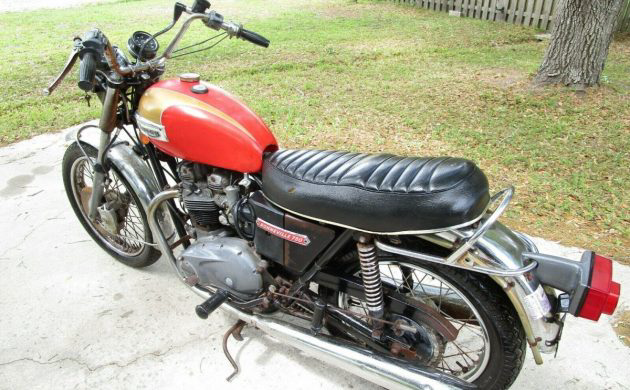 While not an ardent motorcycle follower, I really like this bike. I believe it's the same thing that draws us all to old cars, it's the simplicity of design, the lack of confounding electronics, the "you're on your own to operate sanely" mentality. And of course, old memories that are associated with places where a motorcycle or a car took its owner, fun times and serious ones as well, all conspire to stir up fond remembrances. If this were my Bonneville, I'd slowly work on cleaning it up a bit, not a restoration, just some help in the presentation department. And of course, I'd take a good look at the mechanicals and see what, if anything, needed attention. This Triumph seems like it could be a pretty reasonable buy, don't you think?