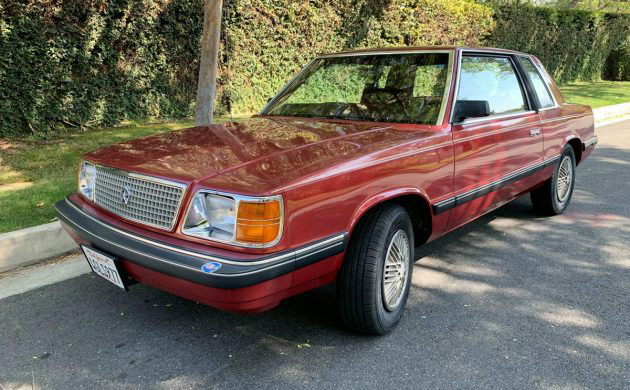 Here's one of those cars that most of us saw on almost every streetcorner a couple of decades ago and then they all disappeared. They were everywhere and most of us either had one or knew someone who had one. The seller has this 1987 Plymouth Reliant listed here on eBay in beautiful Beverly Hills, California where I should have a little 12,500 SF winter home. There is no reserve on this beauty and the current bid price is an embarrassingly low $432.10. $432.10?! I just raised it to a more reasonable number, someone please outbid me!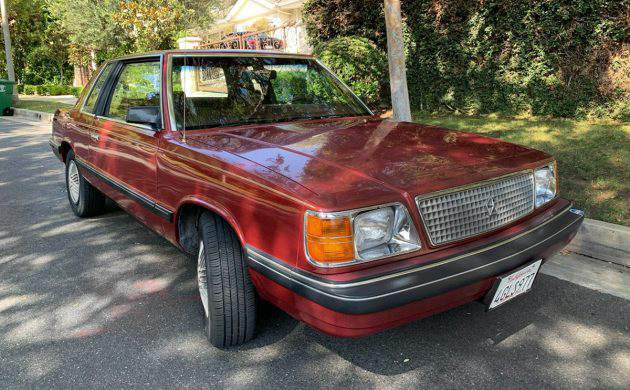 I recently mentioned my 1991 Dodge Spirit and this car reminds me of sort of a Jan Brady-like evolution from Cindy to Marcia, so to speak. As in, my Spirit (which would be Marcia in this equation) was basically a newer K-Car but was much more evolved. You can see with this later, more-rounded K-Car that Chrysler was working its way up from the early square-edged Plymouth Reliant and Dodge Aries K-Cars (Cindy – are you still with me?) on their way to the next-generation Plymouth Acclaim and Dodge Spirit (Marcia). Did that make any sense at all? K-Cars and Brady Bunch, I hope that you've all had your coffee today.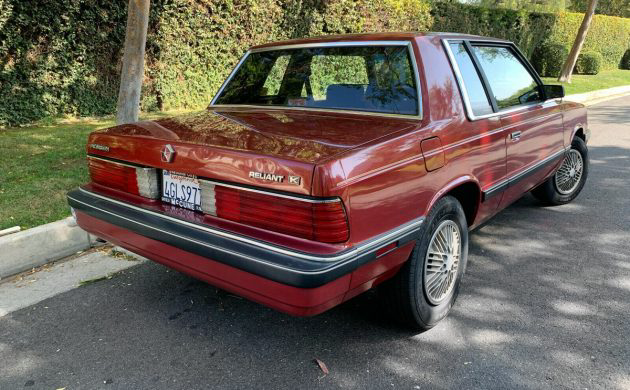 This 1987 Plymouth Reliant looks like a fantastic example in almost time-capsule-status, which we might say here in the employee lounge at One Barn Finds Tower as we're searching for unique vehicles. The photo above shows the only area on this Reliant with a visible flaw, at least that I can see. There are a few little soft dings on the trunk edge and those sure look like they could be massaged out by a paintless dent technician.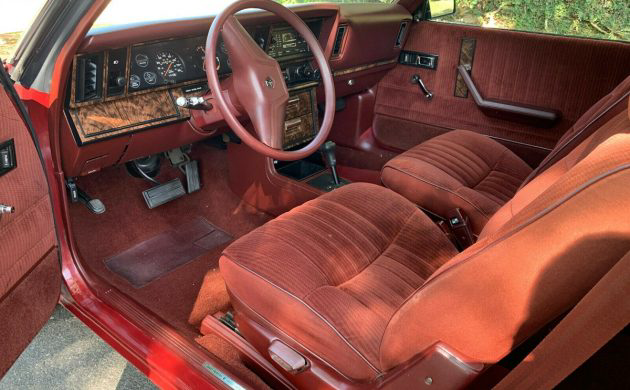 Some might call the automatic transmission another flaw, but most of them came that way. A 5-speed manual sure would have been unique to see here, though, but they weren't available with this engine. The red velour interior reminds me of Todd Fitch's prom tux and the interior of this car is in phenomenal condition. Even the AC works and blows cold.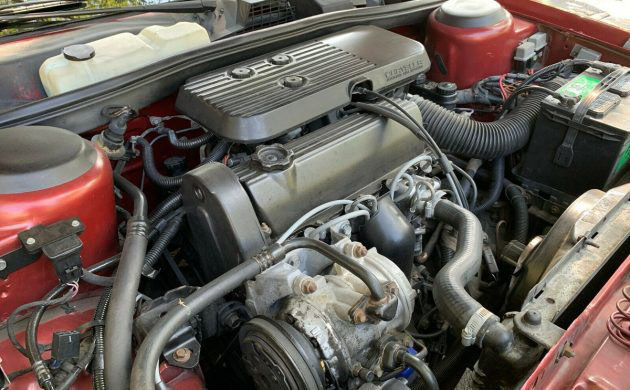 The seller doesn't mention what engine this is, but it's unmistakable to me as it's the same one that was in the aforementioned 1991 Dodge Spirit. This is Chrysler's 2.5L inline-four, one of my top three personal favorite Chrysler-offered engines. The other two are the 225 slant-six and 2.6L four, actually made by Mitsubishi but offered in small Dodge pickups. This 2.5L four would have had 100 hp and that was enough power, at least in 1987. They say that this car was with the original owner until last winter and had only 60,000 miles at that time. It has new fluids and belts, including a timing belt, and it's ready to go. Have any of you owned a K-Car?