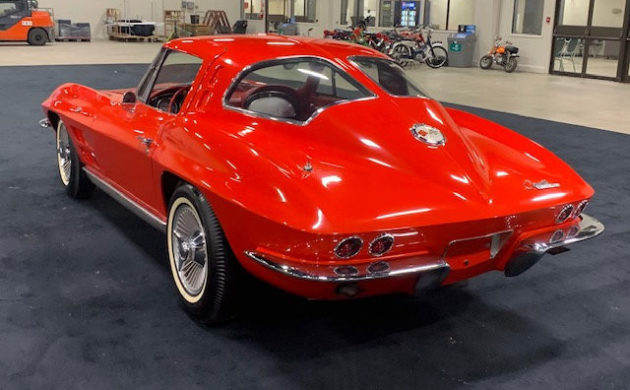 Some classic cars are renowned for their subtlety and ability to blend into the background. Then you have classics like this 1963 Corvette. This is not a subtle car, but it is one that shouts what it is from the roof-tops, and also happens to be in exceptional condition for its age. You look at the first photo, and there is simply no disputing what you are looking at. The Split Window Coupe is one of the most distinctive vehicles to ever roll off an American production line, and this stunning example has remained as part of a large private collection for many years. The owner has made the difficult decision to down-size, so the Corvette has been earmarked to go. The vehicle is located in Sylvan Lake, Alberta, Canada, and has been listed for sale here on eBay. Bidding has rocketed to $90,100, and this is entirely understandable when you consider that the Corvette is being offered for sale with No Reserve.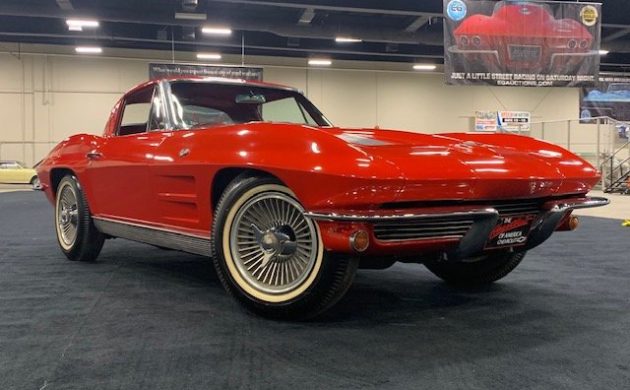 The presentation of the Corvette is extremely nice. It has received a repaint in its original Riverside Red, but that was way back in 1974. This has survived exceptionally well and still holds a very nice shine today. There are no signs of any cracking or issues, while the trim and chrome, all of which is original, is in very nice condition for a survivor. The underside of the Corvette can best be described as spotless. There is no evidence of any rust or corrosion, and it presents in a nicely detailed state. One really desirable inclusion is the aluminum knock-off wheels. At $322.80 in 1963, these were considered to be anything but cheap. It isn't clear just how many buyers chose to fit them, but conventional wisdom says that it wasn't many. This Corvette has them, and they appear to be in great condition. In addition, all of the glass is in good order, with no sign of any significant chips or faults.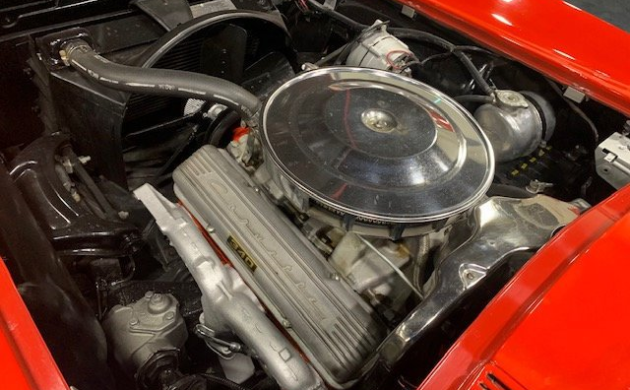 I'd love to be able to tell you that this is a numbers-matching car, but that is one thing that I can't do. What you get here is the L76 version of the 327ci V8, producing 340hp. The Corvette has been owned by the same family since new, and while it isn't clear when the engine was replaced, the block stamp indicates that it was a dealer replacement. Given how careful the owner appears to have been maintaining the car's overall originality, I have every reason to believe that the replacement engine is of the same specifications as the original. With the optional 4-speed manual transmission bolted behind the 327, one thing that the Corvette shouldn't want for is performance. With a 0-60 time of 5.6 seconds and a ¼ mile ET of 14.3 seconds, this is a classic that could really haul the mail. The owner states that the vehicle performs well, and he also states that it has a genuine 40,442 miles on the odometer. It appears that he does hold evidence to verify this.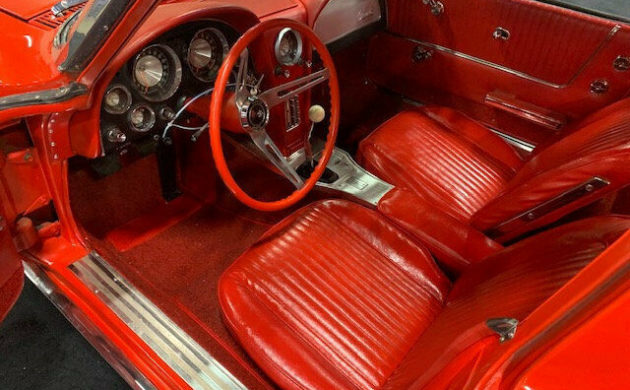 The interior of the Corvette is finished in Red vinyl, and the fact that the seats still wear their original vinyl is pretty impressive. The rest of the interior has been treated to a bit of a refresh, including new carpet, new door trims, and a few new components on the dash. The gauges are original, and the fact that the glass on these looks a bit cloudy and the whole gauge cluster looks like it would benefit from a careful detail clean is about all that I can be critical of. The rest of the interior looks very nice, and while it isn't loaded with luxury appointments, the original AM/FM radio will provide some in-car entertainment if the next owner tires of the song being sung by the 327.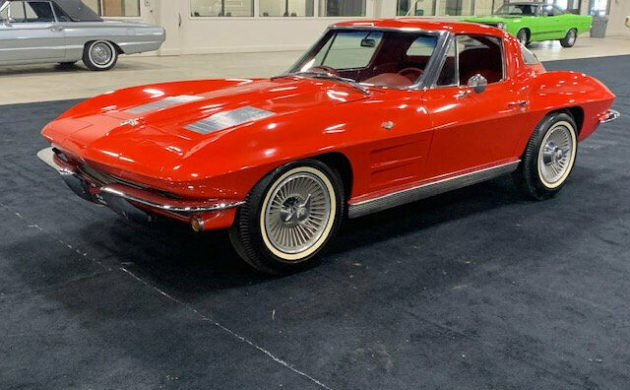 When you look at this '63 Corvette, you can see why bidding has been pretty solid to this point. There were 10,594 Corvette Coupes built during 1963, which makes it a fairly respectable seller. There were some potential buyers at the time who did not like the Split Window feature, and there were dealers who offered their own option to cut out the rear window dividing strip and to install one-piece rear glass. It is probably fair to believe that any owner who chose to exercise that option in 1963 potentially feels quite nauseous when they reflect upon that decision today. Nice examples of the Split Window Corvette are now eagerly sought, and values continue to head upwards. This one is a nice example, and I can't help but feel some pangs of jealousy that someone is about to become the proud new owner of this beauty. The question is, will that somebody be you?
Have something to sell? List it here on Barn Finds!