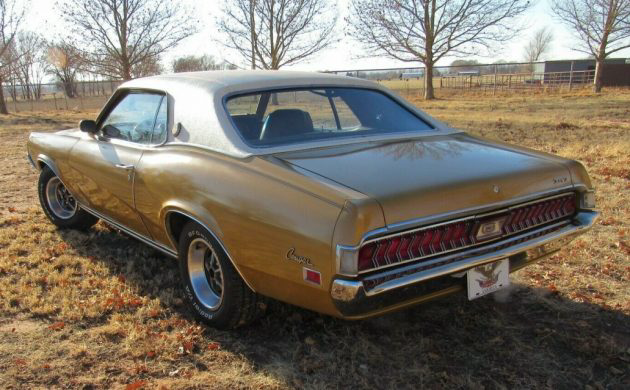 The Mercury Cougar was a car that very nearly didn't happen, and it must have been a relief for Ford Management when the vehicle sold far beyond their initial expectations. Apart from a brief break during 1998, the Cougar soldiered on in one form or another through until 2002. However, the 1st Generation cars like this 1970 Cougar XR7 tend to grab the attention of enthusiasts. This is especially true when the vehicle in question is in excellent condition. That describes this one nicely, and it represents the chance for an enthusiast to slip behind the wheel of a classic that is being offered for sale with No Reserve. Located in Fort Sumner, New Mexico, you will find the XR7 listed for sale here on eBay. The bidding has been set to open at $21,000 in the winner-take-all auction. There has been no action to this point, but 65 people are watching intently. I have to say a big thank you to Barn Finder Tommy T-Tops for referring this beauty to us.
This Cougar has spent its life in the dry New Mexico climate, but it seems to have reaped most of the benefits that this can offer with few of the penalties. The original Deep Gold Metallic paint still shines beautifully, while the White vinyl top presents well. There is no evidence of the sort of UV damage and baking that can be the down-side of life in the sun, which suggests that this is a car that has been well cared for. The owner points out that it isn't perfect, with a few minor marks and blemishes. These are hard to spot in the photos, and it seems that they would be considered acceptable in a survivor-grade car. The big news here is the lack of rust. That is where the drier climate pays dividends because the Mercury is claimed to be 100% rust-free. I can't see any evidence of external issues, and I'm quite happy to believe the owner's claim on this. The trim and chrome shine nicely, while that unique grille with the hidden headlights looks perfect. The glass shows no signs of defects, while the original wheels look pretty good.
While it was based on the Mustang, the Cougar was perceived and marketed as a more luxurious alternative to its cousin. This XR7 reinforces that perception by having seats that are upholstered in Medium Brown leather. That's where we find one of the very few interior flaws because the covers on both front seats show splits and other deterioration. It isn't earth-shattering because replacement covers in the correct material and pattern are easy to find for around $350. The dash pad has some hairline cracks, and there are several options available to address these. The buyer could choose to attempt to repair the damage using a product like Polyvance. It's a fiddly process, but anyone with an eye for detail should be able to achieve a good result. Glue-on covers are also available for $150, while reproduction pads sell for about $450. The rest of the interior presents well enough that I would almost certainly choose the last option. There is a wear mark on the glove compartment door, and some wear on the wheel rim, but the rest of it looks very nice. Everything inside works as it should, except for the clock (surprise!). The Cougar is fitted with its original AM/FM stereo radio, but I'm surprised that the original owner didn't choose to tick the box beside air conditioning on the Order Form.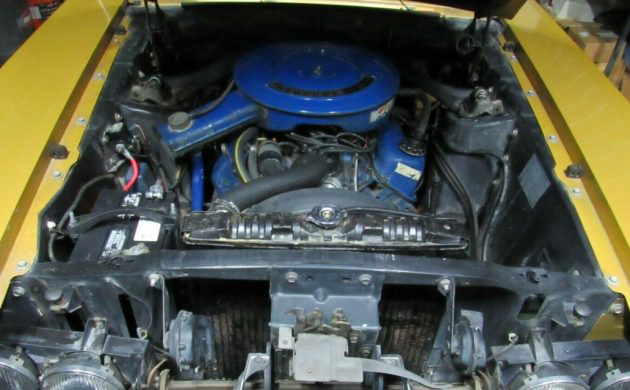 The Cougar might have been slightly heavier and more luxurious than the Mustang, but it could still offer impressive performance if the owner chose the right specifications. In this case, the Mercury was ordered with the 351-4V V8, backed by a 4-speed close-ratio transmission. The competition suspension option also should provide better handling than you might expect in your average Cougar. With 300hp on tap, the vehicle should be capable of launching through the ¼ mile in around 15.1 seconds. A Mustang with an identical drivetrain combination would complete the same journey in 14.9 seconds. Still, when you consider that the Cougar carries an additional 305lbs due to its more luxurious equipment and trim, the figure stands up exceptionally well. There is plenty of good news here and not a lot of bad. It appears that the Mercury is numbers-matching, and the engine is in good condition. When it is cold it can smoke slightly and be a little bit stubborn, but the owner suggests that the carburetor might need a rebuild. This is reinforced by the fact that both of these issues disappear when the engine has some temperature on-board. The clutch also chatters when the pedal is about ¾ out, suggesting that a replacement might not be far away. However, it is said to run and drive well, with no other vices or issues.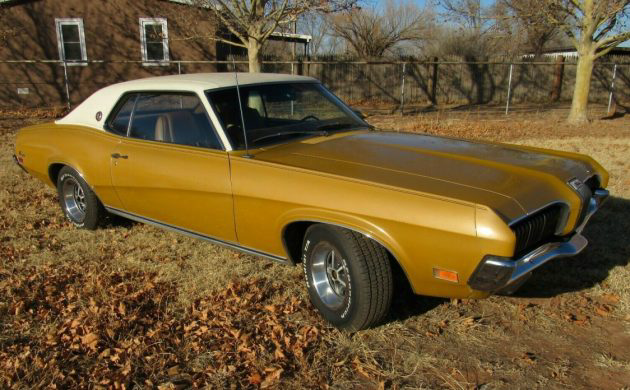 This 1970 Mercury Cougar XR7 is a rare treat because the Marti Report suggests that it is 1-of-108 built with this drivetrain combination. Its condition is a long way above average for an original survivor, and it wouldn't take a lot of time or money to push it to the next level. To a certain extent, the Cougar has been overlooked by some enthusiasts who have a Mustang in their sights. That also tends to make them a tempting alternative because buyers have the chance to get more for their money from a Cougar. The owner quotes some NADA valuations in his listing, and I generally tend to treat those with caution. Sometimes they can be a long way off the mark, but they seem to be pretty close in this case. Given its originality, condition, and specifications, I wouldn't be surprised to see the bidding sprint beyond $30,000. I do find the lack of bidding to this point to be slightly puzzling, although maybe some of those people watching the listing are waiting to drop a last-gasp bid. That could be a wise tactical move for anyone who has designs on this classic. Would you wait, or would you submit a single bid to see if it gets a reaction?