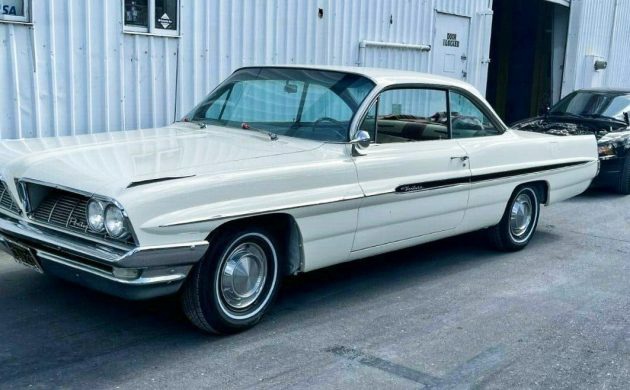 Yesterday, in a post about a '65 Ford Galaxie 500, I speculated about full-size car design in the '60s and how 1965, in particular, set the direction for new looks that were the way forward for the '60s. In the case of Pontiac, perhaps I should have backed it up a bit. Regular Barn Finder local_sheriff has discovered this 1961 Pontiac Ventura and it definitely evokes the image that I assigned to the '65 models but Pontiac nailed it right at the dawn of the decade. This Pontiac is located in Emeryville, California and is available, here on eBay for a current bid of $6,000, with eight bids tendered as of this writing.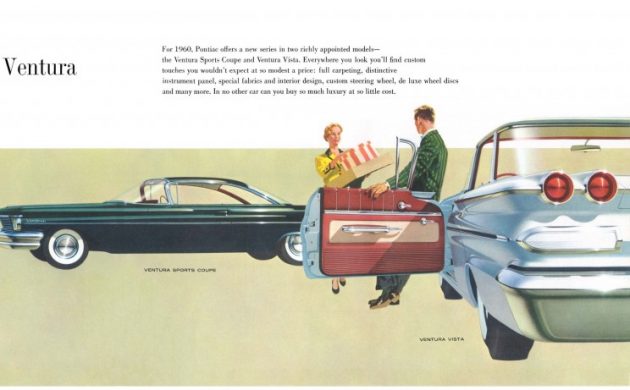 By '61, Pontiac was in the third year of its Wide-Track stance program, and the distinctive "split" front grille reappeared after first showing in '59 and then being dropped for '60 – it was a Pontiac styling hallmark that would remain with them all the way to the end. But the big difference to my eyes is that the '60 versions looked like '50s, chrome festooned hangovers, while the '61, with what would be known as a "bubble-top" greenhouse, was blazing a new future path. And this Pontiac, being a Ventura, was positioned below the Star Chief, and just above the entry-level Catalina, so stainless trim excess was held to a dull roar.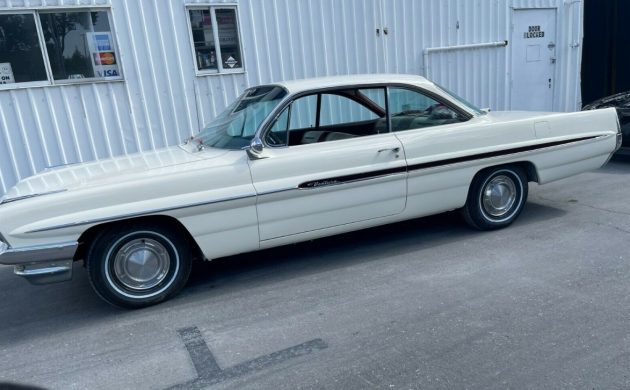 The listing for this Ventura is all too typically light so the pictures will have to do the explaining. It is listed as a low, 50K mile example but there is no supporting documentation to back up that claim. The exterior is in fantastic shape! It's probably a repaint as the front driver's side fender liner is showing signs of white overspray. No worries though, one would expect new threads on a 60-year-old car that presents itself this well. There is no indication of crash damage or rust – perhaps a benefit of California residency?  The clean treatment carries over to the stainless, chrome, and glass.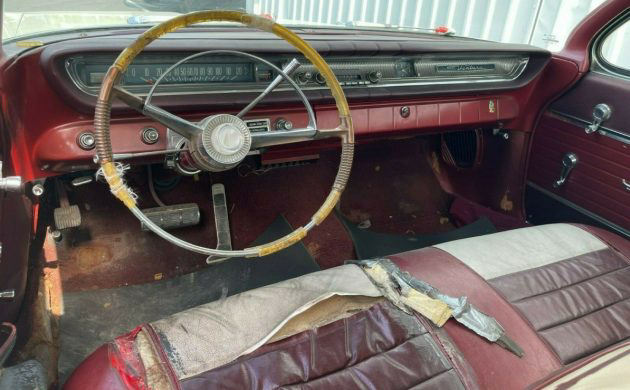 The interior is where things fall apart and its condition belies the 50K mile suggestion, it needs help! The tri-tone upholstery is pretty well shredded (I never found duct tape to be a viable repair tool), the steering wheel is disintegrating, the carpet has seen better days and the kick panels may need to be replaced. These things are easy enough to repair and it stands to reason, that with the exterior being as sharp as it is, somewhere else would need attention. Always good to see is the original Delco radio that is still in its proper place.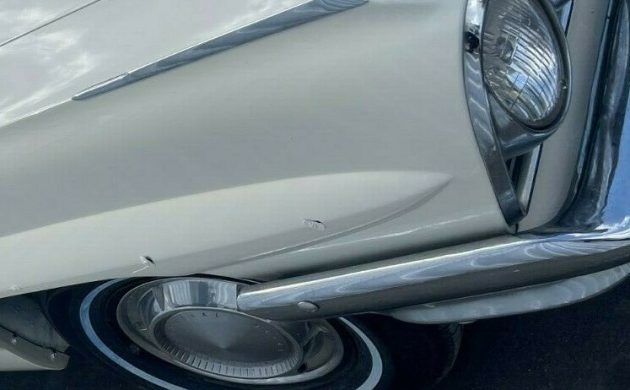 There are no images of the engine but the seller informs us that it is a 389 CI V8 with a two-barrel carburetor and it "runs". That being the case, horsepower output should be 267 gross with power connectivity through what Pontiac's sales brochure described as a "completely new, lighter, compact and simplified Hydramatic transmission". That's indicative of the presence of a "Roto-Hydramatic", also known as a "Slim Jim" automatic unit.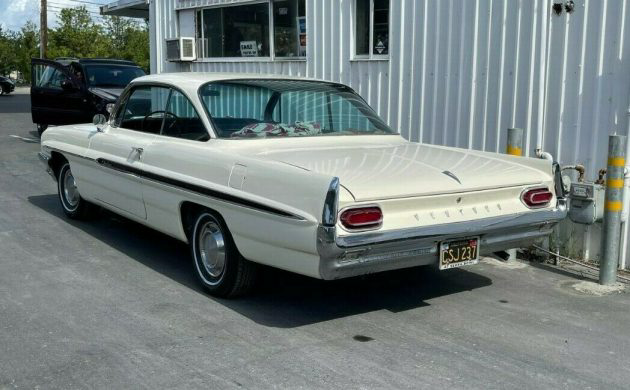 On the surface, this Ventura looks good but the lack of an engine image, and any real operational information other than a laconic "runs", just invites more questions. And mechanical foibles would certainly extend to the transmission too as we've previously discussed, in earlier posts, the demerits of the Roto-Hydramatic. Still, this is an easy Pontiac to appreciate and I applaud their vision for the '60s, as projected in this Ventura's design.  At its current bid, this Ventura could prove to be a reasonable buy, wouldn't you agree?