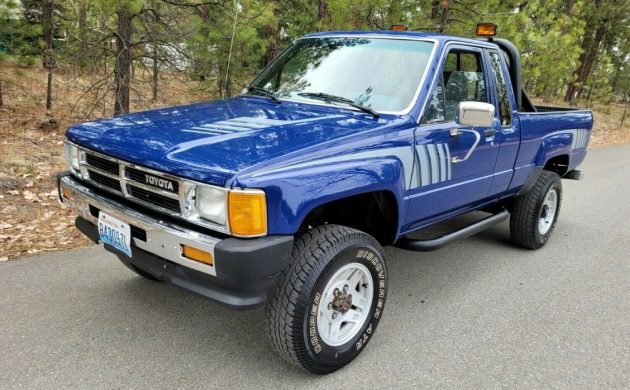 This 1987 Toyota Pickup 4×4 is a desirable Xtra Cab model, and despite having over 155,000 miles on the clock, it still presents incredibly well. The seller doesn't mention a respray, but it seems likely given how nice the paint is. The same goes for the SR5 decals, which again, look far too good to be original. Then again, this Toyota resides in Washington State, where seemingly all of the clean, 1980s-vintage tin resides and is even still used for daily driving with no ill effects. The truck looks sharp on 4Runner wheels, but the wheel wells certainly look like they could swallow more tire. Regardless, this one is a rarity for not only its condition, but the no reserve listing here on eBay, where bidding has reached $9,700.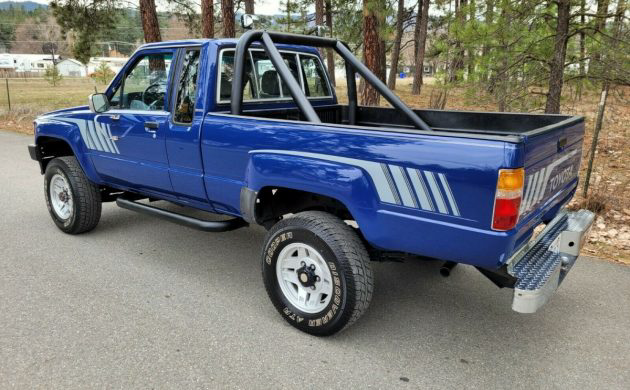 The period-correct roll bar in the bed may not be to factory specs, but I'll allow it – it looks awesome. The side steps I could do without, but really, just a meatier set of tires would make all the difference here. The long bed isn't to everyone's liking with the short style the preferred look but potentially not available on he Xtra cab (Toyota enthusiasts, check my math on that one). The paint is still quite glossy and the SR5 graphics show zero sign of fading or chipping, which would seemingly be impossible for even the most careful owner to achieve in over 155,000 miles of use, but it's not outside the realm of possibility.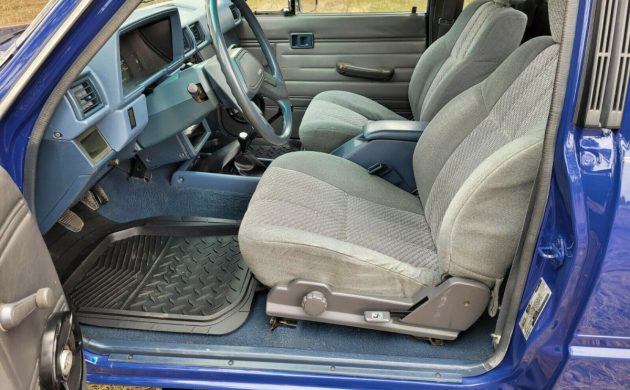 Now, the interior raises a few questions for me, and also answers another. First, the seats and door panels don't look right for the truck. The blue carpeting and console / dash pieces would indicate that this Toyota should have matching light blue cloth for seat upholstery and door panel color, and this one has neither. The seats also look like they're from a different model, but I can't be one-hundred percent certain. Also, note the painted door striker in the jam – that shouldn't be body color, it should be unpainted silver in appearance. The truck was repainted, and someone didn't know, or care, enough to remove that very basic piece of hardware.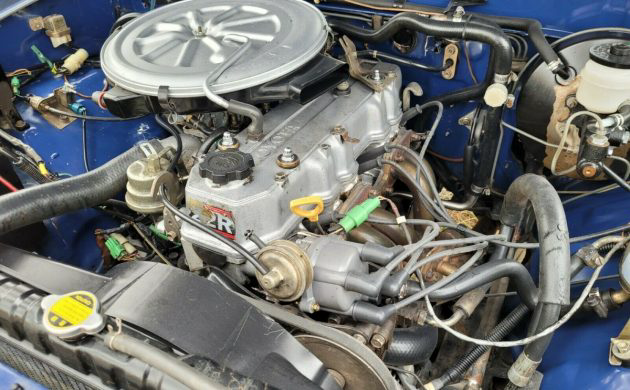 The 22R four-cylinder will take you anywhere without issue, and with the mileage indicated here, is far from breathing its last. The seller doesn't offer any details on recent maintenance or existing needs, but the engine itself does present well under the hood. Still, even with its reputation for being able to withstand enormous amounts of abuse, a recounting of new or replacement parts installed in the recent past would be a welcome addition to the listing – even basic updates like when the last timing belt or water pump replacement occurred. The Toyota does feature locking hubs, so it really is just a set of tires and a locker away from venturing confidently off-road – would you leave the trail with this Toyota?