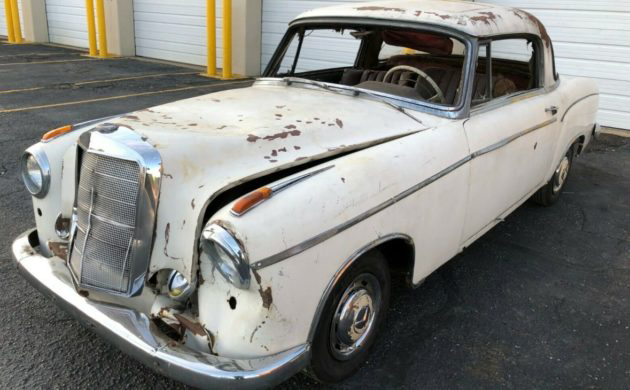 Talk about rare! The automobile pictured here is one of only 830 produced in model years 1959 and 1960. I am pretty certain that I have never seen one, and besides its obvious condition, it's that "not recognized before" aspect that caught my attention. This is a 1960 Mercedes-Benz 220 SE coupe, located in Memphis, Tennessee, and available here on eBay for a current bid of $11,100, reserve not yet met.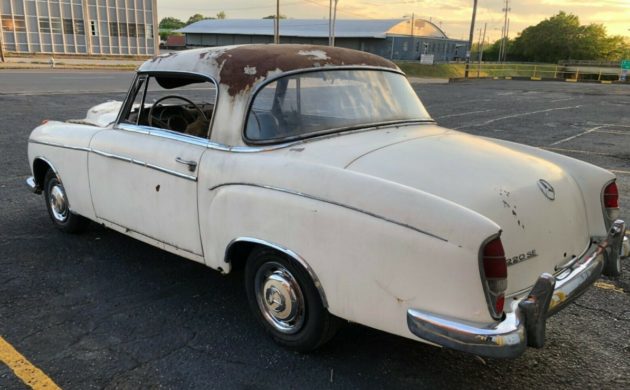 The seller states that he found this "beautiful" 220 SE in a garage where it had been sitting for 45 years. I'd say his definition of beautiful and mine have some distance between them. Beautiful at one time? No doubt, but this Benz looks like it got itself into an "I didn't see the brake lights in time" situation before it sojourned off for its big sleep. Nevertheless, this Mercedes has some nice features besides the fact that it, according to the owner, has only seen 30K miles of operation. Its most significant feature, besides its complete originality, is its sunroof, an option few 220 SEs possess.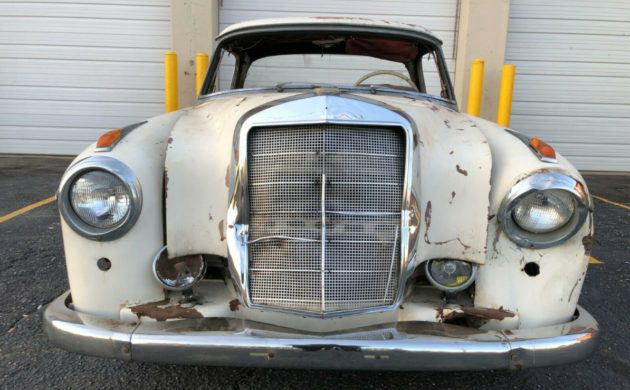 The elephant in the room is the grille, hood, valance and left fender, it has suffered a bit of a wack and will take some doing to repair – the assumption is that the grille may need to be replaced. The original finish is intact but mostly finished off with lots of evidence of surface rust. The seller does indicate that "The car is very dry the bottom of the doors, fenders, and rear quarter panels are in great shape. The floors are also very solid just a bit dirty and dusty and need cleaning up." There is an image included of the underside and it does, in fact, appear sound. The seller claims that chrome and stainless are in good driver shape but I would strongly disagree seeing that the driver's side beltline molding is attached with sheet metal screws – not even driver quality. Hopefully, the trim is repairable because replacement is probably close to out of the question on a car of this rarity. Of final note is the missing windshield, third car in a row that I have reviewed with glass so clean it looks like there's none there.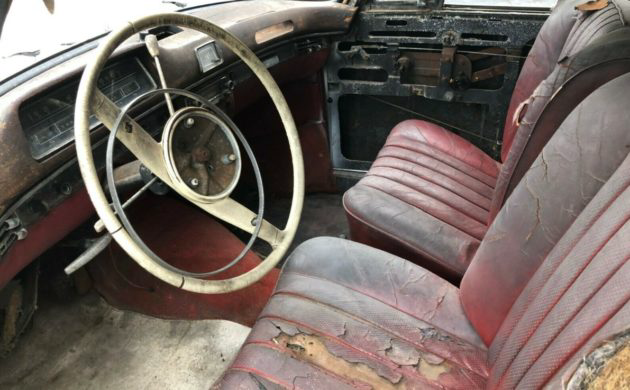 The interior, original as it may be, needs a total redo. The red leather upholstery, contrasting with the while exterior, was probably quite sharp in its day but it's just sad now. The door cards are missing as is the steering wheel centerpiece and there is no word if these missing components are available. These items, along with the grille, are concerning. A Benz this rare is hardly like an Impala or a Galaxie where finding missing components is a few keystrokes away. The instrument panel gauges and the dash/instrument panel in general, don't look hopeless but they are going to require a lot of work to return to presentable, and probably useful, condition.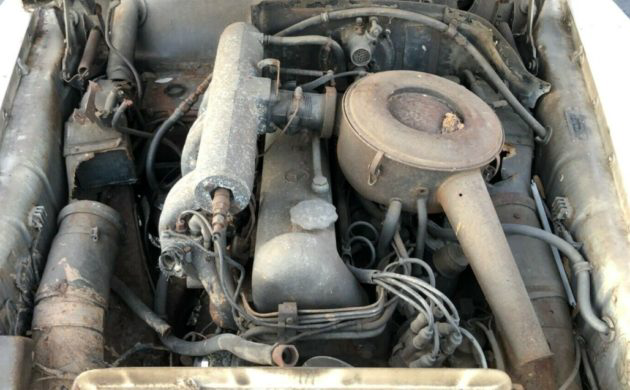 Not surprising, this Mercedes' 2.2 liter, in-line six-cylinder engine is non-running but it does turn over. The seller states that "it will need to be gone through". There's that blasted "gone through" term again. Translation: The motor will need to be pulled and completely rebuilt. When running, this 2.2 is good for 115 HP and drives through a four-speed manual transmission. Mercedes was known for its "Four on the tree" shift assemblies. The seller also mentions that he has pulled the radiator due to its rotted condition; I guess the new owner will be on their own to find another.
The seller, in conclusion, states that "its a complete car that will need a simple straight forward restoration." It's hard to imagine that there will be anything simple or inexpensive about restoring this 220 SE. I'd hedge on the straight-forward part too. I'm not suggesting for a second that it's not worth it, this is a rare and collectible Mercedes and needs to survive but the fact that it is a Mercedes and as rare as it is, will present a challenge to whoever decides to take on this project. I'm no Benz expert but it would be great to hear from those in our Barn Finds readership who have familiarity and/or ownership experience with a mid-century Mercedes. What do you think about restoration, is the seller spot on or maybe a little over-enthusiastic?