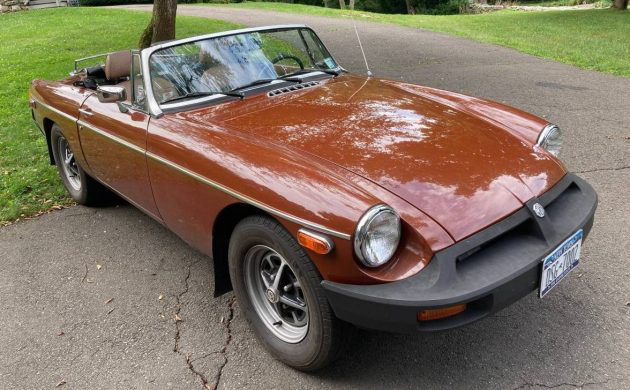 There is no doubt that the release of the original Mazda MX-5 was a game-changer for the 2-seat roadster scene. However, there are still a significant number of people who long to own a traditional British sports car. That is where cars like this 1980 MG MGB fit into the equation. This vehicle is one of the last to roll off the production line and is a one-owner survivor. It is mechanically sound and is ready to be enjoyed by a lucky new owner. The MG is located in Wilton, Connecticut, and has been listed for sale here on craigslist. All you need to do is to hand the owner $10,900, and you can drive away in this classic roadster. I have to say thank you to Barn Finder Ikey H for spotting the MG for us.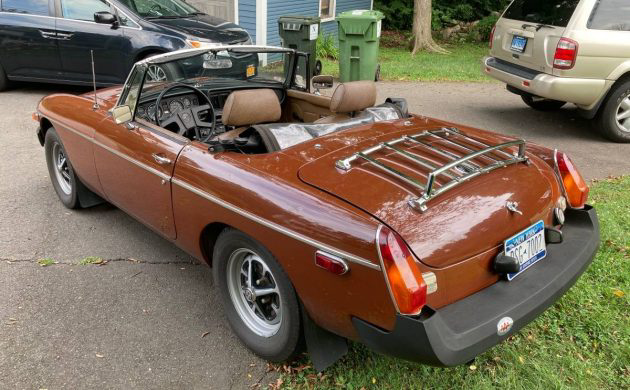 The MG is finished in Russet Brown, and it presents well as a tidy and clean survivor. This classic has been garaged by its owner since new and is said to be rust-free. There are no apparent signs of any problems, and the original paint continues to maintain a beautiful depth of color and shine. The panels are as straight as an arrow, while the gaps appear to be very consistent. The car comes complete with two convertible tops, and both are said to be in excellent condition. The bumpers are beginning to show their age, but there are products available that can rejuvenate them. It might not return them to as-new condition, but some of these products would have a positive impact on their appearance. The car features a chrome luggage rack, and as is the case with the rest of the chrome trim, it looks to be in good condition. The wheels appear to be free from corrosion or curb strike, while there are no apparent problems with the glass.
Given the level of exterior presentation, I find the interior condition of the MGB to be slightly disappointing. There are no significant flaws, but it is just looking a bit tired. It is in a serviceable state, but it would need a few dollars invested if it is to present really well. The cover on the driver's seat is quite stretched, but it doesn't appear to be torn. It would be possible to fit a set of aftermarket covers and hide this problem. However, a fresh set of covers can be sourced for around $700. The carpet is also looking shabby, but a carpet set can be yours for $500. I am disappointed that someone has cut the door trims to fit aftermarket speakers, but a further $155 will secure a pair of replacement door trims. If the next owner wants to really push the boat out, full trim kits are available, but at $2,000, these do represent a significant investment. The dash itself appears to be in good condition, while the original radio has made way for a Kenwood radio/cassette player.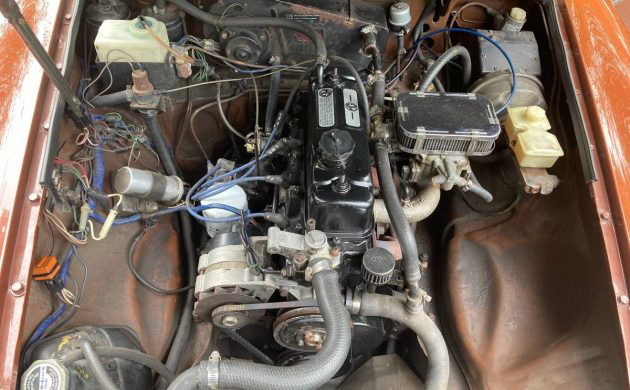 After the disappointment of the interior, things take a definitive positive swing when we lift the MG's hood. What we find is the 1,799cc B-Series 4-cylinder engine. This is backed by a 4-speed manual transmission. Emission regulations meant that by 1980, these little engines were producing a mere 62hp. It also meant that achieving the magic 100mph mark was more of an aspiration than a reality. However, the MGB did still manage to hang onto its rorty little exhaust note when it had a few revs on board. When this was combined with low ride height, it gave the illusion of higher speed than was actually being achieved. This also made the MGB quite an enjoyable vehicle to punt along a twisting piece of road. The owner claims that this MG has a genuine 84,000 miles showing on its odometer. He also holds a full set of service records dating back to when the vehicle was new. This would suggest that he will be able to verify the mileage claim. The engine was treated to a full rebuild in 2016, and there is an invoice for this work included in the sale. It appears that the MG has been meticulously maintained and is ready to be driven and enjoyed. My single criticism of the car once again relates to the presentation. I accept that this is a classic that is being sold as an original survivor. However, I would have expected the engine bay to have been cleaner than it is showing in the photos. I didn't expect it to shine like a new pin. However, it just looks generally dirtier than I would have expected.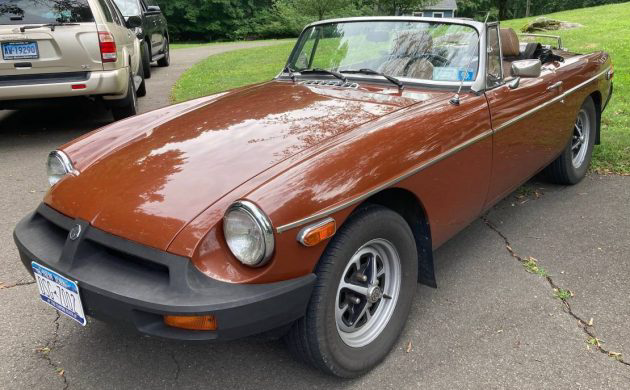 This 1980 MGB has a lot going for it, and I believe that it has the potential to offer the buyer an enjoyable ownership experience. It isn't perfect, but taking it to the next level would not be a difficult assignment. Given its general condition, its mileage, and the relatively recent engine rebuild, the price seems to be quite competitive. Even if the next owner decides to splash the cash on a new interior trim kit, it would seem to be wholly justifiable. It is definitely possible to buy examples for less than the owner is asking for this one. It is also possible to spend considerably more on a pristine example. If I were in the market for a classic British roadster, then I would be giving this car a serious look.