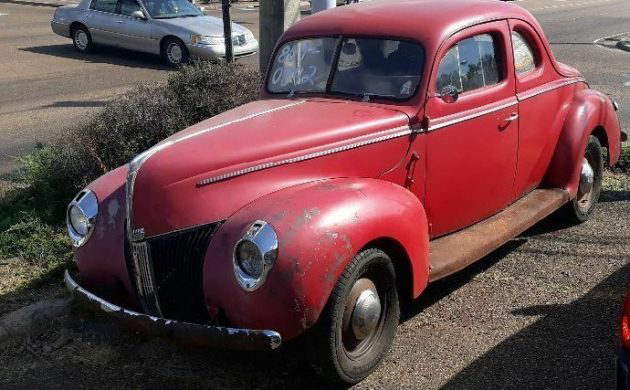 Right up there with Casey Jones, Daniel Boone, and John Henry lives the legend of the ridge runners.  These illegal whiskey hauling wildmen were the precursors to NASCAR and were the root stock of hot rodding in the South.  Their weapon of choice was often a 1940 Ford business coupe, like the one you see here for sale on eBay out of Grenada, Mississippii.  Built to outrun revenuers with gallons of sweet, clear moonshine rattling around in the back, these cars were mechanical marvels for their day.  While this red coupe has no known history, it would be the perfect starting point for making your own shine runner.  With no bids at a starting price of $11,500, can this neat old Flathead be had for a song?  Thanks again go to Ikey H. for this interesting find!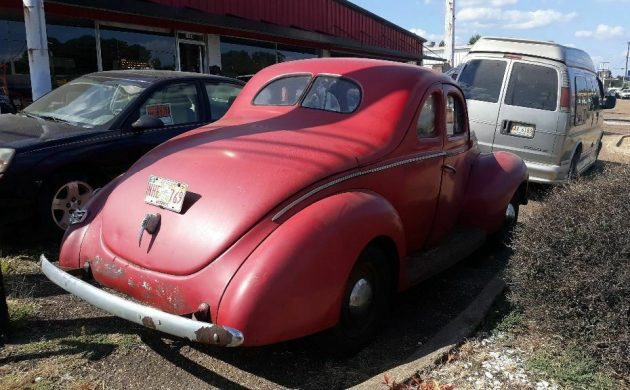 Most historians agree that Prohibition caused more problems than it solved.  Many of the people of the South were desperately poor before the Depression came along and made things even worse.  What they did have was a Scots Irish heritage that had embraced whiskey making for centuries.  Combining that with acres and acres of corn and thirsty masses in cities like Atlanta, Memphis, and other rapidly growing boomtowns, you can see how moonshining became a way out of grinding poverty for many.  The stories of the battles between the law and the wild driving men who risked life and limb to deliver the mountain dew are hard to fathom in today's orderly world. Junior Johnson himself once said that the fastest car he ever drove was a shine car. Let that sink in for a bit.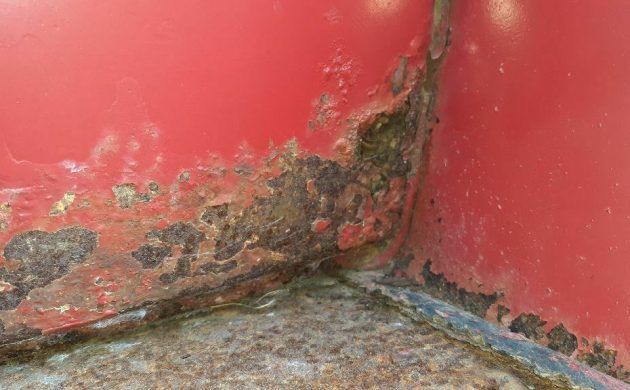 If you wanted to make a replica of a '40 Ford shine car, then this car is a good canvas to start with.  It isn't too nice to modify, but there is enough there to form a solid foundation.  Stored under a carport in humid Mississippi since the early eighties, humidity has taken its toll.  There are areas of rust through in the floor under the rear windows and in the far corner of the trunk.  Rust has also eaten away at the area under the trunk lid and in a few more areas of the car.  While annoying, this is not an insurmountable problem.  Replacement panels are readily available,  Just don't be under the illusion that this car can be blasted and painted.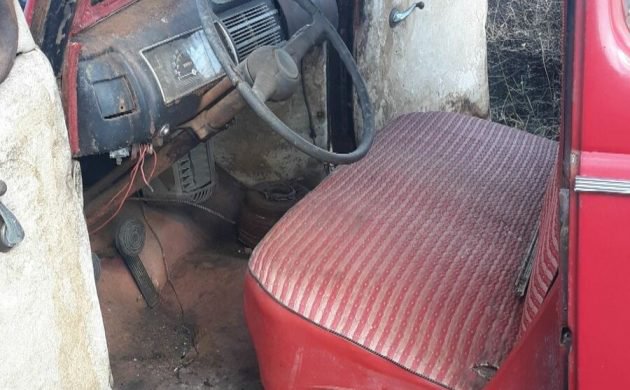 The interior would have to be reupholstered as well.  There is no telling what is under that seat cushion, and the door panels are unsalvageable.  All of the parts and pieces are there.  This includes the desirable 1940 Ford steering wheel.  It will also, unfortunately, need to be restored.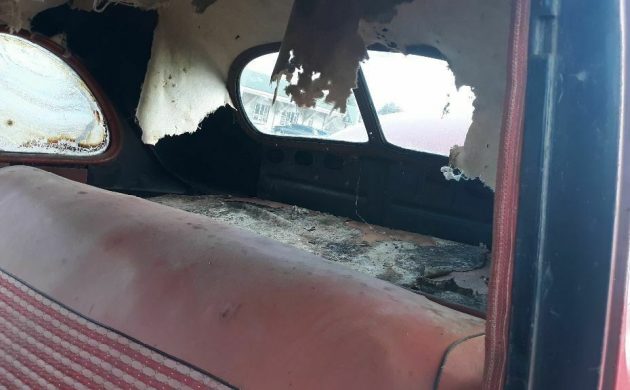 The moisture that came in presumably from the dried out rear window rubber certainly didn't do this car any favors.  Still, there appears to be no real sheet metal damage around the windows or back glass.  The glass will have to be replaced along with the package tray.  Sure would have been nice if this car was stored in a garage all those years.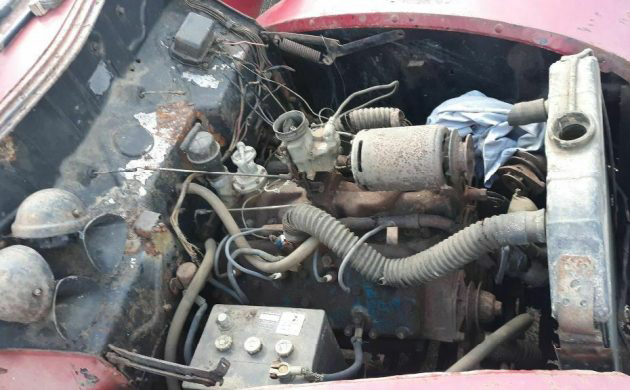 Under the hood we see the standard Flathead V-8.  All of the parts and pieces are present except for the air cleaner.  It is likely somewhere in the car.  A bit of good news is that there is a spare radiator in the trunk.  The seller tells us that the water pumps, steering, and some other items are froze up.  My guess is that the generator is the other item being referenced.  All are rebuildable for a fair price.  There are a few people around the country that specialize in these repairs, and they can be found through the Early Ford V-8 Club of America.  To cheer you up, we are told that the engine itself does rotate.
The real interesting part of this ad is that nobody has stepped up to pay the $11,500 minimum bid.  Despite the humidity induced rust and other damage, this is a very rebuildable '40 Ford.  The popularity of these cars was evidenced in that Dennis Carpenter Ford Parts was selling complete bodies for these cars until just recently.  They sent an email out last month clearing out the last of the body shells.  Once the envy of any kid with a lead foot, is the market moving away from these once desirable cars?
What would you do with this rough but ready '40 Ford?
Have something to sell? List it here on Barn Finds!