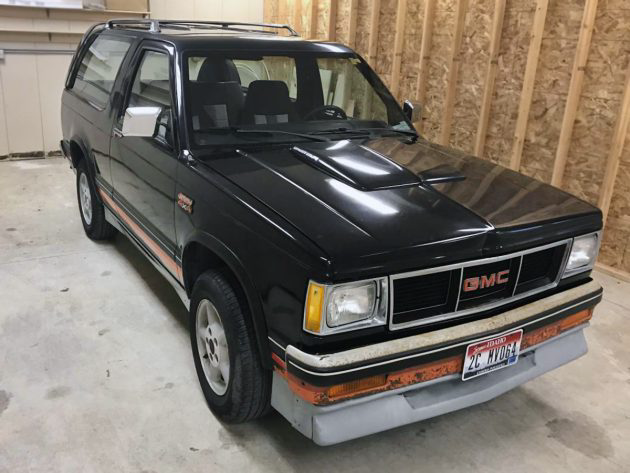 Rare is a curious and sometimes contentious word. Saying that a vehicle is rare more often than not brings out the "just because it's rare doesn't mean that it's valuable" comments. And, that can be true that just because something is rare doesn't mean that it's monetarily valuable, which is how the vast majority of us define the term valuable. Well, this 1984 GMC Jimmy Street Coupe is one of those vehicles that may be worth a second look. The seller's asking price of $4,000 seems almost insignificant for a vehicle that they made so few of. This one is on Craigslist in beautiful Boise, Idaho.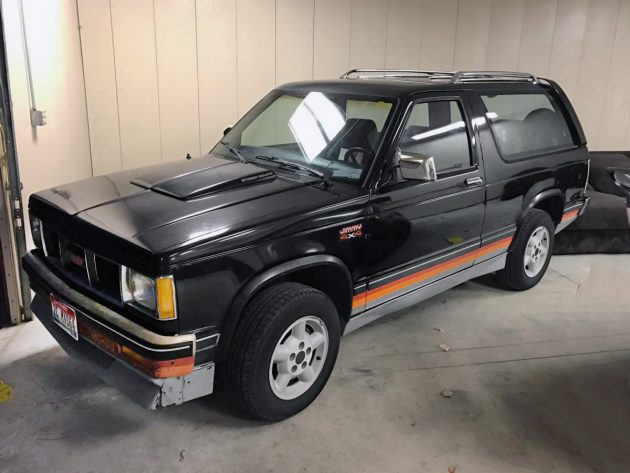 This truck is rare enough that I could find just one mention of it, and that was on the 67-72ChevyTrucks.com website, and the person answering an inquiry about it says that they were 2-wheel drive. You can clearly see the "4X4" badge on the front fenders on this one. So much for everything on the internet being true! (crickets) They made both two and four-wheel drive models and supposedly the four-wheel drive models didn't have the front spoiler, but this one has a partial spoiler, with parts of it being missing, and a very pitted bumper that needs to be rechromed and painted. The paint on the hood could probably use some work, too – polishing compound maybe – it's a bit dull and looks to be pitted.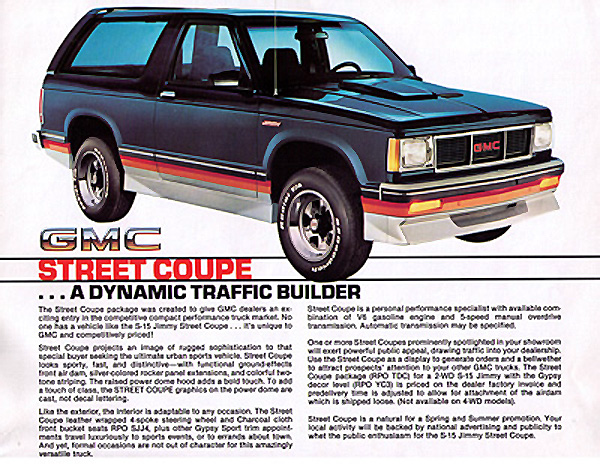 This is the only image or information that I could find about the Street Coupe, maybe one of you have heard about these or know more detailed information about the Street Coupe? The ad says that the front air dam isn't available on the 4WD models, but this one clearly has at least the middle portion of the spoiler that's shown in the ad above. I have a second message in to the seller, they've already gotten back to me once about it, and apparently there is "no rust" but there's an oil leak from a transmission hose. I looked that up and it's all over the place as to what that could be. It's impossible to tell without inspecting it in person, or having someone check it out for me. I mean.. for the next buyer.. Do any of you have a guess as to what that transmission line/hose leak could be? If this thing was local I'd be all over it.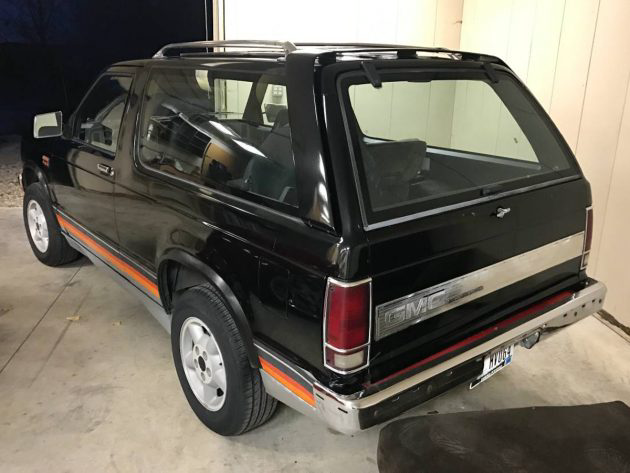 As I mentioned, the bumpers look like they've been stripped for some reason, both front and rear. But, other than that, this truck looks fantastic inside and out, in my opinion. It has a few subtle details that I really like. It seems to be sitting higher than the GMC Typhoon, the fast and famous specialty truck from GMC in this Jimmy body style. This Street Coupe has 103,000 miles on it and everything works, according to the seller. You can see the cool wraparound spoiler in the rear, I've never seen that before.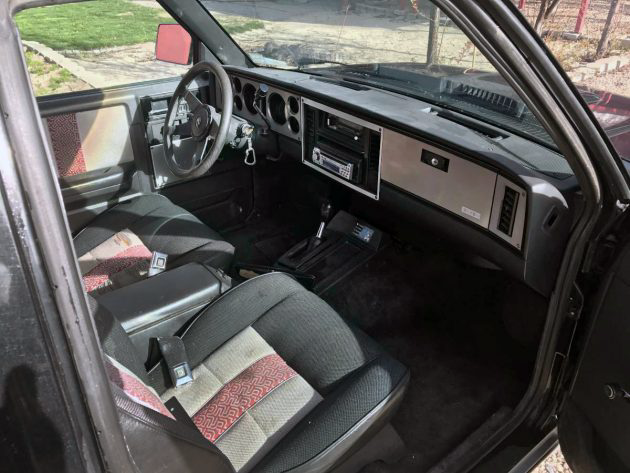 The badge on the dash says "Gypsy" and look at those seats! It's been a while since I've seen such a great pattern – truck truck truck truck… The rear seats look absolutely like new but you can just barely see that the gray/white portion of the driver's seat is work away. Hopefully some matching fabric could be found. I'm really liking this one, a lot. There is a tag on the door frame saying that this was done by "Cars & Concepts, Inc.". Apparently they were a limited edition model, sort of a concept, to get people into GMC showrooms – "A Dynamic Traffic Builder" – as that lone, tiny print ad says. There are no engine photos and no mention of the engine size in the ad, but I'm assuming that this truck would have had the 2.8L, 173 cubic-inch V6 with around 110 hp? Have any of you seen this model before?