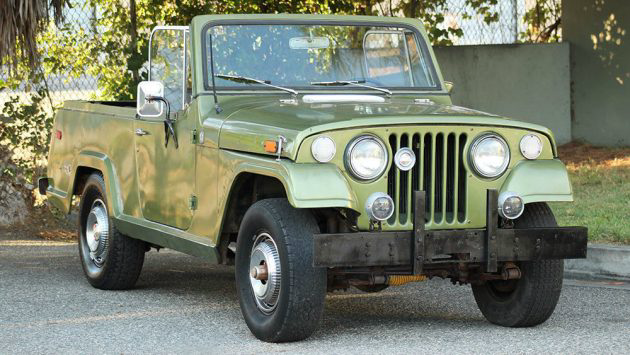 Occasionally, we run across an auction listing that is done well, and makes the vehicle more attractive than it otherwise could have been. This 1970 Jeepster Commando has some rust issues and isn't quite stock, but it certainly looks presentable and would be a fun drive. The auction can be found here on eBay and the vehicle is at a dealer in Los Angeles, California. Bidding is quite low at the moment but there is an unmet reserve as I write.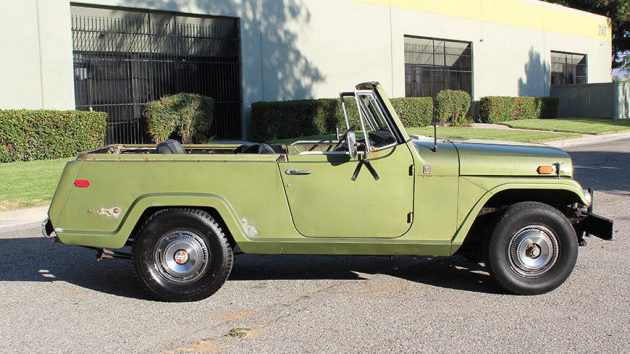 Jeepsters will always have a special place for me as my very first Barn Finds post was about one. Additionally, I really like the styling. It's nice to see one with uncut wheel wells/original ride height and standard wheel covers. You can see some rust on the sides; I'm guessing it spent some time with water in the interior as the rust breaking through looks like where the floor meets the fender.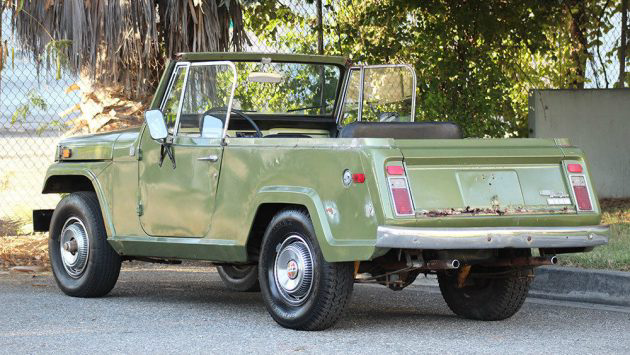 Water inside may also account for the tailgate corrosion, which is the worst I can see in the pictures. The auction listing states the tires will need replacing, so again it sounds like it's been stored for a while before this sale.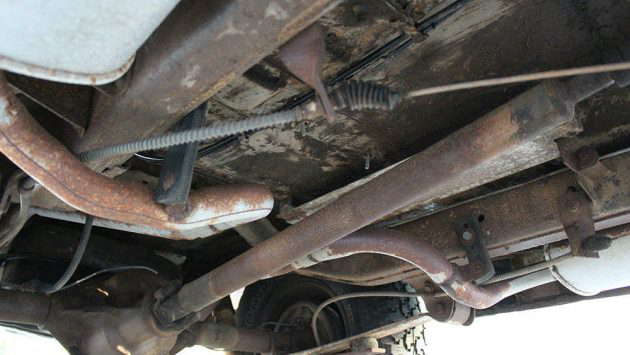 Looking underneath, it doesn't look bad at all.
The interior, or at least the seats, are in remarkably good shape. However, you can see some coating over rust on the floor here, and not that there was any claim of originality, but the paint over the door latches pretty well guarantees a respray.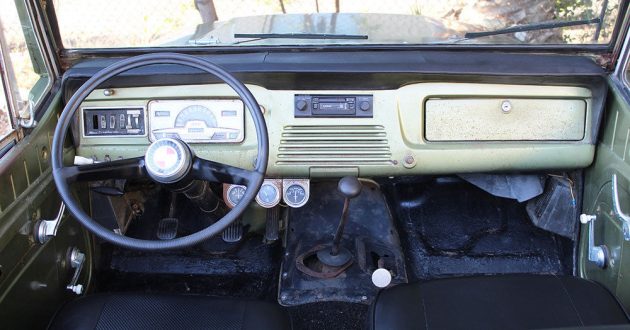 The layer of corrosion on the chrome aftermarket gauge mountings and even on the dash brightwork also have me thinking there was H2O in here. The two cracks on the dash are a shame, but it's straight and flat enough you could probably get away with either driving it as-is or covering it with vinyl. Either one would work for me. The seller tells us that the four wheel drive mechanism "engages effortlessly."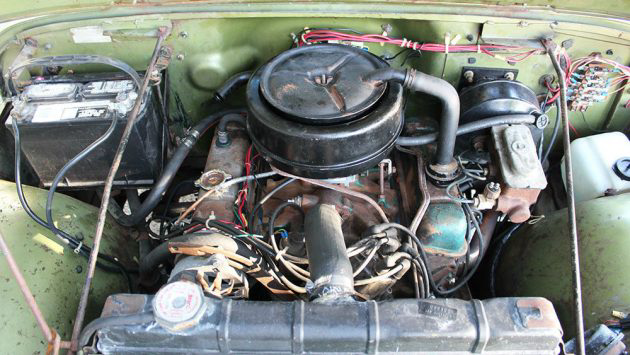 This is a 225 cubic inch V6 producing 160 horsepower when new, but most importantly for off road enthusiasts, 235 ft-lbs of torque. Although I'm sure some of the wiring here isn't factory, it's notable that it's tie-wrapped neatly and that everything is pretty clean. All in all I like this Jeepster and think it's worthy of consideration–but my question is, would you leave it as-is and drive it, or take the time to get rid of the rust and refurbish it? Let us know in the comments.