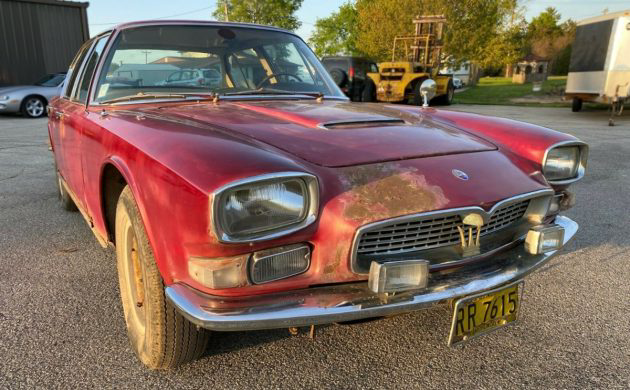 The idea of a grand touring car is intriguing to me. Do, or did, owners of cars such as this 1965 Maserati Quattroporte actually carry passengers? Certainly, they're made for the best of all worlds: luxury, speed, handling, quietness, exclusivity, roominess and comfort, and many other things. This once elegant touring sedan can be found here on eBay in equally-elegant Cedar Rapids, Iowa (it's a great city, I've been there many times). The current bid price is $7,200 but the reserve isn't met yet and the seller says that they can end the auction early.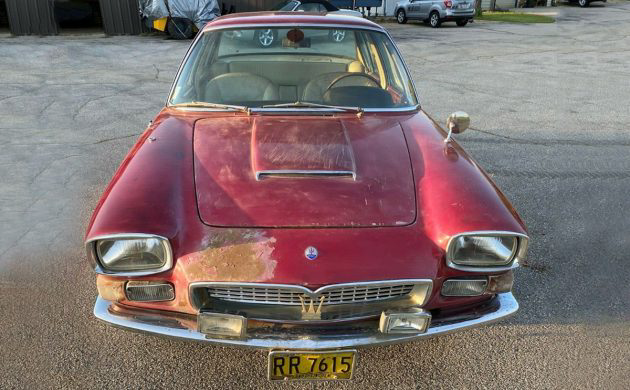 A car like this Quattroporte isn't just a fancy sedan even though it may just look like a four-door sedan with a fancy name on it. This is my absolute favorite grand touring/luxury-sport sedan, the first-generation, or Series 1 Maserati Quattroporte. I prefer the four-headlight cars but anything made between 1963 and 1966 would be great, or a Series II car made until 1969. There were only 230 cars made for the first four years of production so this car is incredibly rare.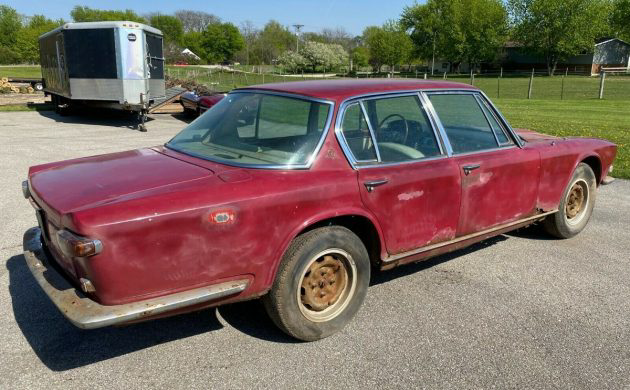 This may not be the most gorgeous view of this car but, unfortunately, the seller doesn't give us too many exterior photos. We don't see even the tiniest glimpse of the entire driver's side at all which is a red flag in my world, but hopefully it doesn't look any worse than the passenger side does. That is to say, this car is at least somewhat rusty in some areas are very rusty in others. The underside looks hopeful in a couple of the photos but it looks hopeless in others. Rust can be repaired and if ever there was a car worth the expense, this is it.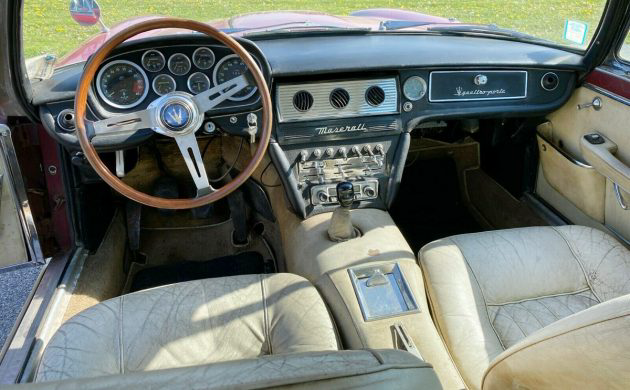 The interior is beautiful, or it was and hopefully it will be again. It appears to be in good condition, just a bit faded and dirty. The seats define comfort, or they did in the mid-1960s. I'm sure that they could be brought back to life again and they sure have that signature Maserati overstuffed look. The rear seating area looks appropriately luxurious. Having a ZF 5-speed manual transmission in a car like this almost makes me openly weep, that's so fantastic.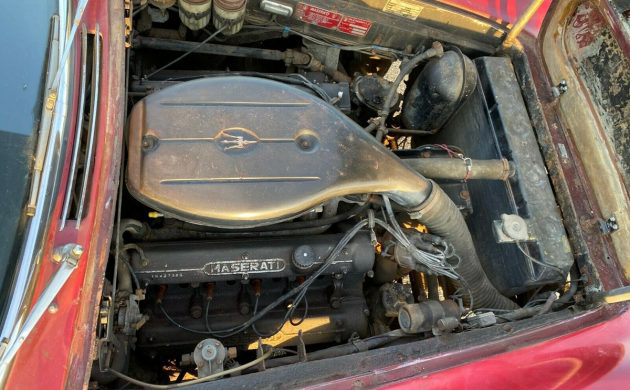 The real beauty of this car is its engine, in this case it's Maserati's 252 cubic-inch 4.1L V8 which had around 260 hp. The seller says that it runs relatively smoothly, although on a spare gas can, not through the gas tank. Still, it runs and that's half the battle. Hagerty puts a #4 fair condition value of $23,600 on this car and it's a very long way from being in that condition, but their #2 excellent condition value is $53,300 so depending on the seller's reserve price, this one is very much worth restoring. Are there any fans of these early Quattroportes out there? Any present or past owners?