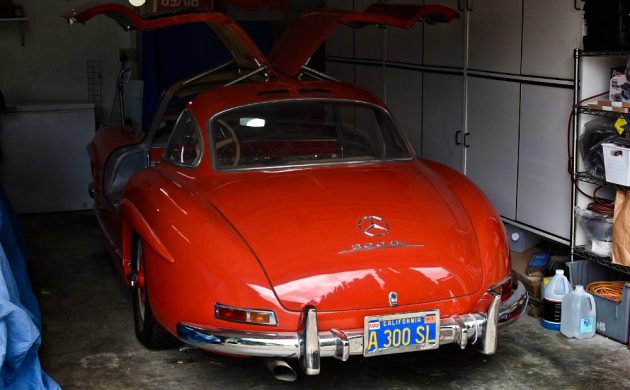 Well-documented, remarkable in its originality, and available for purchase, this 1956 Mercedes-Benz 300 SL coupe should quicken the pulse of any enthusiast. Only an original-color paint job applied some years ago separates this car from true survivor status. The never-restored gullwing coupe comes to market here at gullwingmotorcars.com where they know a thing or two about these fabulous machines. Ring them up and $1,295,000 USD will seal the deal. Interestingly, the desirable Rudge Wheels mentioned are not shown in the listing.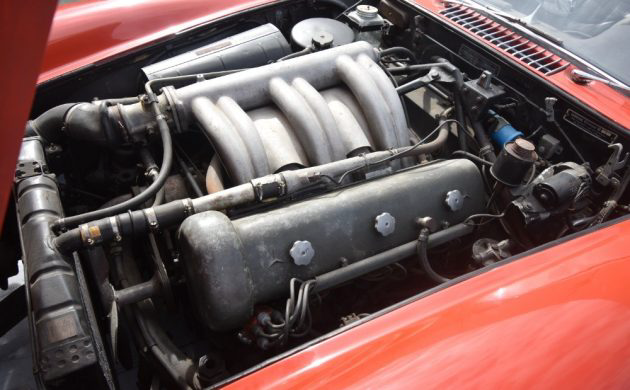 While American manufacturers were debating how huge their fins would be on the upcoming 1957 models, Mercedes-Benz was selling the SL with a plenum intake manifold atop its gorgeous mechanically fuel-injected engine, the first offered in a passenger car. Decades later the plenum intake fed a host of electronically fuel-injected cars including my Mustang 5.0. With no computer, the SL relies on a deliciously engineered injector pump, levers, rods, and other mechanisms to make all the adjustments for load, temperature, and throttle input that we take for granted in modern cars. The 3.0L (183 cid) inline six-cylinder engine made 240 HP. To be fair, Chevrolet sold fuel-injected engines in 1957, making 283 HP from its 283 cid V8.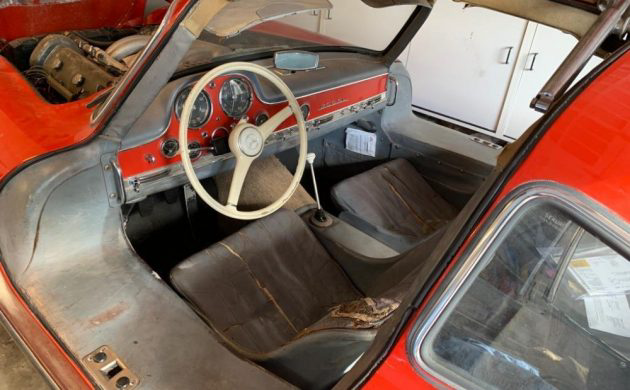 Mercedes-Benz built only 308 such cars in 1956, all coupe bodies with top-hinged "gull-wing" doors, according to Wikipedia.org. The lightweight body design came directly from Mercedes-Benz racing cars. The combination of lightweight, aerodynamics, and the brilliant engine rewarded drivers in suitable conditions with top speeds of over 140 MPH.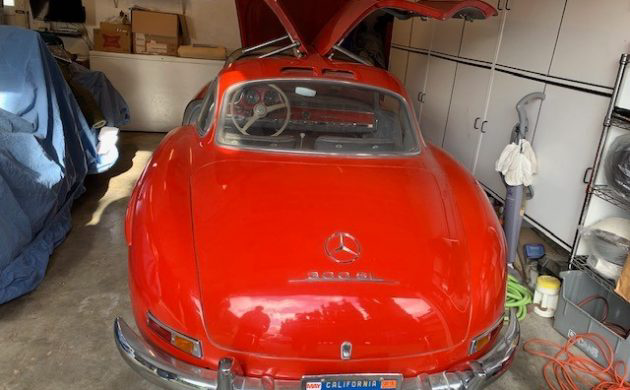 Hagerty calls the 300 SL "the Greatest car of the 1950s," and this article includes beautiful pictures of a similar but fully-restored example. I'm no European survivor expert, but I wonder if delicately removing the topcoat might reveal worn but serviceable original paint. This lifelong California car comes to sale for the first time in 40 years and may be the only never-restored Rudge Wheel 300SL left. For seven figures I would have invested 10 minutes and some wheel dollies to give pictures of the front and sides of the car, but again, I'm not familiar with the rarified air of 1950s supercars. The buyer will no doubt investigate in person, writing off the travel expenses for tax purposes, of course. Do you remember the first time you saw a gullwing Mercedes?