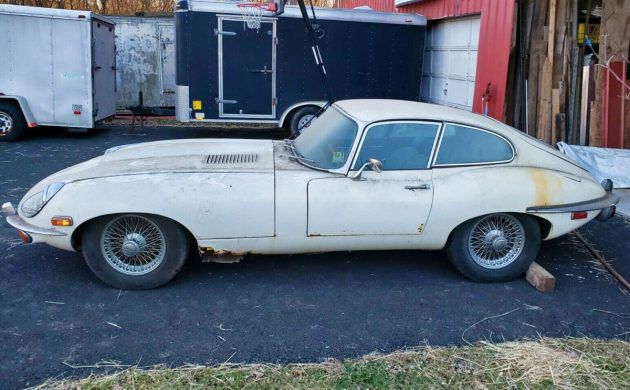 The Jaguar E-Type is a striking looking car that remains a desirable classic today. Good examples can command some pretty extraordinary prices, but this 1969 model is going to require a lot of work if it is to reach that sort of level. It has plenty of rust issues, so it will be interesting to see if we have any Barn Finds readers who would be willing to tackle this restoration project. The Jaguar is located in Newtown, Pennsylvania, and has been listed for sale here on eBay. Bidding currently sits at $12,000, and the reserve has been met.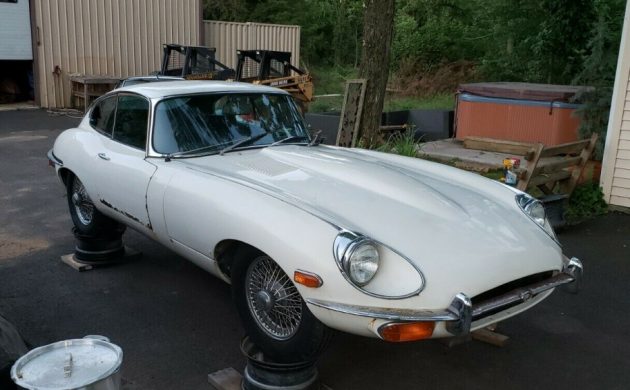 When it comes to issues that can stop a vehicle in its tracks, the E-Type has two main ones to consider. The first of these is rust, while the second is electrical gremlins. This particular Jag would seem to have plenty of the former. When you scrutinize the photos, it would appear that this is a car that will need to be dismantled entirely if a restoration is to be completed properly. The vehicle has been parked since 1977, with the owner purchasing it approximately 4-years-ago. This Jaguar is a project that stalled before it could start, but at least the car would appear to be complete. The Cream paint is looking pretty sad and sorry, but this paint color does have its advantages in a situation like this. It does make it reasonably easy to spot many of the rust problems. The vast majority of the rust is confined to the lower areas of the Jag. However, there is some significant rust around the rear hatch opening, under the seal. There are also some apparent problems with the doors, rockers, and rear valance. That isn't the end of it, because there is some significant rust in the floors where they meet the rockers. There is also corrosion in the trunk that has made the steel thin. Given the fact that rust issues are quite prevalent in the E-Type, replacement steel is available to address these issues. However, the reality is that this is a car that will need to be dismantled down to the last nut and bolt if the restoration is going to be complete to a high standard. Adding to the woes is the fact that the bumpers and some of the exterior trim pieces are also showing corrosion problems. I think that the bumpers, in particular, are probably beyond salvation. On the plus side, the glass appears to be in good condition.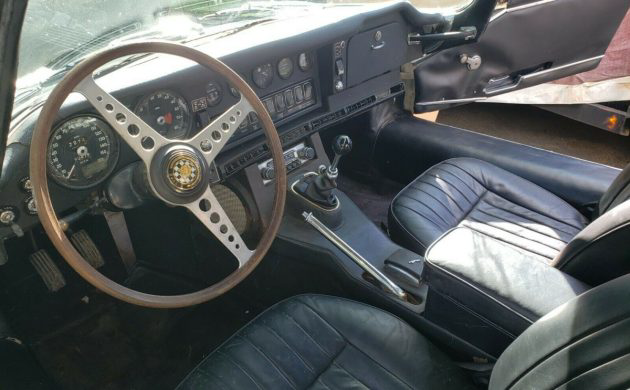 The interior of the E-Type is finished in Black leather, and a full restoration is going to be required. It is complete and unmodified, and there are plenty of components that look like they could potentially be saved. The covers on the seats look quite promising, and it would be interesting to see how they would respond to being cleaned and conditioned. The dash pad is cracked, the door trims are showing some visible deterioration, as are some of the plastic pieces. It would take a personal inspection to determine what would need replacing. Still, if this car is eventually going to be returned to a pristine state, then there could be no compromises when it comes to assessing the interior. The 1968 model year saw air conditioning become available as a factory option, and that has been fitted to this car.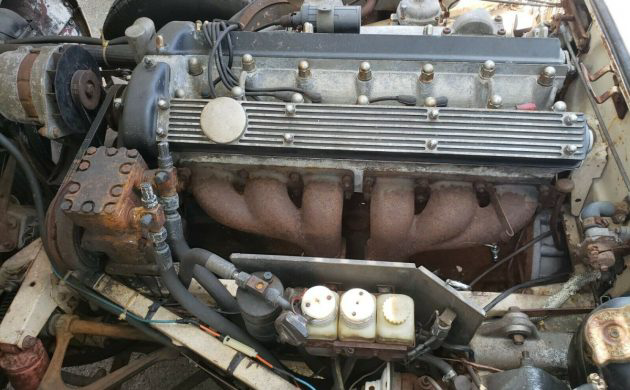 Tilting the enormous hood forward on the E-Type reveals the 4,235cc DOHC 6-cylinder engine, which is backed by a 4-speed manual transmission. By the 1969 model year, the performance had begun to suffer as emission regulations began to tighten. The E-type was blessed with 246hp by this point in time. This represented a drop of around 20hp from the 4.2's peak. It was still a fast car and was easily capable of producing a 15.5-second ¼ mile ET. It could also wind itself out to a top speed of 149mph, which remained very respectable. Mechanically, this E-Type is an unknown quantity. The owner doesn't indicate whether it is a numbers-matching vehicle, nor does he provide any information on the condition of the engine. I would assume that the engine doesn't run, but it isn't clear whether it even turns freely. Once again, the potential is there for plenty of work, but it will require a personal inspection to determine just what will be required.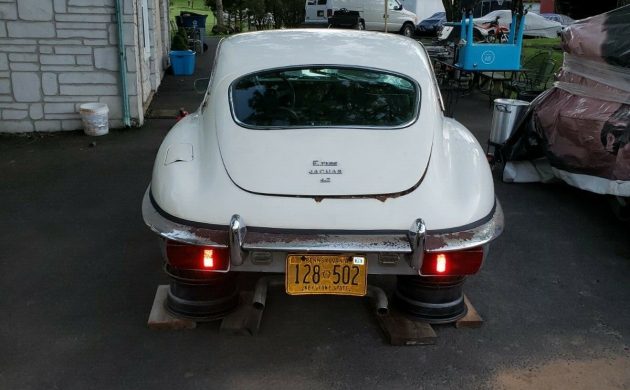 Values for pristine 1969 Jaguar E-Types have been climbing quite strongly over the past 3-years. Recent events have seen them take a hit, but they are now beginning to bounce back. The Fixed Head Coupe doesn't generally tend to command the same sorts of values as the Roadster, but they still do very well. It is possible to find some tidy examples for around $65,000, but a pristine vehicle can quite easily push the value into six-figure territory. This E-Type has a long way to go before it would be worth that sort of money. However, the intense bidding to this point would tend to suggest that there are a few people out there who believe that it is possible. Would you take it on?