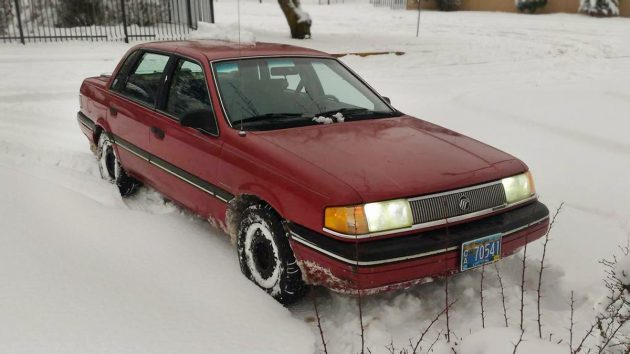 Never seen snow! Just kidding, of course, this 1991 Mercury Topaz LS-AWD has made easy work of driving in the snow for the last 26 years. This fancy Tempo is on Craigslist in Tigard, Oregon, just a few miles southwest of Portland. It's an area of the country that gets snow but does not use salt on the roads. If the CL link goes away, it can be found here. The seller is asking a gut-wrenchingly reasonable $800 for this four-paw scratcher. This would be a heck of a winter car. Yes, it's newer than what we normally show here and it has, gasp, four doors! It's basically a Ford Tempo with chrome, not exactly a hot number. But, it's 26-years old, it's unusual being AWD, it's rust-free, and it's cheap. You either get it or you don't..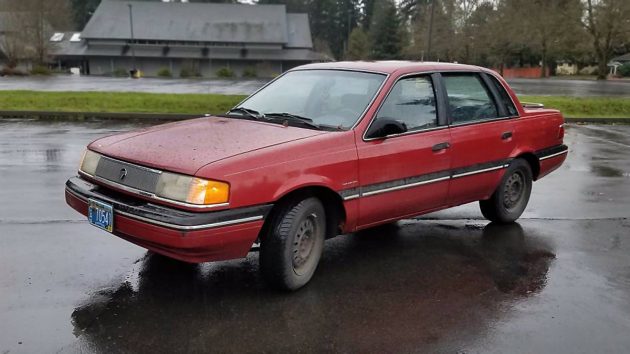 As those of us who live in the upper-Midwest or the Northeast portion of the US know, winter brings with it millions of tons of road salt which has made it safe to drive for decades. But, that road salt has also ruined millions of vehicles due to rust. This Topaz, according to the seller, has "ZERO rust on it." After 158,596 miles, any vehicle that was driven in the winter in the upper-Midwest of Northeast would be very rusty by now. That's the biggest selling point of this car for me, that and the fact that it has AWD which means that it would be a good winter car for those of us who don't drive their "good" vehicle/s in the winter.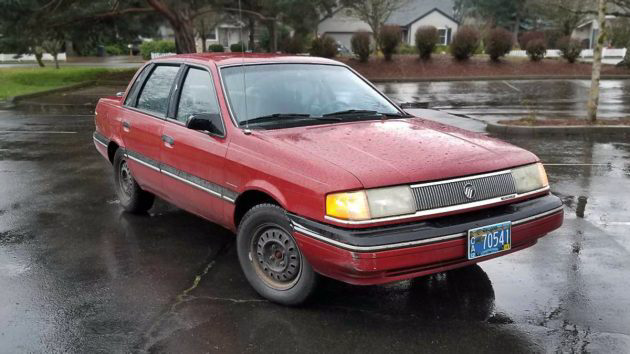 It's hard to argue with a good, rust-free, AWD car for $800 for those of us in snow country. I'm still debating on whether to nab this one, but the shipping would double the price and I already have an old, rusty Outback that I drive in the winter. This is such an unusual car, though, and it hits a few buttons for me: it's unusual, it has AWD, it has no rust, and it's dirt cheap! Those are hard features to beat. Plus, the seller is a nice guy. I emailed him for more info on this car and he replied right away. He said that the AC has recently stopped working, but other than having it come in handy for defrosting the windshield in the winter, who needs AC in their winter car? He also mentioned that the passenger front window doesn't seem to work.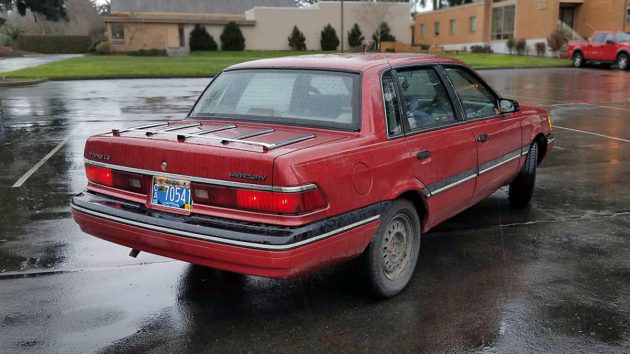 The Mercury Topaz was, of course, based on the Ford Tempo and this second-generation car is in great shape, according to the seller. The "four wheel drive system has been completely rebuilt with a new rear differential and new vacuum actuator. This is a switched four wheel drive system and works amazingly. I used it in the intense snow we had here in the metro area this past winter and it had ZERO problems maneuvering through the snow. Never got stuck once." There are no engine photos but this one should have Ford's 2.3L inline-four with 100 hp. According to the seller, this "car is really good to drive, is good on gas and will never leave you stuck when it snows." They're selling it for money to pay for college, in case you were wondering.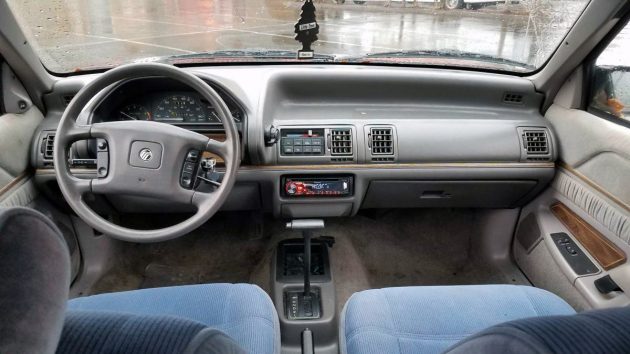 Yes, the blue seats aren't original, they were replacements from a Ford Tempo donor car to replace the original, tattered gray seats. The seller has done a lot of work on this car to make it a reliable driver, including, "New Rear differential, New 4WD vacuum actuator, New Headlight housings, New Passenger side wheel bearing, New coolant, New spark plugs, New spark plug wires, New distributor cap and rotor, New stereo with aux input and USB." It also has new tires and a new battery, according to the seller's reply to my inquiry. I know that this will seem like nothing more than just a basic used car to most people here; it isn't a muscle car, an exotic, or an old pickup. But, it's 26 years old, it's rust-free, and having AWD makes it unusual in my book. Not to mention the price of entry for a good winter car.