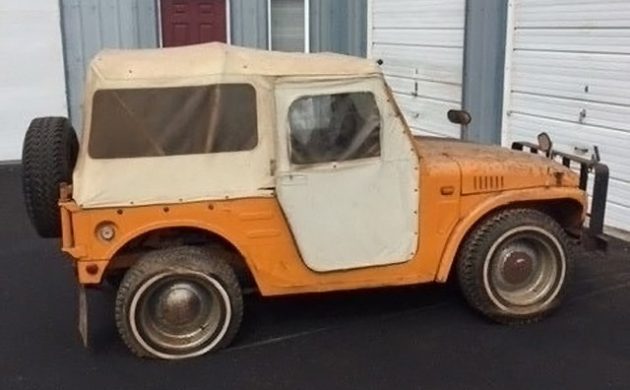 I don't know why it is that tall people like small vehicles and short people like big vehicles? Is that some sort of Freudian thing? Inquiring minds want to know. In any case, it's fairly well known that I love small vehicles, small 4×4 vehicles even more so, and when they come with a manual shifter it's a regular love affair. This 1972 Suzuki Jimny LJ10 is on eBay in Florence, Oregon with an unmet opening bid of $3,000.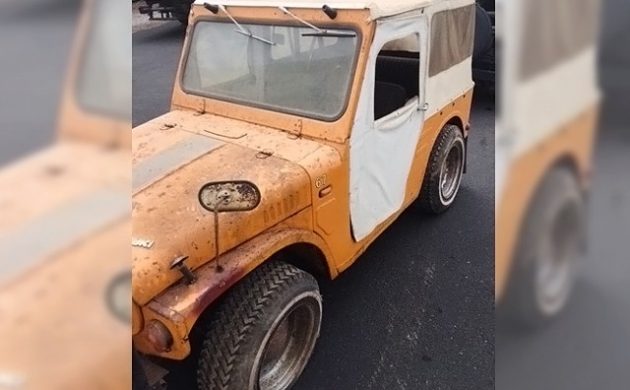 Surface rust is king on this micro-4×4 but we've seen worse. They call it patina these days and it's all the rage. Well, maybe not when it's on a 46-year old Suzuki 4×4, it's just surface rust here. You're not going to "clear coat that baby and let'r rip, tater chip". No, it's rust that will have to be taken care of before it gets any worse than it is. The Light Jeep 10, or LJ10, came out in 1970 – two years after Suzuki acquired an existing company that made small 4x4s.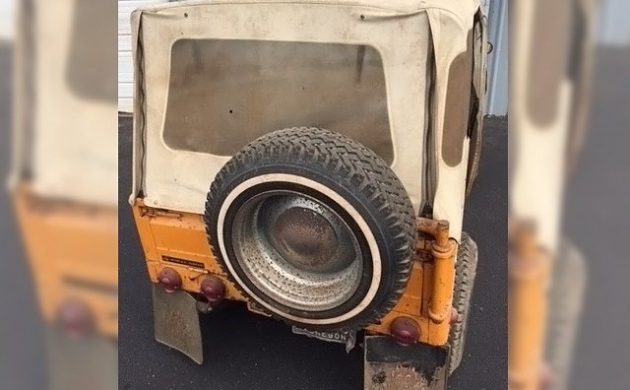 Their objective was to make a small 4×4 that could go places that bigger 4x4s couldn't get to. These things are, dare I say, cute? They're not cute when you're clogging up the left lane on the freeway with one, though. Don't do that. I'm not sure if I like the white wall tires and pitted chrome wheels. In fact, I don't like them at all. Luckily, they look like they're bad anyway so they'll need to be changed. And, painted wheels, please, not chrome. This l'il rig only has 5,775 miles on it, having been "stored inside for 30 plus years", according to the seller.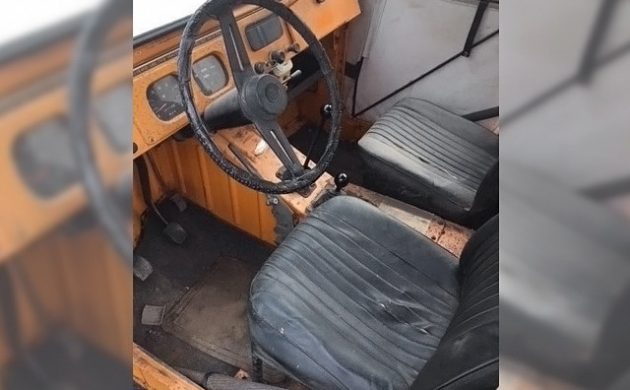 I have a sickness with these little vehicles. I want to take them all apart and restore everything to being like new, and it looks like everything will have to be taken apart on this one. The interior will need pretty much everything, I can't imagine that any of the materials are salvageable. Of course, a person could just get everything working great and use it around their property or around town. I always like little vehicles to be restored little gems, that's just me. It has a manual transmission, of course, and even a high-low range transfer case.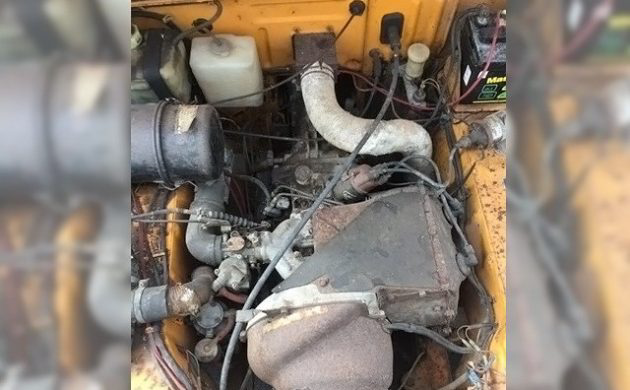 Here's why you would clog up the left lane: this two-stroke, air-cooled, 359 cc two-cylinder has just, gulp, 25 hp. The 47-mph top speed is better suited to non-highway use even though technically it's legal even for freeway use in most states. The seller says that it's "Currently non-running, I have not even tried starting. Brakes are locked up from sitting so long also." Hopefully, it isn't a lost cause, someone please save this l'il Jimny!