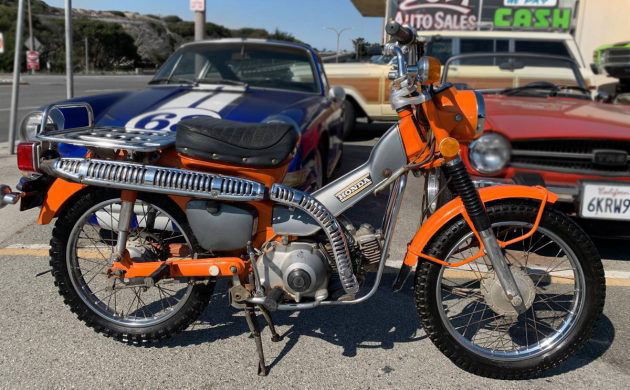 It's hard to argue with Honda's successful line of small step-through motorcycles such as this 1973 Honda CT90K4, or Trail 90 – the company sold millions of them. I have owned one and they aren't fast or anything that a person would probably ride cross-country, but for what they were intended for, they are fun to ride. This one can be found here on craigslist in impossibly beautiful Monterey, California. The seller is asking $2,500. Thanks to Rocco B. for sending in this tip!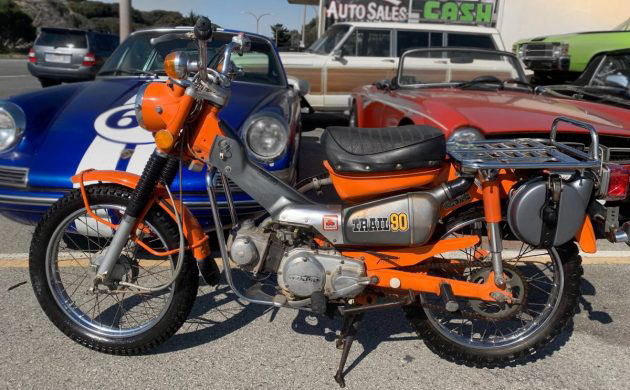 This is a great looking bike. In 1973, all of the Honda CT90s would have come in this color, Mars Orange with gray accent color on other pieces. There were two versions of the CT90K4 available in 1972 and 1973, an X and also a Trail 90 such as the one for sale here. The main difference would have been the tires and gear ratios. A cool feature is the auxiliary fuel tank mounted on the left side under the standard luggage rack.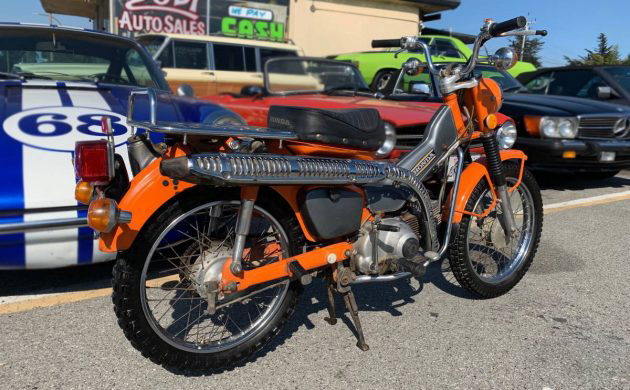 The one for sale here looks great, I think. The seller says that it is just out of storage where it has been since the 1990s which could be either 21 years or 30 years of being in storage. Either way, that's a long time and it must have helped to preserve it. I used to see these Trail 90s on the back of motorhomes all the time two and three decades ago, they were great for cruising around campgrounds and on gravel trails.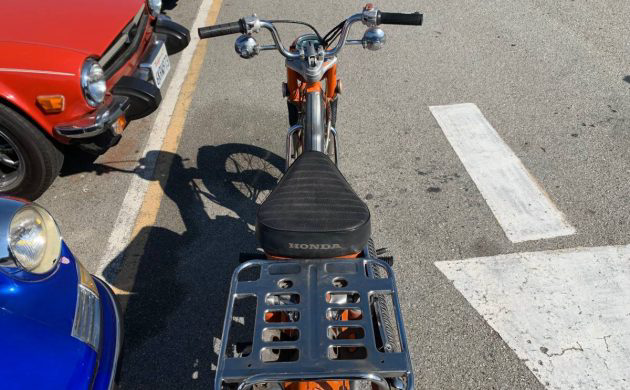 There was only one seat on this era of CT90. I had an early 1967 Honda CT90K0 with a painted rack on the back and there was an extra seat that could be popped onto it for carrying a passenger. I never gave anyone a ride on that bike and I wish I would have kept it.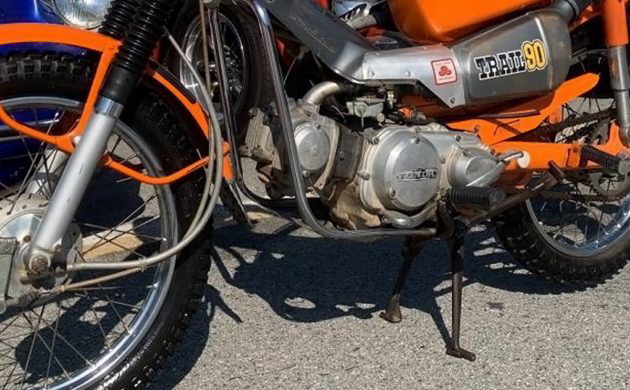 The engine is Honda's 89 CC overhead-cam single with 6.5-horsepower. The bike has a 4-speed dual-range transmission with 8 total speeds. The seller says that it has just 2,000 miles on it and it is very original and it runs and drives. They have included a video here on YouTube. Have any of you owned a Honda Trail 90?