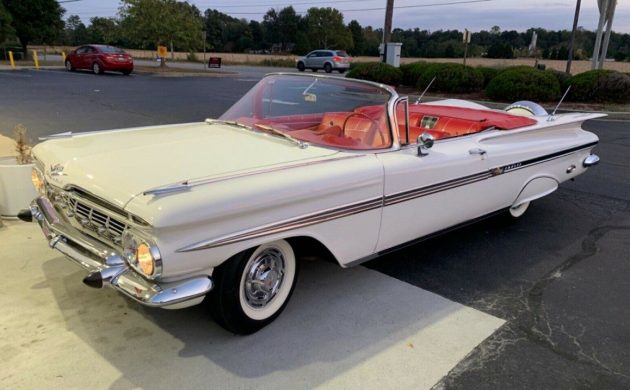 Some classic cars will attract more attention than others when they are listed for sale. You only need to take a quick look at this 1959 Chevrolet Impala Convertible to gain an understanding of why the bidding has been quite frantic on this beauty. This is a clean and original survivor that is in exceptional condition. It wants for nothing, which is hardly surprising when you consider its history. It is now looking for a new home, so it has been listed for sale here on eBay. The Impala is located in Davidsonville, Maryland, and has attracted a total of 47 bids since it was offered for sale. This has pushed the price along to $106,100, but the reserve hasn't been met.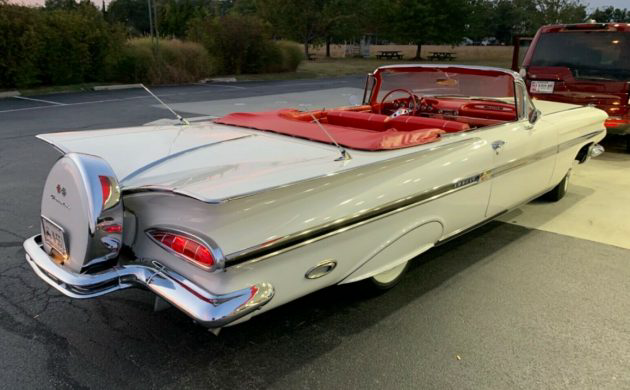 The Snowcrest White Impala is a stunning looking vehicle. It has spent some time on display in a museum, and this makes its overall condition no real surprise. The panels appear to be as straight as an arrow. The paint holds a beautiful shine, and there are no apparent signs of any rust issues. The White convertible top looks to be in good condition, and the same is true of the glass. The chrome appears to be as close to flawless as you are ever likely to find, while the fender skirts accentuate the vehicle's long and low body lines. I do not doubt that the Continental Kit is going to divide readers. There doesn't seem to be a middle ground with these. It seems that people either love them or hate them. I can't count myself as a fan, but I wouldn't change it if I were to buy the Impala. A Continental Kit is an iconic 1950s feature and makes a real styling statement. In the past, I have admitted to having a strong affinity with any car wearing the blue oval. However, I will always admire the 1959 Impala. I think that this is a classic where Chevrolet came up trumps with the car's styling. So, despite my leanings towards Ford products, I would gladly park a '59 Impala in my driveway any day.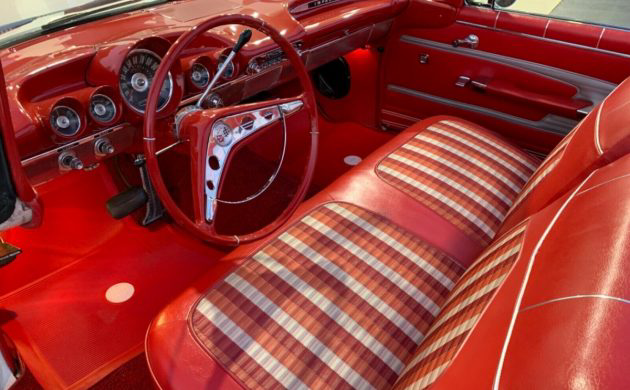 My wife and I both own relatively new cars, and while they have nice interiors, they will never feel as special as this Impala's. Tri-tone upholstery is something that has virtually disappeared from interior styling, which is a tragedy. Today it seems that we are left to choose between gray, gray, and…gray. This interior is stunning, and it graphically displays how manufacturers of this era wanted people to feel special the moment they climbed aboard their vehicle. The sculpted dash and the splashes of chrome are quintessentially 1950s touches, but Chevrolet has managed to achieve a classy appearance. This interior is unmolested, and it is hard to criticize. The upholstered surfaces look spotlessly clean and free from wear. The tri-color seats feature new foam, while the carpet seems to be free of any significant wear, fading, or marks. The original radio remains in situ, while the Impala also features power windows. All-in-all, you would have to feel like royalty when you were riding in this classic.
Doesn't the engine bay present beautifully? This isn't all about looks, because the Impala is an original, numbers-matching classic. In this case, it comes equipped with 348ci Tri-Power V8, pumping out 300hp. This is backed by a Powerglide transmission, while the Impala also brings power steering to the party. One of the surprising characteristics of the '59 Impala Convertible is its weight. This is a car that is more than 17½' in total length but still manages to tip the scales at less than 4,000lbs. That means that in this form, it would be capable of romping through the ¼ mile in under 18 seconds. I know that this isn't muscle car territory, but it is still respectable for a full-size convertible. After its life on display, the Convertible has been returned to a mechanically healthy and roadworthy state. The brakes have received a rebuild, including new drums. A new fuel gauge has been installed, along with a sender unit. The Powerglide was treated to a rebuild, as were the carburetors. Beyond that, it has received all of the regular servicing and fluid changes that are part and parcel of a resuscitation process. This is a classic that is said to now run and drive perfectly.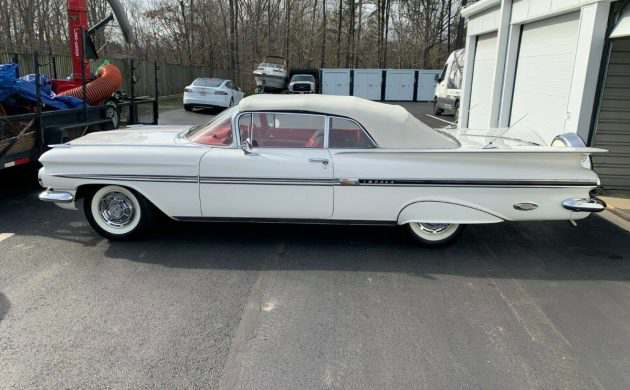 Close your eyes and picture the scene. It is a glorious and cloudless Summer day. The road is a flowing stretch of coastal bitumen, and the sun is glinting and glimmering off the Pacific Ocean. It looks like a million diamonds laid out beside you, and you are cruising along behind the wheel of this 1959 Impala Convertible. Can life get any better than that? I admit that this Impala is not going to be a cheap investment, but you can never put a price on a dream. Sometimes we just need to spoil ourselves, and that is what owning a car like this is all about.