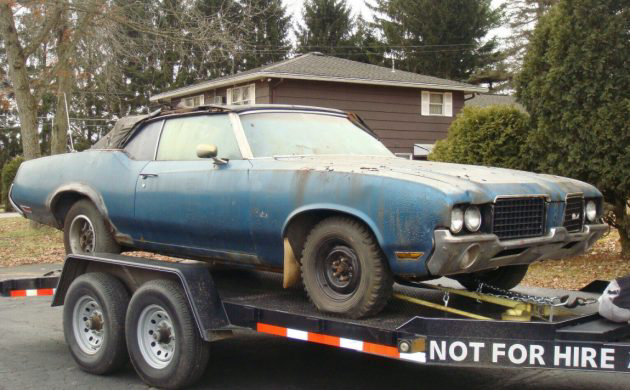 Some cars will sell themselves, in particular, certain GM "A" bodies from 1968 through 1972 will get attention and turn heads. That said, some, of course, won't as they need extra help and that appears to be what we have here. It is a 1972 Oldsmobile Cutlass Supreme convertible, located in Hazelton, Pennsylvania and available here on eBay for a current bid of $5,049, two bids tendered so far.
What's so special about GM "A" bodies? Styling and performance with an emphasis on performance like the Chevelle SS, Pontiac GTO, Oldsmobile 442 and Buick Skylark GS. Barring the performance tie-in, there are other attributes like a convertible version, 1972 being the last year the drop-top was offered for all four cousins. And with that, there were only about 11K Cutlass Supreme convertibles assembled in '72, not exactly rare but a diminished volume nevertheless.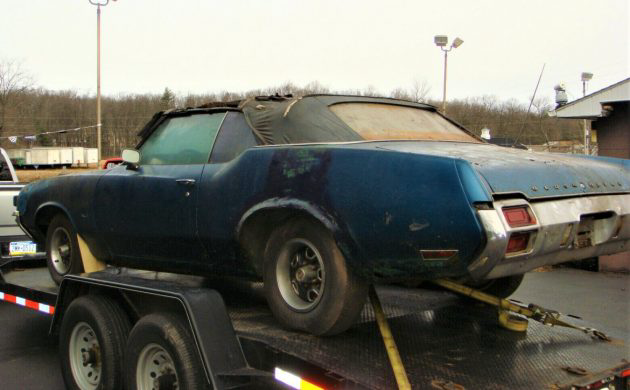 This particular example is in rough shape! The seller states, "The car needs a lot of work, but can be saved". That's usually always true but at what expense? You know when the seller states, "The door latches are rusted shut and need to be oiled and worked to open the doors" you have a rust problem. Convertibles of this vintage are subject to rust-out in the trunk and floors due to a poorly fitting top but this car has evidence of either crudely repaired quarter panel/wheel opening rust or a weak attempt to provide flared rear wheel wells. That coupled with the faded and flaking repainted exterior buts a wet blanket on the visuals. Ditto the convertible top, it looks like it has been partway put through a shredder. The seller states that he has "put up a ton of pics" but I count twelve with the listing and can't find the missing ton. Several of the images included are so poorly illuminated that they aren't very helpful (or maybe they are considering the deleterious exterior condition).  Of note, the taillight lenses appear to be from a '71 model but the VIN checks out as a '72.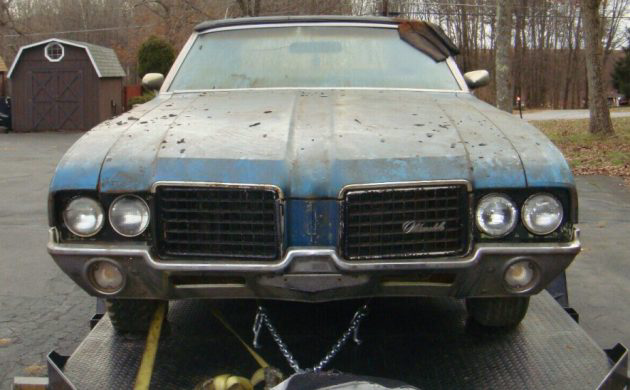 There are no images of the 180 net HP 350 CI "Rocket" V8 engine. In spite of its 184K miles, the motor does turnover by hand so at least seizure is not an option. An Oldsmobile V8 engine is as stout as they come but with that mileage, a complete redo is in order. A Turbo-Hydramatic three-speed automatic transmission is in place.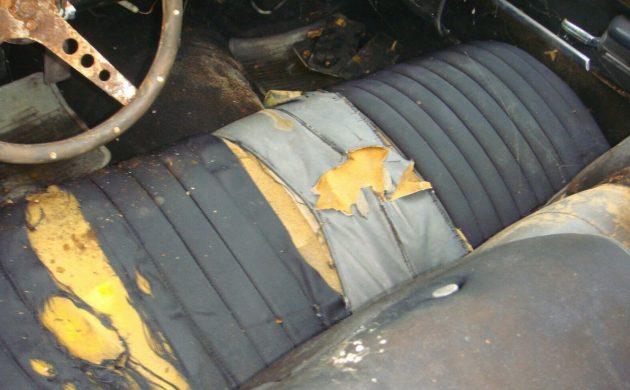 The interior matches the exterior, what can be seen is a mess. The carpet and seat upholstery are spent, evidence of outside storage with a compromised top. There is an image of the instrument panel included but it is so poor and out of focus that I won't bother you with it. This is an A/C equipped car so the components may still be in place but they'll require the same treatment that the rest of the car needs. There is one image of the underside and while not too telling, there is rust present and it appears that part of the rear floor is falling out, not terribly surprising and the seller admits this Cutlass needs both rear floor pans. That said, the seller claims that the frame is "not rot" which I guess means it contains no rot or rust-through and is sound – I'd still examine it, as well as the rest of the floor structure, closely.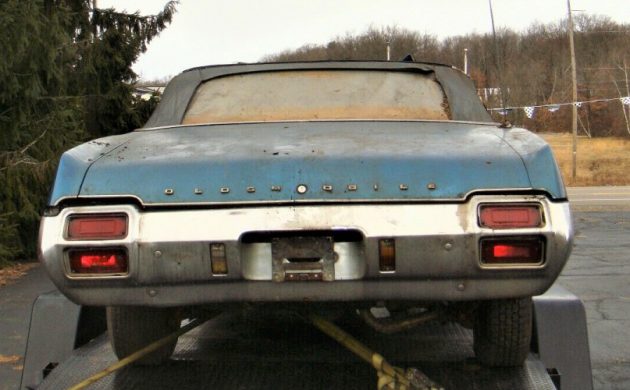 If this Cutlass is a barn find, as the seller suggests, it must have been a barn sans roof. I don't think this Olds is going to sell itself, regardless of its convertible body style. Not to be Debbie Downer, but I'd take a pass on this Oldsmobile convertible and keep looking, how about you?