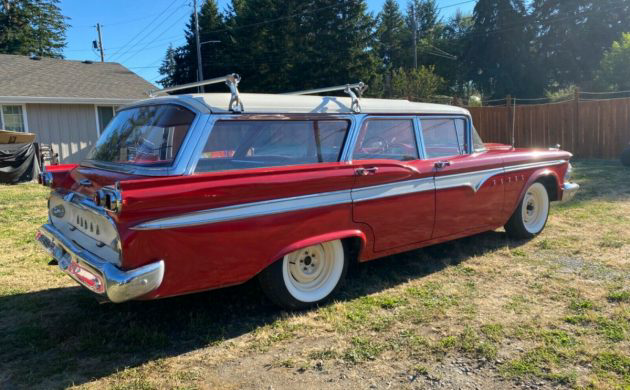 The seller of this 1959 Edsel Villager says this car speaks for itself and is all original. Assuming that extends to the photos of it, I'd say this Edsel looks like it's lived a pretty easy life. This wagon was sent in by a Barn Finds reader who found it here on eBay in Tacoma, Washington. This no reserve auction has received 29 bids, setting the high bid so far at $6,800.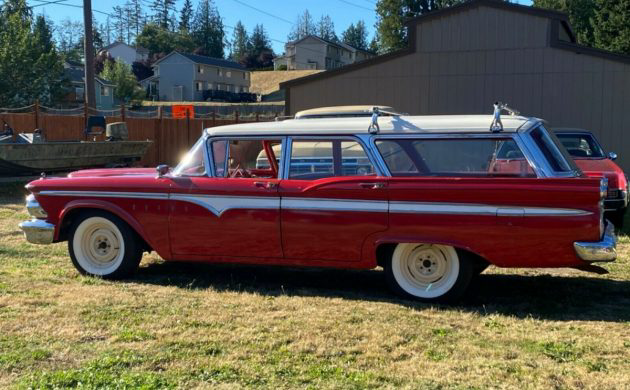 The Edsel was a short-lived brand from the Ford Motor Company that began in 1958 and ended production in 1960. Initially based on Mercury and Ford platforms, by the 2nd model year, they became Ford-based only. This 6-passenger Villager wagon was one of 5,687 built-in 1959. Total Edsel production across all 3 model years was 118,287 – 47,396 of those were from the 1959 model year.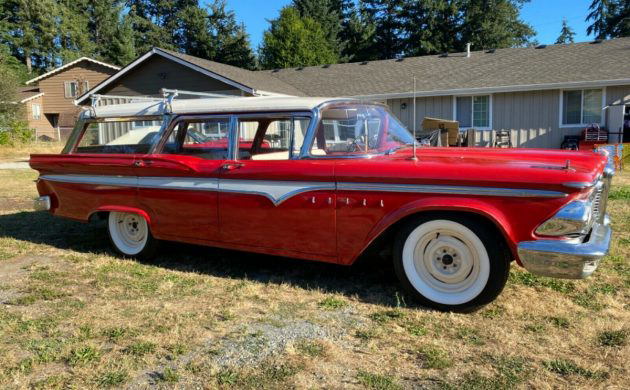 The seller tells us this Edsel is a survivor that they purchased from the son of the original owner. The bright red paint is claimed to be original and still shines. The body and underside are described as solid. The rear bumper looks like it may have been hit a time or two. I'm curious about the origins of the roof rack and its original intended use, but I like the look of it. Wheels are void of covers, but the seller is including some.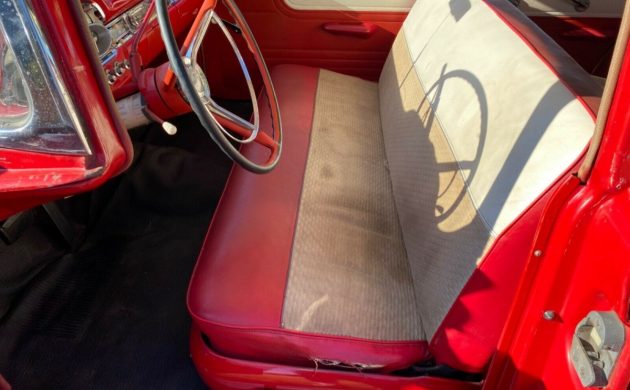 The interior is also original. The red and white fabric and painted surfaces perfectly match the exterior. The seats are a little dirty, but in good shape considering their age. There is a small tear on the side of the front bench seat. The dash shines bright and the floor covering looks a little dirty, but again, pretty good considering their age.
There's little detail on the drivetrain, aside from the "standard V8" mentioned. Assuming it's original, that would be a 361 cubic-inch engine. A column-shifted automatic transmission sends power to the rear wheels. The seller tells us it "runs and drives, but will need some work to be road safe."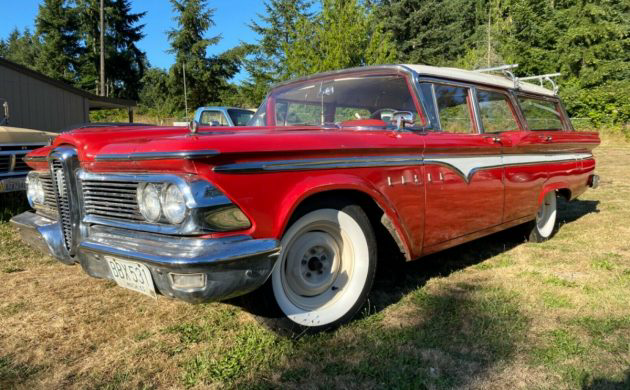 If you're a long roof fan like me, I'll assume this one piques your interest at least a little bit. What's not to like about an all original, well-preserved 1950s wagon? Even if it is an Edsel. This seems like a good opportunity to not only wax nostalgic but get into a solid, classic wagon.