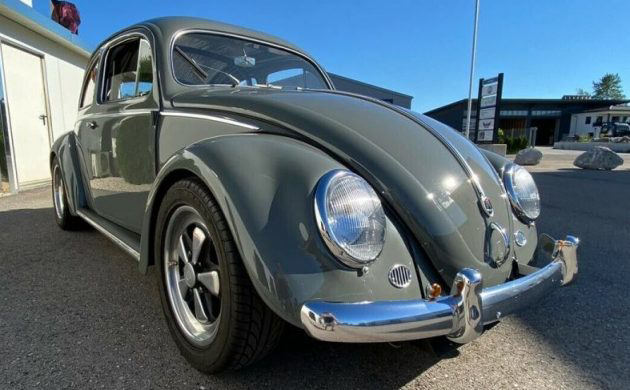 One glance at the dropped ride height and the genuine Fuchs wheels should be enough to tell you that this 1957 Volkswagen Beetle isn't totally original. However, those features are the tip of the iceberg with this classic. I would rate this as one of the most exciting custom builds that I have ever seen. I also believe that it will offer its next lucky owner a fantastic driving experience. If that sounds intriguing to you, then you will find the VW located in Graben, Germany, and listed for sale here on eBay. The BIN on this classic has been set at $36,000. That sounds like a lot of money, but as you will see, it offers a pretty decent bang for your bucks.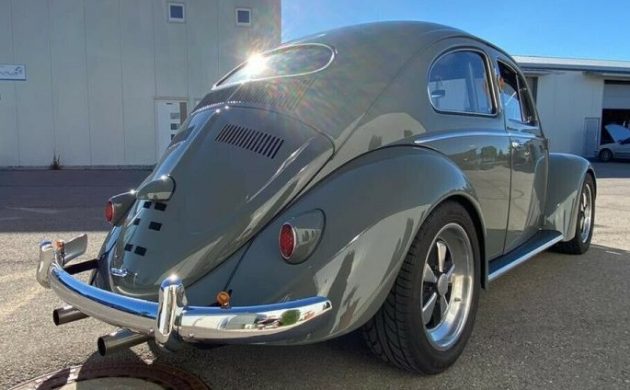 The oval window Beetle is an iconic vehicle. When they present as nicely as this one does in Jupiter Grey, they will always attract their share of admiring glances. There isn't a lot to be critical of with this car, because it presents superbly. The panels appear to be perfect, while there doesn't seem to be a scratch or chip anywhere. The owner supplies some clear photos of the underside, and it looks to be rust-free and clean. The chrome and trim look brand new, and there are no signs of any issues with the glass. Fuchs wheels will always suit a vintage Beetle, and this car is no exception. It wears 6″ wheels at the front and 7″ on the rear. Combine those wheels with the lower ride height, and the result is what appears to be your typically tough-looking mildly customized Beetle. However, as we will see, this is anything but typical.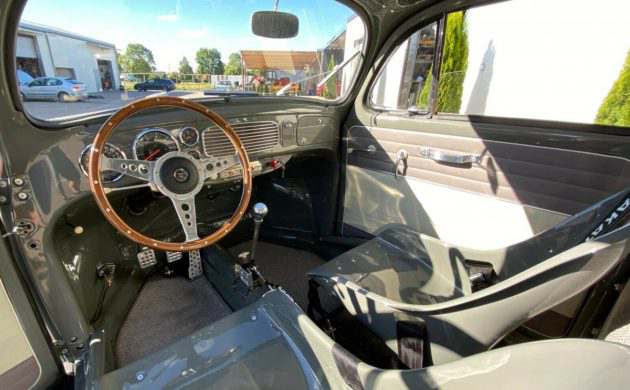 The Beetle's interior is generally pretty impressive, but there are a couple of detail items that I would address if I were to buy this vehicle. The floor mats are looking decidedly dirty. It isn't clear whether they could be cleaned successfully, or whether potential replacement would be on the cards. The exposed wiring for the dip switch is also disconcerting, and I would definitely have to address that. The lightweight bucket seats look purposeful, but the lack of substantial padding doesn't promise a lot of comfort on longer journeys. An upholsterer might be able to craft some nicely upholstered padding, or the next owner could also consider sourcing replacement seats if greater comfort is required. Beyond that, the painted surfaces look beautiful, as do the door trims. However, the custom shifter and the huge tach that dominates the dash give a hint that all isn't what it seems.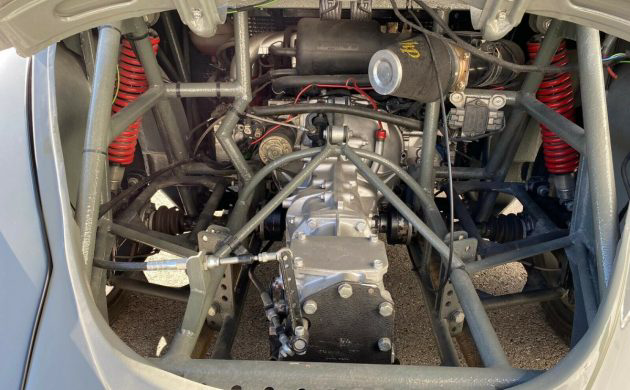 Lifting the hood reveals something that I'm sure that you weren't expecting. The venerable flat-four engine has gone, and in its place, we spy a transaxle. This is actually a 5-speed unit from a Subaru Legacy Turbo and has been converted to a two-wheel-drive configuration. Bolted to the front of that transaxle is a 3.3-liter Subaru flat-six boxer engine, transforming this into a mid-engined sports car. It isn't clear what sort of power this engine churns out, but it would be a safe bet that it would be a lot more than the 36hp that this VW originally offered. This hasn't been a case of slapping in a bigger engine and hoping for the best, because the owner has thought about this car as a complete package. The original torsion bar suspension has made way for proper independent suspension on all four corners. This is provided by wishbones with adjustable coil-over shocks. Bringing proceedings to a halt falls to Porsche Boxter brakes on all corners. The mid-engine layout and suspension configuration should make this classic an absolute blast to drive. The owner states that the Beetle drives well. As you will hear in the video at the bottom of this article, it does sound as much like a real Porsche 911 as the owner claims.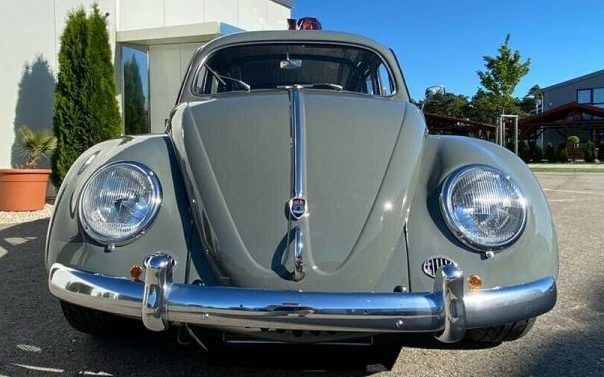 I've seen some cool custom builds in my many years of involvement in the classic car scene. This 1957 Volkswagen Beetle has to rate as one of the most interesting. The whole idea of independent suspension and a mid-engined drivetrain is radical. However, it offers the possibility of nearly ideal weight distribution and handling that should match engine performance. It will undoubtedly weigh more than it would have originally. But the improved performance across all aspects of this car should more than compensate for that increase. It is by no means a cheap car, but it does offer the possibility of an intriguing package that will raise more than a few eyebrows. If I had the money, this is a VW that I would find to be very tempting. What about you?