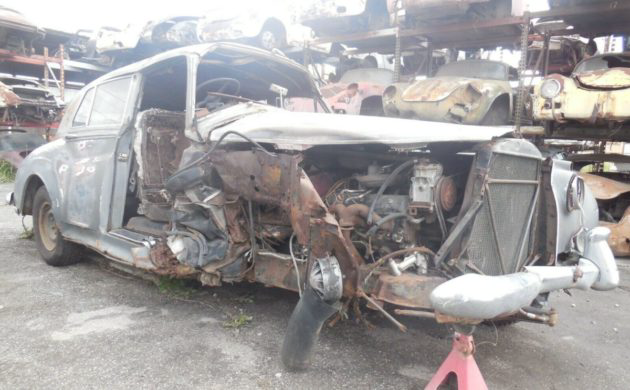 If I had the time, I'd love to track the sales from this seller of wrecked European luxury and exotic cars. Do they all go on to get restored? Or are they just used as parts cars, a justifiable purchase if you're the kind of big spender who buys a hulk of a car to get a few pieces of NLA trim? Who knows, but they seem to have no shortage of long-ago wrecked classics up for grabs at all times. This time around, it's a well-wrecked 1961 Rolls-Royce Silver Cloud listed here on eBay as having a major front end impact in 1979. The opening bid is listed at $1,000 with no reserve and no action yet.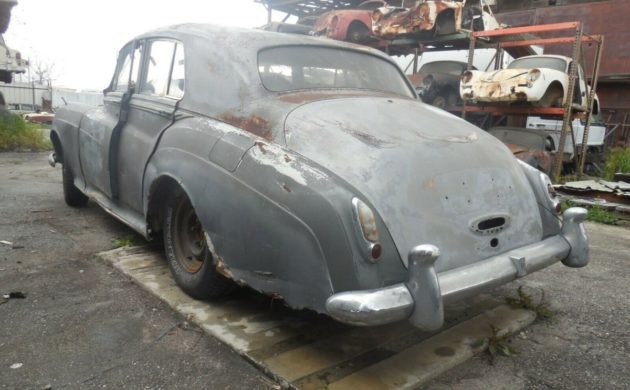 This is a right-hand drive example, which suggests it was a gray-market model imported from Europe, and presumably never federalized given its accident predates when the government really started cracking down on gray market cars. The body has rust, both surface and otherwise, as noted in the lower quarters on both rear fenders. The rear bumper looks sound, as does the trunk lid, but the rest of the body is pretty well tweaked. I'm sure someone could find use in a door or two, and possibly the rear glass. Do you see any other useful parts?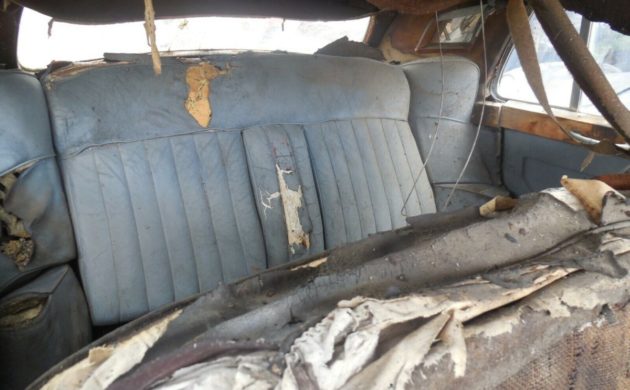 The interior is trashed, clearly subjected to years of exposure. What can you use here? I suppose the backseat and wood trim can be used as templates, but then again, spares for this generation of Rolls-Royce are not so hard to find that you'd need to resort to creating your own one-offs of interior trim and upholstery pieces. The seller notes that the car met its demise following a hard front end impact that seemingly distorted the whole roof structure of the car, in addition to jacking up the driver's corner pretty dramatically. Mileage is recorded as 91K.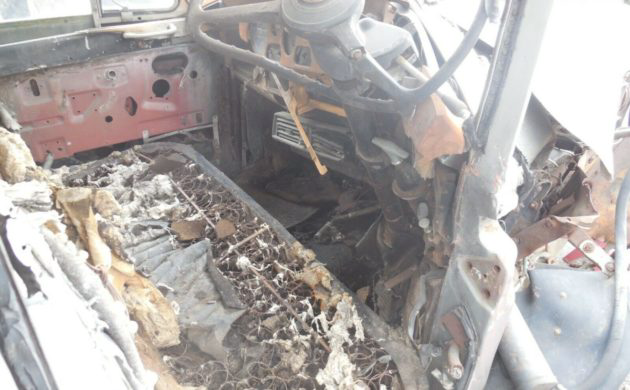 The front cabin photos show that the driver took the brunt of the hit – what a time for RHD steering. The interior is essentially gone, with none of the desirable parts left. No dash, no door panels, no seats – well, aside from the top half of the rear bench, and maybe the interior of the trunk compartment. Regardless of there being no bids at the moment, there's still ten watchers – but I'm beginning to wonder if the whole vehicle listings are just a means of generating interest in selling individual parts off of the car. That makes way more sense to me, as I can't envision how this Rolls-Royce (or any of this seller's listings) returns to the roads as a whole car.
Have something to sell? List it here on Barn Finds!