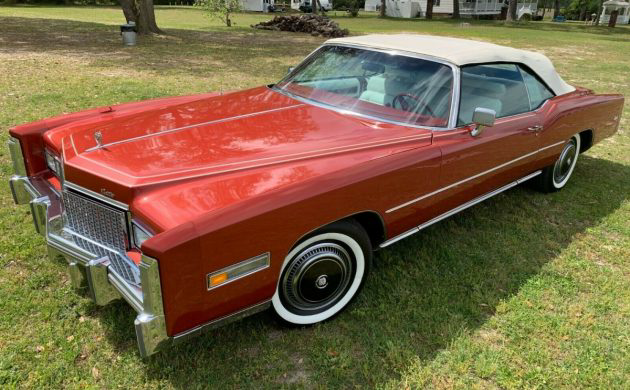 If you looked for long enough, you could possibly locate a 1976 Cadillac Eldorado Convertible with a lower odometer reading than this one. However, I wouldn't want to hold my breath until one is found because I suspect that I'd be more than a little bit blue in the face by then! This Convertible has a genuine 2,177 documented miles on the clock, and it has led a sheltered life. The time has come for it to go to a new home, so the owner has listed it for sale here on eBay. It is located in Little River, South Carolina, and while bidding on the Caddy has reached $24,900, the reserve hasn't been met.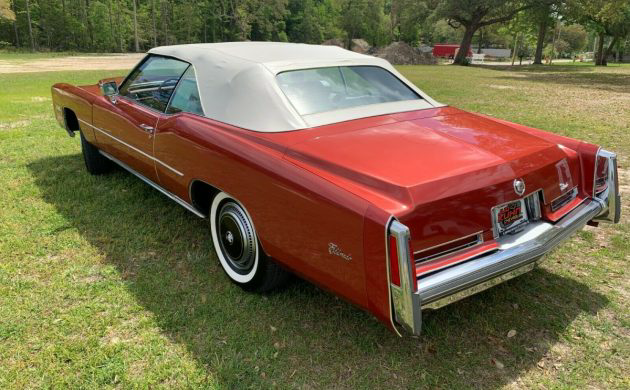 The Firethorn Metallic Eldorado is in superb condition for its age, and the paint is claimed to be original. It shines beautifully, with no evidence of chips or other flaws. The panels are laser straight, while the White power top is as nice as the rest of the exterior. A spare top is included with the car, as is both a hard and a soft parade boot. There are no apparent rust issues, and no problems are mentioned in the listing. The exterior chrome is close to perfect, as are the wheels and hubcaps. The Cadillac is fitted with Soft Ray tinted glass, and this shows no signs of scratches or chips. The original Window Sticker remains in place on the driver's side rear window, and the seller claims that it has never been removed.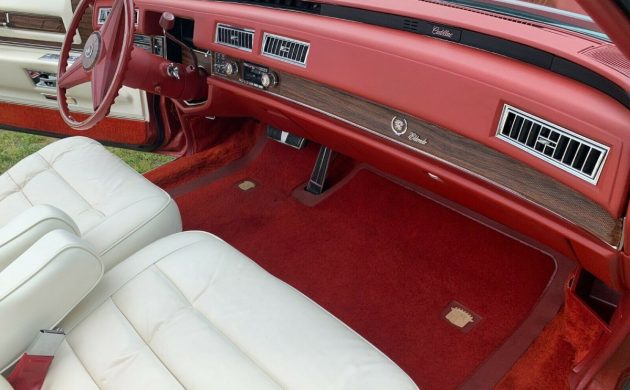 With a documented odometer reading that is so low, it is hardly surprising to find that the Eldorado's interior is as spotless as the exterior. It is finished in an attractive combination of Red and White, and it appears to have no problems. The leather upholstery on the seats shows no evidence of wear, marks, or cracking. It looks soft and supple and oh so inviting. The dash, door trims, and carpet are equally as impressive, while there are no cracks on the wheel. This is a Cadillac, and that means that luxury appointments abound. The buyer will receive a car that features air conditioning, power windows, power locks, power seats, a power trunk release, a tilt-and-reach wheel, an AM/FM radio, and cruise control.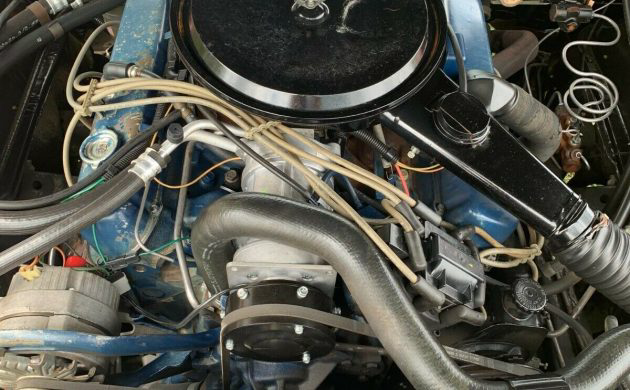 The Eldorado is a giant of a car, and it deserves a giant of a motor. Lifting the hood reveals a 500ci V8 that sends its 190hp to the front wheels via a 3-speed automatic transmission. Cadillac wanted to ensure that the driver didn't raise a sweat, so the car comes equipped with power steering and four-wheel power disc brakes. Tipping the scales at 5,236lbs, that monster V8 propels the Convertible through the ¼ mile in 19.2 seconds. It would be an expensive proposition as a daily driver because it achieves a fuel economy figure of a mere 9.6 mpg. The low mileage of this car is due to the role it was purchased to perform. The Convertible has only ever been used in parades and other special events, meaning that it has led a sheltered existence. The claim might seem unbelievable, but the seller has documentation that confirms the mileage. The Caddy has recently received a service, fluid change, and a new set of tires. It runs and drives perfectly and is ready to be enjoyed by a new owner.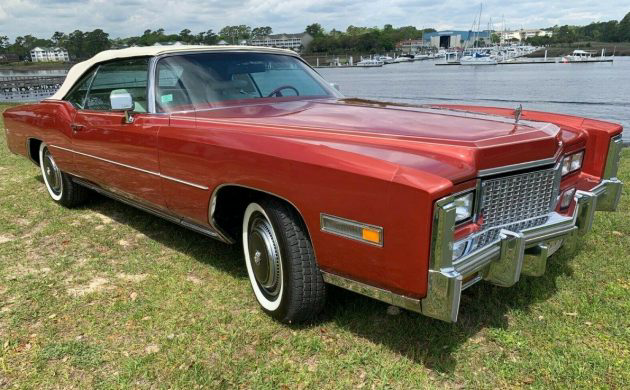 We've seen a few impressive Eldorado Convertibles over the years here at Barn Finds, but this one is extraordinary. It is close to showroom fresh, and the odometer reading is astounding. There have already been 31 bids submitted, which makes me wonder how close we are to achieving the reserve. If I were a gambling man, I would be putting my money on that figure being up around the $30,000 mark, although it could be even higher. The owner claims that it is probably the lowest mileage '76 Eldorado Convertible in existence today, which is a possibility. I think that it will find a new home, but it will be interesting to see what the winning bid is on this giant American classic.