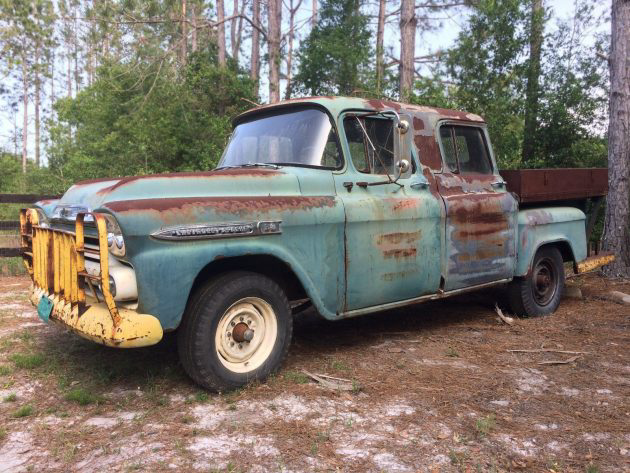 Here's one that you don't see every day, or ever: a 1959 Chevrolet Apache Crew Cab pickup! I promise not to say the word patina after that one mention. This cool, faded-paint pickup is listed on eBay with an aggressive Buy It Now price of, gulp, $17,500 or you can make an offer. It's located in Mount Dora, Florida and there is only one day left to line up your finances and/or get your courage up enough to make an offer.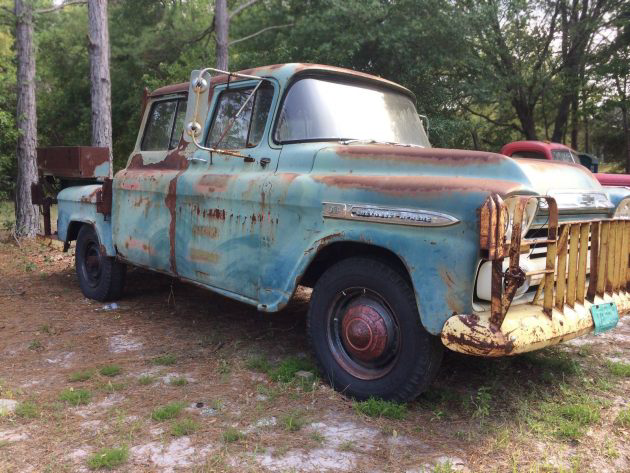 This isn't a factory crew cab, it's a custom three-door truck built by Armbruster & Company in Fort Smith, Arkansas. I bet you didn't guess that, I sure didn't. This is a rear-wheel drive truck as opposed to a 4×4 which surely would have brought more money, but since it's already at $17,500, yowsa. The body looks pretty good but there will be rust to fix, as you can imagine, and also see in the photos. There are only three overall photos and a few detail and close-up shots to check out. The quad-headlight Chevy trucks are really nice looking designs, in my opinion.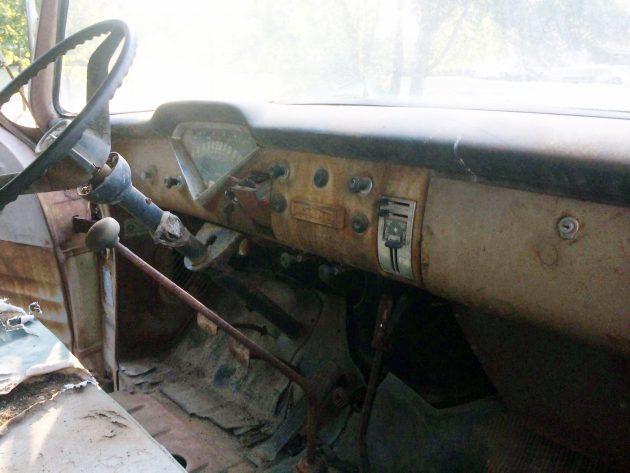 I can just imagine trying to parallel park this beast in Hoboken, wow. No power steering or brakes here, just brute force from eating beef 3 times a day for years and lifting concrete blocks for a living. The thin layer of skin on your forehead will provide the padding should you hit the non-padded dash, so please have some seatbelts installed. Your passengers won't be dipping their tootsies in plush carpet – no, sir. Like the '63 Power Wagon from a few days ago, this is a tough truck for tough people.
This is Chevy's 235 cubic-inch inline-six which would have had around 120 hp and 210 ft-lb of torque. The seller says that the gas tank needs to be cleaned out on this one but the engine runs on an auxiliary fuel supply. The master cylinder also needs to be replaced and most likely it'll need to have every system gone through just as you would with any vehicle. What do you think is a fair value for this truck? Have you seen a three-door crew cab like this one?