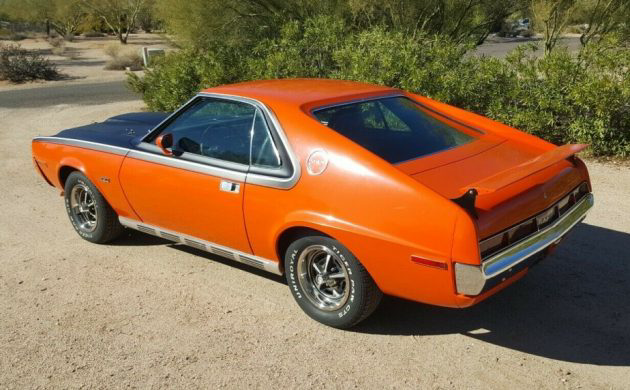 In days of old, car manufacturers came up with some pretty creative names for their paint colors. AMC was no exception, and it is hard to go past a color with the handle of Big Bad Orange. That is what graces the panels of this 1970 AMC AMX, and adding to its attraction is the inclusion of the desirable Go Package. It has been sitting for years, but the seller has managed to breathe life back into it. It now needs a new owner who is willing to return it to its rightful place on our roads. Located in Cave Creek, Arizona, you will find the AMX listed for sale here on eBay. Bidding has reached $19,600, but the reserve hasn't been met.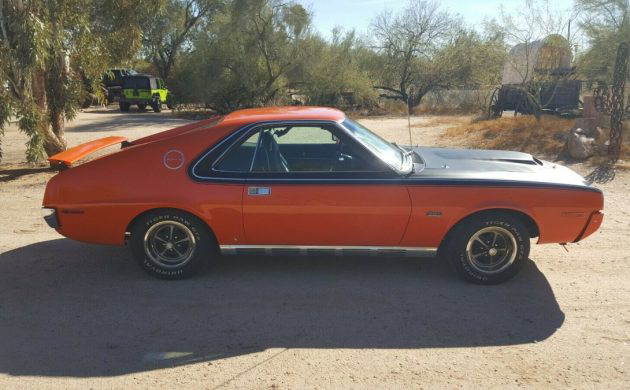 Big Bad Orange is a color that owes nothing to subtlety, but it is still an attractive color. The owner refers to the paint as being older, but I'm unsure whether that indicates that it is original or whether a repaint has been performed at some stage. The paint isn't perfect and shows deterioration on the roof and deck lid. It still shines nicely, and if the buyer chose to retain the car as a largely original survivor, there'd be no shame in that. The panels look extremely straight, with no evidence of significant dings or dents. He says that there are no major rust issues, and the single shot that he supplies of the AMX's underside looks very encouraging. The chrome shows no significant deterioration, while the same is true of the glass. The original Magnum 500 wheels have some discoloring, but it would be interesting to see how they would respond to a clean and polish.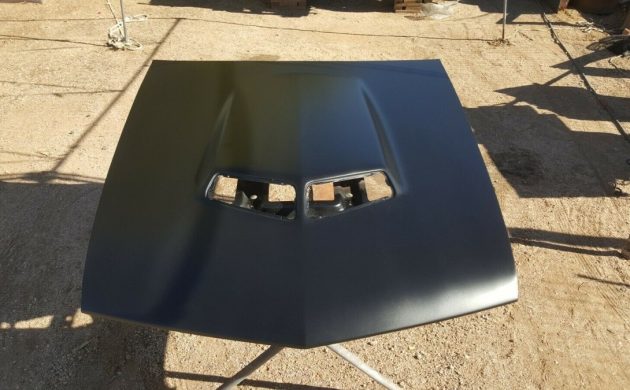 The hood that is currently fitted to the car is a 1970s lightweight fiberglass item, but it doesn't look out of place. For those focusing on keeping the vehicle unmolested, the original steel hood that you see here is included in the sale. Also included are all of the original Ram Air components that match this hood.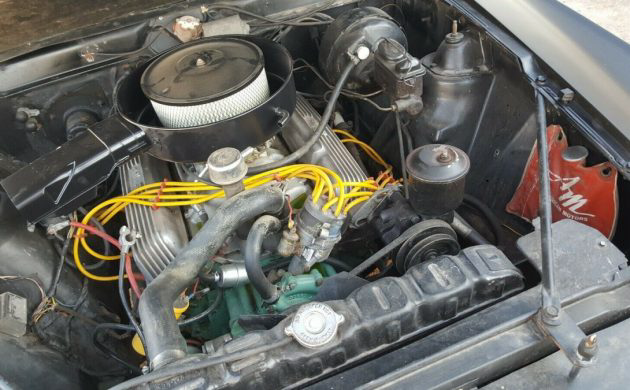 The mechanical package that the AMX offers can be regarded as pretty impressive. What the buyer will get for their money is a 390ci V8, a 4-speed manual transmission, a Twin Grip rear end, power steering, and power front disc brakes. With 325hp available to the driver, the 3,219lb AMX was always going to be a fast car. The trip down the ¼ mile could be dispatched in 14.2 seconds, which wasn't exactly hanging around. Even though this AMX has been sitting for a while, the news is generally quite positive. It appears that this is a numbers-matching classic. That V8 received a rebuild several years ago, and the process included blueprinting and balancing. The owner has paperwork that verifies this, so there is a chance that it might pump out a few additional horses. The AMX has been revived, and it now runs and drives. However, the owner suggests that the car be treated to a thorough mechanical check before it is considered roadworthy. That sounds like a smart move to me.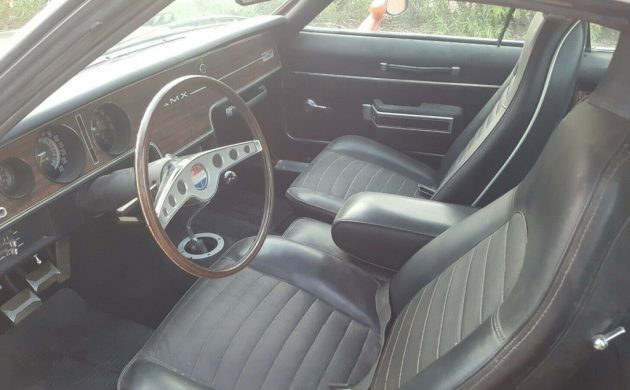 For the 1970 model year, AMC treated the AMX's interior to a bit of a birthday. This included new seats, plenty of woodgrain trim, and a two-spoke rim-blow steering wheel. These features remain in place in this car, and it looks very tidy for an unrestored vehicle of this age. The only problem that I can spot is one that will cost nothing to fix. The interior is dusty, so a deep clean would make a world of difference. Beyond that, there is no significant wear, tear, sun damage, or other issues. There are also no aftermarket additions. The shifter is still the original Hurst item, while the factory AM/FM stereo radio is still in its rightful place.
One of the reasons that AMC products hold a place in my heart is that it was a company that produced some exciting cars on a shoestring budget. It wasn't just any old shoestring, because it was pretty worn. I doubt that any other American manufacturer has ever managed to squeeze so much out of so little as this company did. It also makes you pause to ponder what they could have produced if they had access to a GM or Ford budget. Sadly, we'll never know. This AMX is a mighty car, and it is 1-of-1,632 built in 1970 with the 390/4-speed drivetrain combination. The AMX was a brief shining light in the history of AMC, and it is the relative rarity of cars like this that make them worthy of preservation. I would expect the bidding on this classic to top $30,000 easily, but regardless of the final sale price, I hope that someone returns it to the road soon. This is a classic that has been sitting dormant for too long.