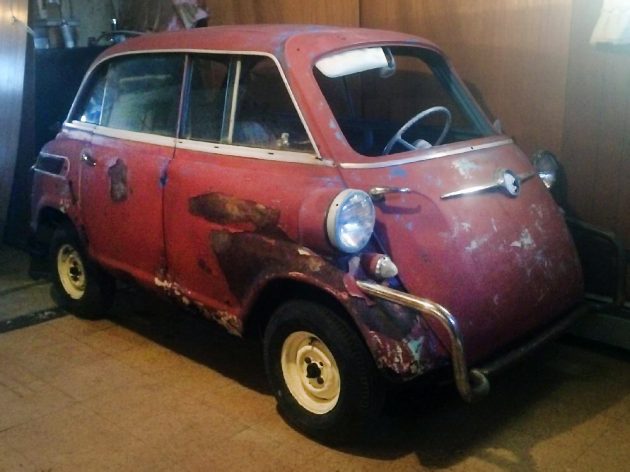 When your regular Isetta isn't quite big enough to haul around your family, here's a 1959 BMW 600. This car is based on the Isetta, and while still tiny, it is about two feet longer than the "normal" Isetta. This one is listed on eBay with a current bid price of just over $2,700 and heavy bidding. There is no reserve and you have two days left to get your bids in and then figure out how to get it home from Cumberland, Rhode Island.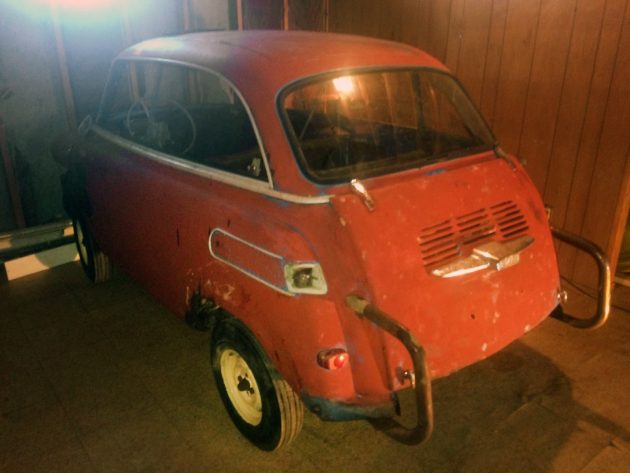 The BMW 600 was the "biggest" bubble car offered by the fine folks in Munich and believe it or not, the next in line after this car ended production was the svelte and actual-car-like BMW 700! The 600 weighed around 1,100 pounds soaking wet and you may have guessed that some shenanigans can occur with such a relatively light car and those huge "handles" / bumpers on the rear. Can you say college prank?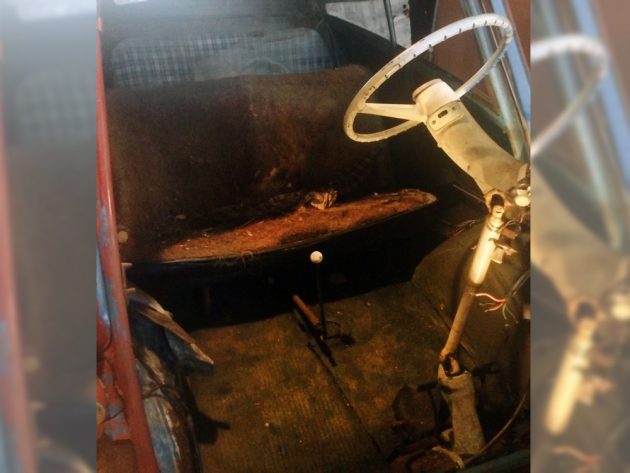 The BMW 600 was made for three short years, ending in 1959. Speaking of short, the BMW 600, at 9′-6″ long, was over nine feet shorter than a 1959 Cadillac was! And, that always comes up when a microcar shows its head here. Hopefully we all know that these cars weren't meant to do freeway duty next to the huge V8 American cars of the era. They were made to be easy to drive and park city cars, or a second car. The "limo", or 600, still has the front-opening door to allow access to the front seat like the Isetta has, but it also has a side door for access into the rear seat.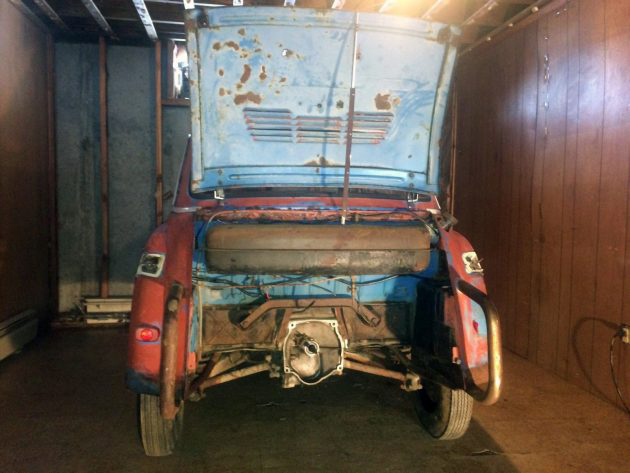 You can see that this car apparently was blue at some point, possibly from the factory. Resale-red has reared its ugly head here. You've already noticed just how rough this car is. Parts of it look like they're in decent condition but wow, this will be a big project. Or, an intensive one, it'll never be a "big" project. This one should have had a 582 CC flat-twin engine and the seller says that it's missing parts, but the block is complete. These cars in restored condition can easily top $30,000-$40,000 so there could be some room here if the next owner can track down enough parts to complete this one. Is this "big bubble" too much work or is it worth restoring? Have any of you owned a 600 or an Isetta?