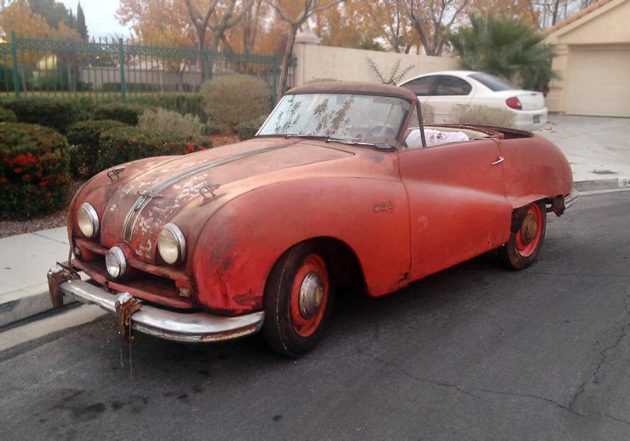 British cars are Jamie's specialty, but I've loved these cars for so long that I couldn't help myself. This is a 1949 Austin A90 Atlantic and it's listed on eBay with an unmet opening bid of $3,999 – and even at that price the reserve won't be met. Or, you could throw $4,000 on the craps tables in Las Vegas, Nevada, where this car is located, and try to win several times that amount to restore this super rare gem. Just kidding, I'm not condoning gambling; but, if you're feeling lucky there's nothing I can do about it.. And, in the case of being unlucky, this is the only photo in the ad! Mind. Blown. It's 2017 isn't it? And, this is one of the rarest cars shown here, at least by me, in quite a while, isn't it? So, why in the name of all that's right with the world would someone who is trying to sell such an incredibly desirable and incredibly rare car put just one measly photo in their sales ad!? Ok, I know, I'm preaching to the choir. And, in all fairness to the seller, they say that more photos are coming soon.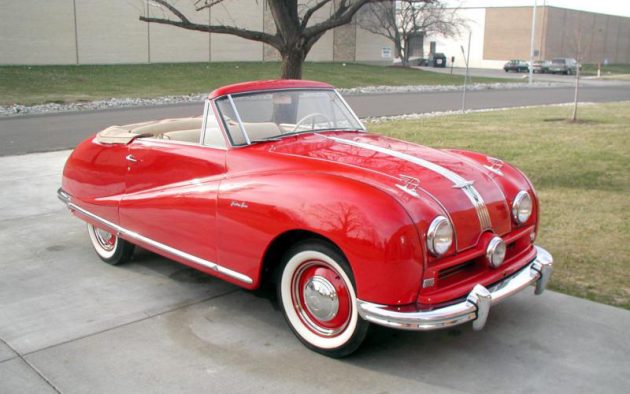 In case you're wondering what the eBay car could/would/should look like, here is a restored version from the fine folks at Hagerty. For the record, Hagerty lists a #4 fair-condition car as being valued at $13,900. Surely the car for sale in the first photo isn't anywhere near being in #4 condition, but it gives a ballpark number to rattle around in your skull while you figure out how much to bid on it. A #2 excellent-condition car should be $32,800 and a concours car would be $47,200. So, there's a lot of room here to do a very nice restoration and not lose your shirt. Austin Motor Company offered the A90 from 1949 to 1952 as initially a convertible but a coupe was offered a year later.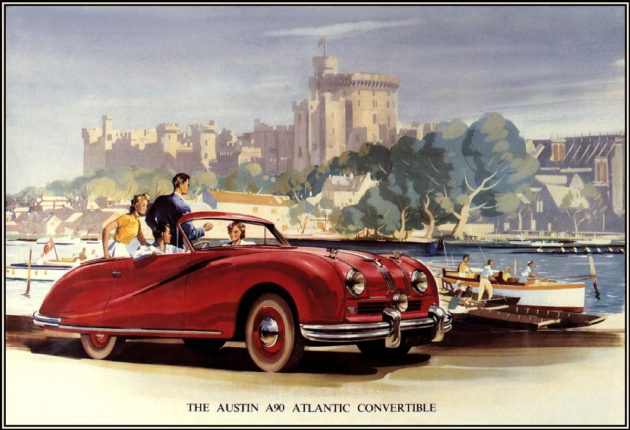 I don't know why I love this design so much, it's almost cartoon-looking like the tires should have an X-shaped pair of band-aids on them like a Donald Duck car would. The US received around 350 of these cars out of almost 8,000 of them that were made in total and there aren't many left, really anywhere, not just in the US. This isn't a speed demon by any means, with its 2,660 cc, 162 cubic-inch inline-four, but it had around 88 hp which was a decent amount of power. The Atlantic was designed with hopes to appeal to US customers with its Pontiac-like hood trim and other big American car look-alike features, but it couldn't compete with American V8 cars and that hurt US sales. The fact that Jaguar's drop-dead beautiful XK-120 (my favorite/favourite car of all time) debuted at the same time, that hurt sales elsewhere. I don't know what the car for sale here would really be valued at just from looking at the one photo. Does the engine run or is it even complete? Is the top there, or at least the parts for the top? How about the interior bits and pieces? It's almost as big of a mystery as to why I love these cars so much. I haven't seen one for sale on eBay in years and have never seen one in person. Have any of you seen one in person? I know that Jamie has!