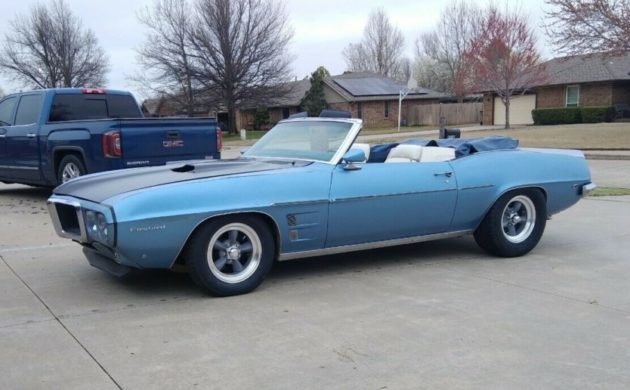 My grandfather was a lifelong loyal Pontiac man, so I like to think I have a little Pontiac in my blood. He was more partial to the Grand Prix and Bonnevilles of the era and as such was never a Firebird owner. If he were still with us, I could picture him standing silently admiring this first generation Pontiac F-Body, just as I am sitting silently admiring as I write this. This 1969 Pontiac Firebird was found here on eBay in Yukon, Oklahoma by an anonymous Barn Finds reader. The reserve has been met after 30 bids have pushed the price to $15,300.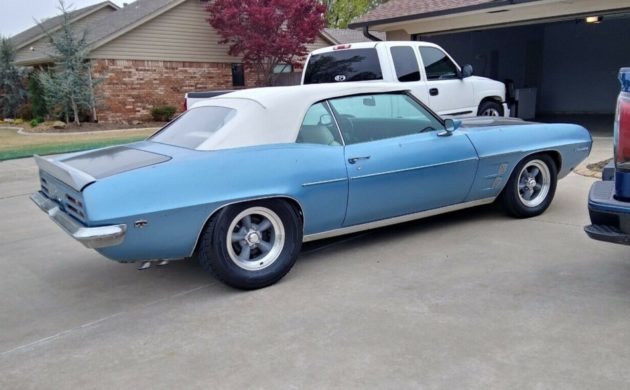 Prior to current ownership, this Firebird had been parked in a garage since 2003. Save for the wheels/tires, hood, and suspension, this car is said to be mostly original. Contrary to the mostly original claim, the seller notes a slew of new items, including the top.  I don't know if all those items are installed or just included, but it would be worth inquiring to know how original of a car you're bidding on. The only rust noted is on the driver rear wheel lip. The trunk had some rust, but a new pan was recently set in place, but still needs to be welded. Hail damage is noted on the body panels. Hopefully it's repairable, because that Warwick Blue paint looks to be in decent shape.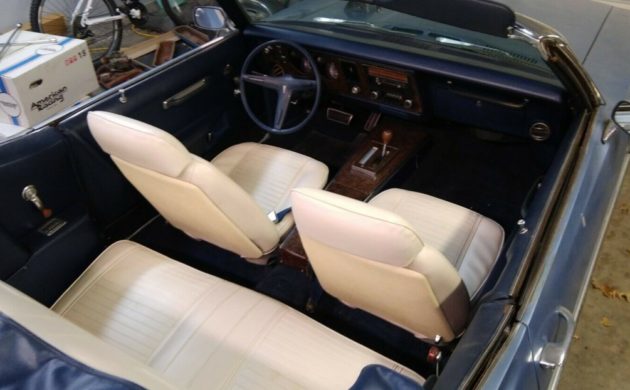 The white seat surfaces and contrasting blue surfaces complement the exterior colors perfectly. All interior is original and seats are said to still feel soft. The original buyer checked some boxes that one would now consider standard, including power top, power antenna, and air-conditioning, although the A/C is not functioning.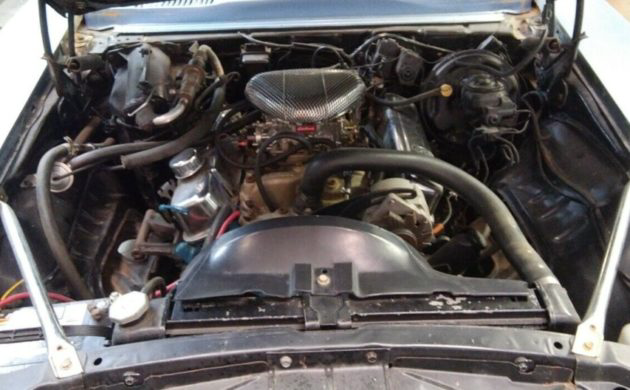 Power is sent to the rear wheels from the original 350 backed by a Turbo 400 automatic transmission. The one under hood picture is taken from a fairly wide angle, so it's hard to see detail, but it looks like some updates have been made while being kept clean. Unexpected, but welcome, modern conveniences abound as this Firebird is equipped with power steering and power brakes.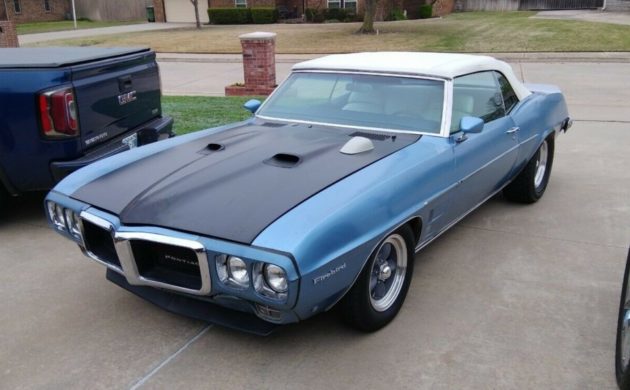 If you like one-year only body styles, the 1969 GM F-Bodies are a popular option. This being one of only 11,657 convertibles built that year adds to the uniqueness. I like unique one-year only body styles, so if grandpa was still around, he'd be beaming with pride if I were the high bidder on this Pontiac.