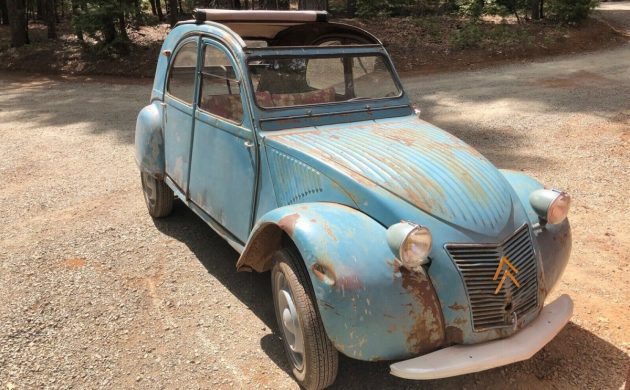 It is hard to look at a Citroen 2CV and not break out in a smile. These are quirky classics, and while they aren't a jet in a straight line, they offer a driving experience that is engaging and enjoyable. This 1956 model is in sound mechanical health, and it needs someone to treat it to a cosmetic refresh. The simplicity of construction means that they are the ideal candidate for a family project. If all of this sounds like a winning deal, you will find the Citroen located in Nevada City, California, and listed for sale here on eBay. While the bidding has been solid, it has only pushed the price along to $3,300. The reserve hasn't been met, so there is still time to stake your claim if you find this to be a fascinating project. I have to say a big thank you to Barn Finder Larry D for referring the little French classic to us.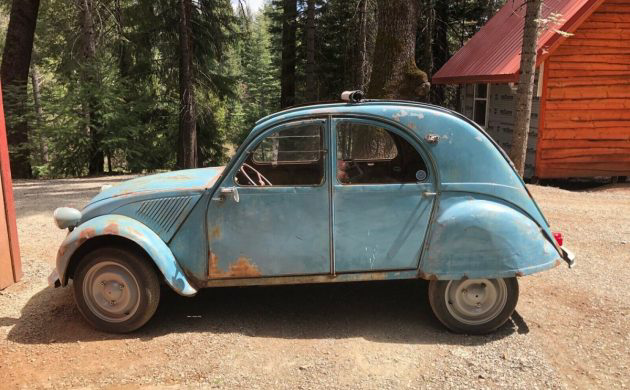 This 2CV will need some work, but I can't spot anything that couldn't be tackled in a home workshop or garage. The car is rust-free, and while it now wears some dings and dents, none of these are bad enough to justify panel replacement. One of the attractions of these as a project car is how easily the panels can be removed. That means that an owner doesn't necessarily need to crouch in an uncomfortable position to work on a lower extremity. It's simply a matter of removing the offending panel, and it can be tackled with comfort on a work-bench. The owner has recently powder-coated the wheels, so those won't need to be touched. The convertible top has seen better days, and this will need to be replaced. That shouldn't be a problem, because new ones can be found for under $300. When you consider that cost and the DIY possibilities with the panels and paint, whipping the exterior appearance into shape would seem to be a cheap proposition.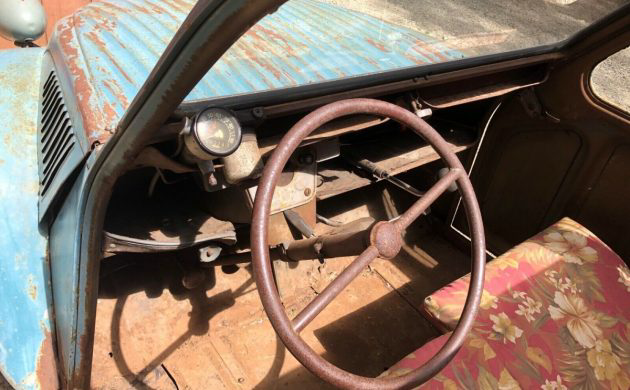 The Citroen's interior will also require some work, but once again, parts are readily available and cheap. A cautious owner can locate all of the upholstery and necessary hardware to get the seats right for under $500, while $90 will put new rubber mats on the floor. If the buyer is not worried about originality, they might also choose to make their own custom covers for the seats. Anyone who can measure and sew would be able to do this, and that opens up a whole world of possibilities when it comes to the question of materials and colors. If the exterior is repainted in the original Blue, a set of covers in the French Tricolour (or Tricolore) would be both distinctive and quite patriotic. Well, it's a thought, anyway. The owner might choose to paint the wheel and fit a wrap or send it out to be powder-coated. With those tasks tackled and the painted surfaces refreshed, the interior could look pretty stunning.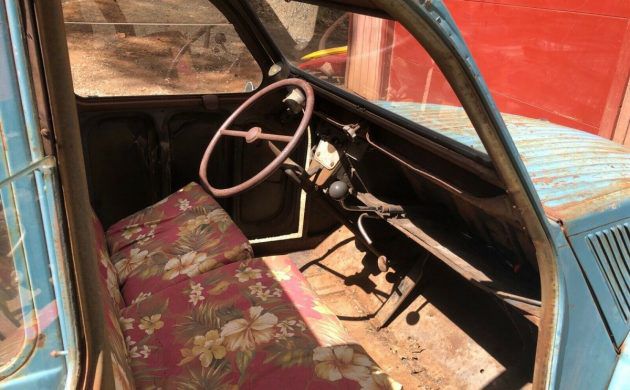 The owner doesn't provide any engine photos, but he does provide plenty of information on the car's mechanical state. The engine bay is home to a 425cc air-cooled twin that pumps out a heady 14hp. All of those rampant French ponies find their way to the front wheels via a 4-speed manual transmission. With such a modest power output, that little four will not allow the 2CV to threaten any muscle cars on the ¼ mile. That journey will take 32.5 seconds, and if you keep the foot buried, it will find its way to 45mph. It's a good thing that the car tips the scales at a mere 1,125lbs because if it weighed much more, there'd be glaciers that moved faster than it! The reality with these older 2CVs is that they are not fast, but they are entertaining and quite robust. Some examples have seen military duty in locations like Africa, and they have performed with few if any, problems. The owner of this one has recently rebuilt the brakes. He has also treated it to new plug wires, a tune-up, new 15″ tires, and a service. It is said to run and drive well, and it seems that the drivetrain is one aspect of the Citroen that the buyer will be able to ignore.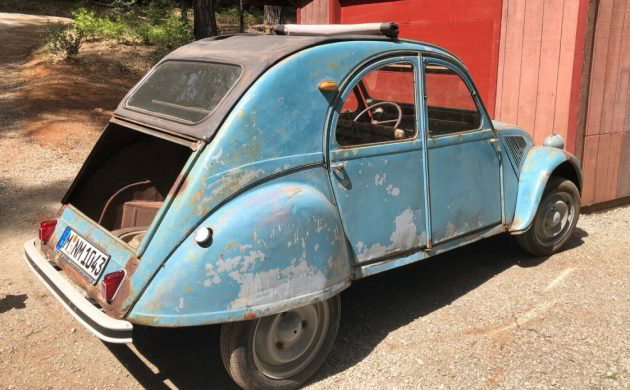 The Citroen 2CV is not a car that will appeal to every enthusiast, but these cars have developed a strong following. It was initially produced to get the French population mobile following the end of World War II. It managed to do this with enormous success, and by the time production ended, more than 3.8 million cars had been built. This one is a long way from perfect, but it is a solid and rust-free classic that would suit the sort of person who likes hands-on projects. It would also make a wonderful family project, and the entire clan would have something to enjoy once the work is done. It is possible to buy a 2CV for well under $10,000, but an excellent example from this era will command prices beyond $15,000. Depending on where the reserve has been set, there is no reason why this couldn't remain a financially viable project. However, sometimes the financial viability isn't the primary concern. Once restored, this 2CV offers its owner a world of enjoyment, and no one can place a price on that.