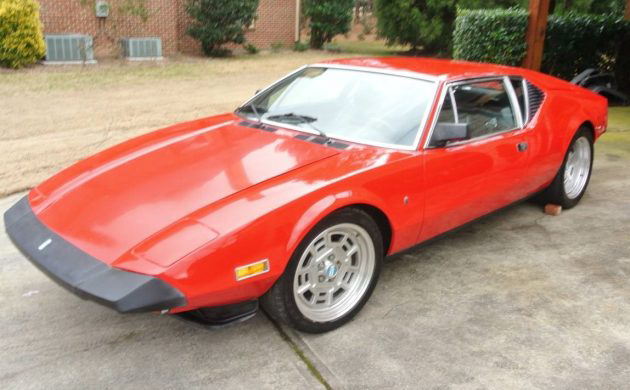 De Tomaso Automobili was founded by Argentinian Alejandro De Tomaso in Italy. From 1971-92, they built the exotic Pantera, a mid-engine sports car that was also sold at Lincoln-Mercury dealers in the U.S. in the early-to-mid 1970s. The Cleveland 351 cubic inch V8 engine was commonly used in the cars. Ford supplied the motors even after the sales partnership with De Tomaso ended in 1975. This '74 Pantera had been stored before the seller acquired it and got it running again. It's not flawless, but in overall good condition and can be found in Atlanta. Georgia. This rare sports car is available here on craigslist for $69,900. Thanks to our buddy Ikey Heyman for turning us on to this auto!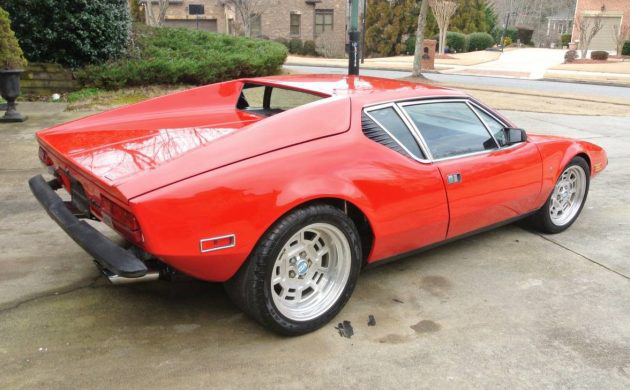 The partnership between Ford and De Tomaso resulted in 5,244 Pantera's being imported over five years – 80 percent of the overall total of some 6,500 worldwide. The V8 motor was rated at 266 hp SAE net through a 4-barrel Autolite carburetor and a 5-speed ZF manual transmission. These cars had independent suspension with unequal length upper and lower A-arms with coil-over shock absorbers and anti-roll bars. The rack-and-pinion steering was unassisted, which was probably okay given the limited amount of weight over the front wheels. Car & Driver tested one of these machines in 1971 and it did 0-60 mph in 5.5 seconds with a top speed of 159 mph.  Not too shabby!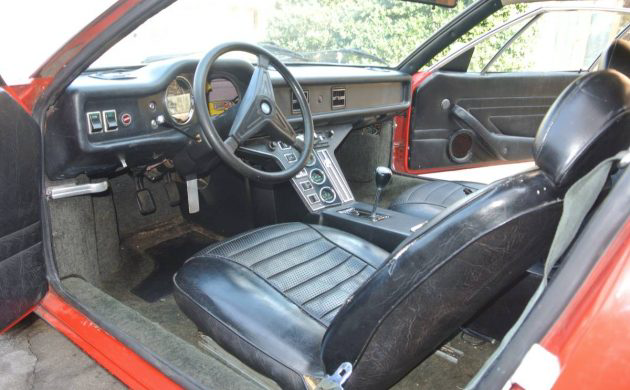 With just 40,000 miles on the odometer, this '74 Pantera recently came out of hiding after five years. It had been stored in the back of a building under a shed with stuff stacked on top of it. That resulted in some minor chips and dings in the shiny red paint that you have to get up close to see. A set of aftermarket wheels are presently on the car, but the original wheels were saved and will come along in the deal. The interior is used but nice with the exception of a couple of small tears in the driver's seat. The tachometer was "nervous", so the seller sent it off to be rebuilt.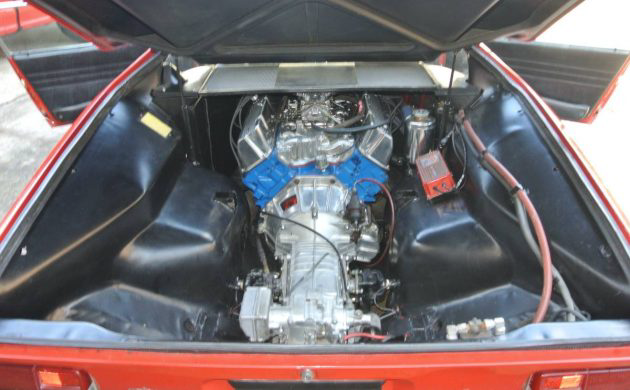 The seller says he has receipts to detail the work that was done on the motor and electrical system to get the Pantera back on the road. The buyer will receive a copy of the car's recent Marti Report and the engine bay has been detailed and presents very well. It's not a perfect car but would impress most anyone that checks it out. Hagerty says that really nice examples can go for six figures, so if you can live with some imperfections, you might save a chunk of change if you're in the market for some Italian speed.