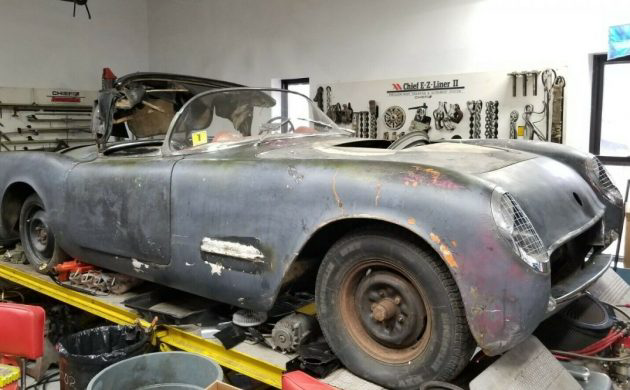 Last week, we covered this 1954 Corvette and today we're going to move one year forward to '55. While it is a very similar car, there were big differences between the two, so let's take a closer look. This 'Vette is located in Walden, New York and is available here on eBay for a current bid of $20,600, reserve not yet met.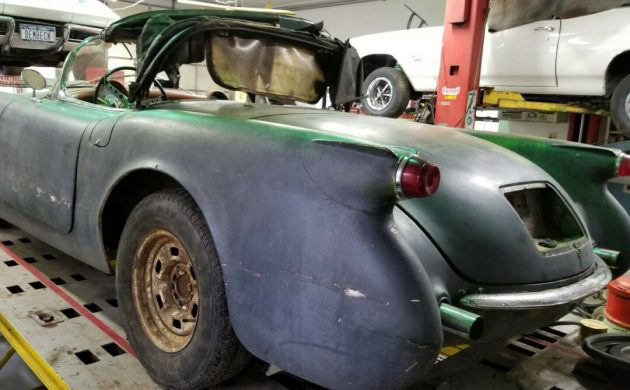 According to Corv Sport, the Corvette was on GM's internal ropes in 1954 in spite of its over 3,000 unit production volume. For 1955, there were high hopes for even bigger numbers, something that was essential for Corvette's survival. And why shouldn't success be theirs? The '55 Corvette was going with first-time V8 power, a necessary move. Chevrolet now had competition in the form of their crosstown rival's newly introduced, V8-powered Thunderbird. So what happened? The 'Bird managed to push out 16K units while Chevrolet eeked out only 700 Corvettes – and that's it. Bad news for certain, but Chevrolet wasn't about to give up a space, one that they had developed, to Ford, so on with the show.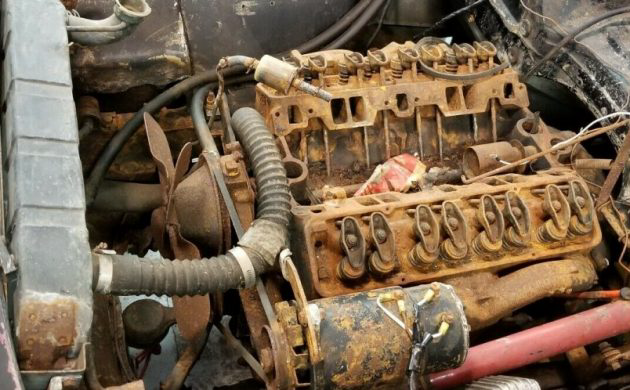 Chevrolet's new for '55, small-block 265 CI V8 engine was huge news! In Corvette form, it weighed in at 195 gross HP, and 693 of the 700 Corvettes built were so equipped. The 155 HP 235 CI, in-line, six-cylinder motor was still the Corvette's base engine, but with only seven produced, it's a rarity, and not in a particularly advantageous way. Also available for the first time was a three-speed manual transmission but only with the V8 – just 75 buyers opted for it. Our subject car has lost its original 265 ci motor and has a later 283 perched in its place. And the 283 has lost a bit of its existence as the intake manifold, carburetor, distributor, etc. is MIA. It clearly has not been operative for a very long time. Backing up the 283 is a four-speed manual transmission, an option that wasn't available until mid-model year '57. It's not stated if this Corvette was originally a manual transmission-equipped car, but assuming it was, it would have been, as previously noted, one of only 75 so equipped.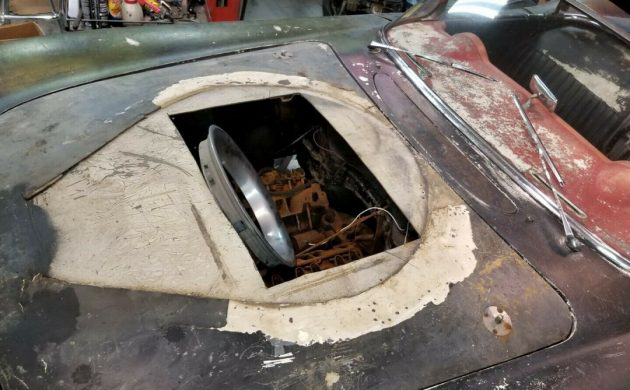 The exterior condition is rough. The seller claims, "clean body with no evidence of any major crashes has all orig. panels". Maybe so, but it's going to need a lot of work before it's close to presentable. With the exception of the tea-strainer headlight covers, the trim is missing, most notably, the famous gold-hued "V" fender emblem proclaiming this 'Vette as possessing V8 power. Somewhere in its past, someone cut a hole in the hood and added a "Thunderbolt" style fiberglass, teardrop hood scoop. Fortunately, it's gone, but the less than optimal hole still exists. The seller adds, "frame is rusty but no soft spots and should look good sandblasted". The frame does have some serious scale so it should be checked thoroughly by any potential bidder/buyer.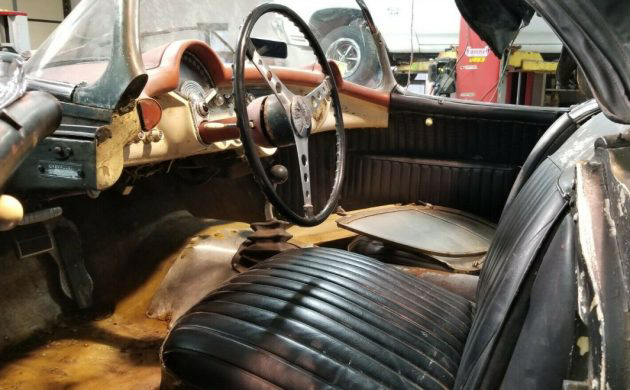 The interior is not without its foibles. The seats are still there and look passable but the floor clearly shows evidence of an aluminum patch and thus the question regarding the original transmission status – was the patch necessary for an automatic to manual conversion, or maybe the three to four-speed swap? The dash and instrument panel shows significant oxidization but is restorable. Good to see, is the still in place, folding top frame; the fabric, not unexpectedly, is in shreds, however. The original radio is present and accounted for but not the tachometer.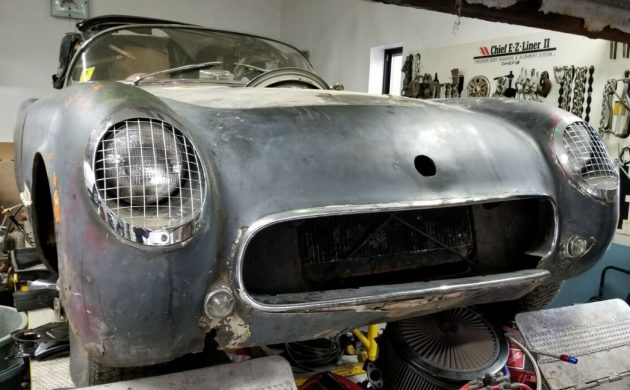 The seller concludes, "should be an easy restoration as most all the parts are still attached to the car". I would have to disagree with that assertion. It's good and bad combined – the bad is the obvious overall condition of this Corvette, including what appears to be a probably unusable, non-original engine and transmission. The good is that it is a first-year V8 Corvette, and the VIN authenticates it as such.  There are several directions here that could be taken with this '55 Chevrolet Corvette, which one would you pursue?