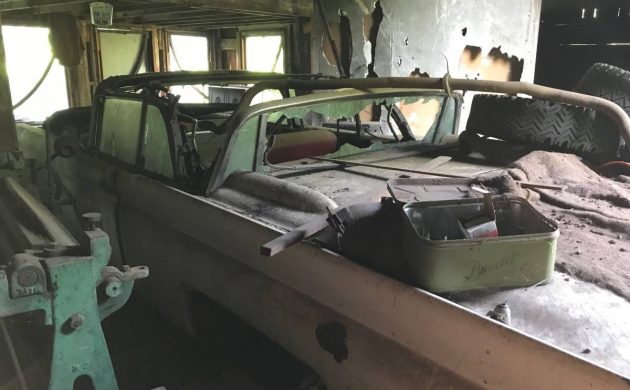 Sometimes when a car emerges from a barn or shed after a long hibernation you can feel the excitement as you know that this car is destined to be returned to service in all of its former glory. Sometimes when these cars emerge you just know that their future is nowhere near as clear cut, and that a true enthusiast is going to be needed to save that car. This 1960 Lincoln Continental Mark V Convertible is just such a car. Barn Finder Michael has once more hit the jackpot by locating this particular car and referring it to us, so thanks for that Michael. Listed for sale here on Craigslist this colossus is located in Paramus, New Jersey. It comes with a clean title and an asking price of $3,500.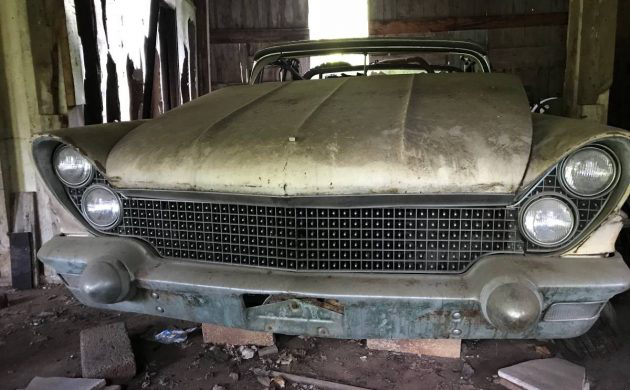 The seller states that this poor Lincoln has been locked away in this barn for more than 30 years. Looking at it for any length of time helps you to realize the scope of the work that will be involved in reviving this gentle giant. Honestly it's hard to know where to start. Okay, so let's tackle the obvious first. The side glass appears like it may all be present, but there is no escaping the fact that the windshield and back window are both broken. Replacement glass is out there, but it isn't cheap. The barn in which our car has spent the past 30 years appears to have a dirt floor, so that doesn't auger well for the state of the underside of the car. There also appears to be various dings on the body as well as some rust visible in the rockers and the front fenders. Of course the presence of snow tires may also indicate that the car has been driven in less than ideal conditions, so the underside of the Lincoln is going to require some pretty careful inspection to determine whether restoration is viable.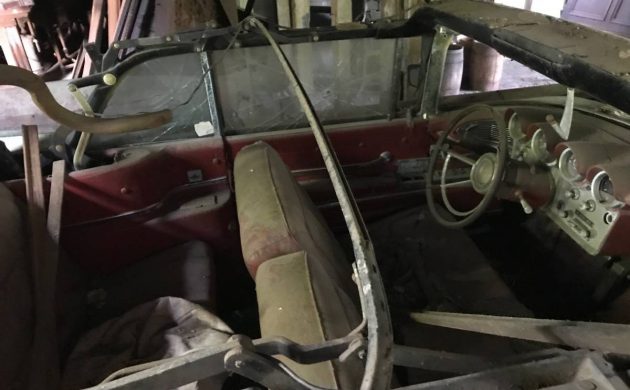 In its day the interior of this Mark V has been rather a pleasant place to be. It featured sumptuous upholstery and air con to compliment that relaxed feel that is part and parcel of the convertible experience. Unfortunately all of that was a long time ago. There are obvious signs of wear and tear here, including damage to the instruments. Everything is coated with 30 years of dust and dirt. All of this without even considering the fact that this interior is anything but vermin-proof. I think that it's probably a safe bet that not only has Stuart Little spent some time in residence, but he probably invited his furry family and friends to join the party. If so they will have inflicted their share of damage on both the interior trim and padding as well as the wiring.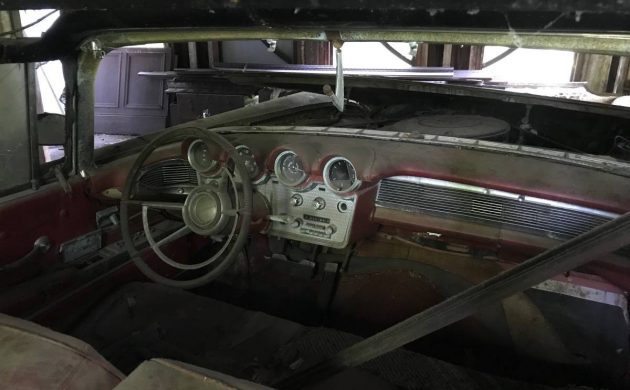 This is as close as we get to a photo of the engine. There is obviously one there which should be the 430ci MEL V8, backed by the Turbo-Drive automatic transmission. We know little of the actual condition of the drive-train. The seller says that it does not run, but gives no indication as to whether the engine can even be turned by hand. Hope springs eternal though as he points out that the engine oil and transmission fluid are both in their rightful places and have shown no sign of leaking out.
Since I began writing for Barn Finds I have written about a few different Lincolns, but this one stands out from the others for a couple of reasons. Firstly it is the first Convertible Lincoln that I've written about. Secondly, it is probably in the worst condition of any Lincoln that I've written about. There were only 2,044 Convertibles built in 1960, which makes it a relatively rare car. One which was an older restoration finished in the same color combination as this one recently sold for $66,000 at auction. I would like to think that this old Lincoln will eventually be restored to its former glory, but it will be a special type of person who would take this on.
Have something to sell? List it here on Barn Finds!